The North Iowa Area Community College John Pappajohn Entrepreneurial Center (NIACC JPEC) conducted the Youth Entrepreneurial Academy on June 16-20. This free annual academy is offered to all high school students interested in entrepreneurship. Participants receive a $500 NIACC scholarship sponsored by the John K. and Louise V. Hanson Foundation and John Pappajohn when they attend NIACC.  This year 22 area high school students completed our academy compared to last year's 14.  This is the second year we used a curriculum called Lean Canvas and held it as a day camp from 8:30 am-4:00 pm. The students received gas cards to help cover the week's travel from their homes to NIACC.  Additionally five businesses received $500 seed money for their business that they developed during the week.  The participants and school represented were:
Clear Lake – Kyle Calaguas, TJ Hauser, Jacob Peterson and Devin Uhlenhopp
Corwith- Wesley—Shayla Banchs and Jessica Nielson
Forest City – Rachel Snyder
Garner/Hayfield/Ventura –Corey Hauptmann and Zac Scholl
Hampton/Dumont – Allen Teggatz and Duncan Wood
Mason City –Jordan Johanns, Skyler Marshall, Alex Noto, Ashley Rottinghaus and Pauline Walker
Mason City Newman-Melonie Gretillat
North Butler-Gavin Scroggin
Osage – Madison Potter, Rebekah Sletten and Wyatt Spitz
West Fork—Lea Carlson
Friday, June 20 the final day of the academy the students pitched their business ideas by submitting an executive summary that included a company description, an unfair advantage path to customers, financial plans and business model key measures that include startup costs and sales projections.to the Academy's Mentors, which included: Jim Elias, Eastern Iowa Community College – Muscatine campus; Holden Nyhus, ScoutPro, Inc.; Doug Morse, NIACC Business Faculty; Kelley Crane, NIACC JPEC Entrepreneurial Schools Partnership Coordinator and Tim Putnam, Associate NIACC JPEC Director.  The top nine out of 20 businesses presented to a panel of five judges:  Brook Boehmler, NIACC SBDC Director; Mark Hewitt, President Clear Lake Bank & Trust; Chris Norton, SCI CAN Foundation; Gary C. Wattnem, Army Reserve Ambassador and Laura Wood, NIACC Business Chair.
The judges chose five companies to win $500 seed monies.  The winners were: Scroggin Custom Sheds-Gavin Scroggin; Scoops-Madison Potter and Rebekah Sletten; The Freckled Toe-Rachel Snyder; DU Lake Services-Devin Uhlenhopp and TranStar-TJ Hauser.
Scroggin Custom Sheds will be a custom shed building company that will serve all of North Iowa. Gavin Scroggin comes to YEA from North Butler High School and says that "the value of the company is that we will bring the shed to you". Economy for the customer is also important to Scroggins' as he offers a rent-to-own plan. Scroggin plan to market his sheds at home and trade shows.
Scoops owners are Madison Potter and Rebekah Sletten and their plan is to start an ice-cream truck business in Osage, wherein they will implement a revenue sharing proposal with a previous ice-cream truck owner/operator. An advantage for Scoops is that they would be the only ice-cream truck in Osage, and there is value in bringing the product to the customer.
The Freckled Toe is an online store owned by Rachel Snyder from Forest City where customers can purchase jewelry including necklaces and winter headbands that are handmade by displaced mothers in Africa. Each piece is a custom design and there is value in helping others provide for their families. The Freckled Toe is going global on the internet.
DU Lake Services is presented by Devin Uhlenhopp of Clear Lake. Devin has four years of experience putting in docks, wherein he has learned techniques to save valuable time and money while doing quality work. Devin knows strong communication with his market is important. Devin also plans to offer a cleaning service to enhance his services and keep the docks clean.
TransStar is presented by TJ Hauser of Clear Lake. TransStar is an automotive company that produces and distributes expert body shop products. TJ will be the salesman and product trainer for TransStar serving North Iowa. TJ has a great advantage as he owns his own body shop with six years of experience, and a great value for TJ's clients is delivery service. Building relationships through client satisfaction is also important for TJ.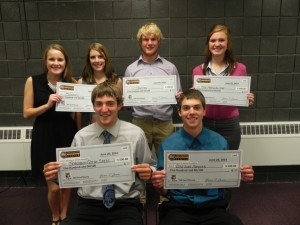 Front row: Gavin Scroggins, Devin Uhlenhopp
Back row: Rebekah Sletten, Madison Potter, TJ Hauser and Rachel Snyder
The national NACCE Innovation Award-winning NIACC John Pappajohn Entrepreneurial Center provides college level courses and degree programs in entrepreneurship, as well as comprehensive consulting services for business start-ups, existing industries and owner transitions in the North Iowa region.   Space is available for start-up businesses in the North Iowa Business Incubator. For more information, contact the NIACC JPEC at 641-422-4111.
# # #
Ref # 3921