Chad Harrison, along with Harrison Truck Centers of Clear Lake, has established the Stan Harrison Memorial Scholarship with an $11,000 contribution to the North Iowa Area Community College (NIACC) Foundation. The endowed scholarship will assist NIACC students studying in the Diesel Technology Program by providing a scholarship every year.
Stan Harrison was a very caring and giving individual. The Harrison family chose to honor their father's memory through a scholarship for students studying diesel technology.
"My father would have loved to be part of helping students seek higher education especially in the area of our family business," said Chad Harrison, Stan's son, Vice President of Harrison Truck Centers. "He would have encouraged students to learn more about what we do here at Harrison Truck Centers and how to use a diesel technology degree to find a good job right here in north Iowa."
"We are grateful to have the privilege to honor Mr. Harrison's memory by supporting the education of students at NIACC," said Jamie T. Zanios, Vice President of Institutional Advancement. "So many students are in need of financial help. Our goal is to help as many students as possible. There's no better gift than a gift of education."
The Diesel Technology program at NIACC is designed to provide training in the diagnosis, repair, and maintenance of heavy-duty agricultural equipment, over-the-road diesel trucks, and other heavy-duty diesel systems. This program will provide training in entry-level skills of mechanical, electrical and fuel systems, power trains, brake systems, air conditioning, welding and hydraulics.
Area business leaders report a high demand for skilled workers such as those who complete the NIACC Diesel Technology program. There are still spaces available in the program. Fall classes begin August 25.
Anyone who is interested in learning more, or enrolling in the program, is asked to contact the NIACC Admissions Office at 641-422-4245 or call toll free at 1-888- GO NIACC. Ask for Admissions.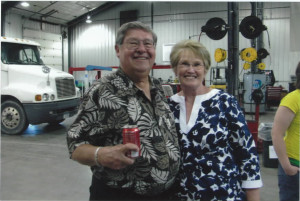 Photo caption: Stan and Diane Harrison
# # #
Ref# 3926