The Christopherson Medical Scholarship celebrates its 50th anniversary this year. Established in 1965, this scholarship fund honors the work of Dr. Joseph Christopherson and his wife Evelyn, who in their own ways served the medical needs of Mason City for more than three and a half decades. In 50 years, 118 north Iowa students have received $197,000 in scholarship assistance.
Family, friends and associates initially endowed the Dr. J.E. Christopherson Memorial Scholarship to encourage talented students from north Iowa to attend North Iowa Area Community College (NIACC) to study pre-medicine.  In the late 1970s, the Cerro Gordo County Medical Society added additional funds to expand assistance to students enrolled in four-year undergraduate programs or medical school.  After the death of Evelyn Christopherson in 1997, additional memorials were added and the scholarship was renamed to honor both husband and wife.
Dr. Christopherson sponsored and assisted an informal Future Doctors club for several years in the early sixties, served as the Cerro Gordo County medical examiner, and served on the Mason City Board of Education for six years.  Evelyn Christopherson, a registered nurse, served as a nurse with the Mason City public school system for twenty years after Joe died in 1964.
The first Christopherson Medical Scholarship was awarded in 1966 to a NIACC student from Mason City.  David Hoherz graduated from NIACC in 1968 and transferred to the University of Iowa graduating from medical school there in 1972.  Dr. Hoherz completed his residency at Kansas University and a three year pulmonary fellowship in Topeka, Kansas. Like Joe Christopherson, Hoherz became a surgeon.  Dr. Hoherz practiced pulmonary, vascular and general surgery in Topeka for 40 years retiring in 2009. Dr. Hoherz now spends some of his retirement teaching residency students at Mayo Clinic in Scottsdale, Arizona where he resides with his wife Debra.  "I knew from the time I was in grade school that I wanted to be a surgeon." said, Hoherz, "I had to pay for all of my undergrad and schooling myself," he continued,  "I was proud to be the first recipient of the Christopherson Scholarship, every bit helped me reach my goal of becoming a surgeon."
Mason City physician, Dr. Mark Johnson was an early recipient of the Christopherson Scholarship in 1973 and 1974.  Today, in addition to his medical practice, Johnson serves as the chairperson of the Christopherson Medical Scholarship Advisory Committee. "This scholarship in memory of Joe and Evelyn Christopherson and their dedication to healthcare is a fine example of the legacy left by committed professionals," stated Johnson. "It's amazing that fifty years later because the Christophersons were so well regarded, medical students will continue to benefit due to the impact that they had on colleagues, friends and family who gave in their memory. This scholarship is unique in that it originated in the north Iowa area and continues to be focused on north Iowa students. Each recipient also meets a board member so we have a chance to become acquainted with those who benefit from the scholarship."
Christopherson Medical Scholarship recipient, Travis Kruger from St. Ansgar graduated from medical school in 2014.  Kruger received the Christopherson Medical Scholarship award from the time he started pre-med studies at Wartburg in 2006 until he graduated from medical school at the University of Michigan in 2014.  Kruger begins his psychiatric residency at the University of Michigan Health Systems in July.  Kruger stated, "By receiving the generous support through the scholarship, I could feel free to select a specialty that I wanted to practice rather than choosing something that would help pay off additional student loans." Kruger continued, "Knowing that I have the support of my community really makes it easier to spend time away from Iowa to seek my medical education."  Kruger plans to complete a residency in adult psychiatry including future options of consultation/liaison psychiatry and adult outpatient psychiatry.  He hopes to return somewhere close to home (Grafton), when he finishes his residency.
The Christopherson Medical Scholarship assists medical or pre-med students at any accredited public or private postsecondary educational institution (of pre-med applicants, preference is given to NIACC students).
Anyone wishing to contribute to the Christopherson Medical Scholarship may contact the NIACC Foundation.
The NIACC Foundation manages the scholarship fund and application process. For more information, contact the NIACC Foundation at 1-888-GO NIACC, ext. 4386 or (641) 422-4386.
# # #
Ref # 4065
#NIACC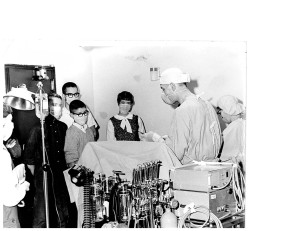 Mock Surgery – Dr. J.E. Christopherson, a Park Clinic physician, performs a mock appendectomy as part of a tour organized for the Mason City High School Science Club – in 1963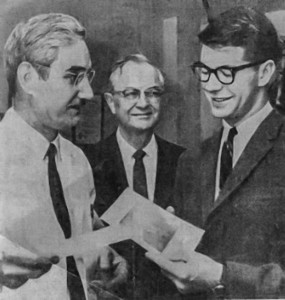 First Christopherson Medical Scholarship awardee – David G. Hoherz right – along with Dr. C.O. Adams on left and Mason City Junior College Dean – Clifford Beem (October 1965)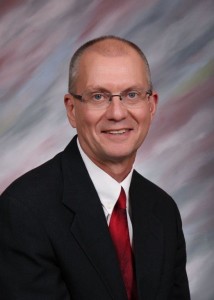 Dr. Mark Johnson, MD – current chairperson of the Christopherson Medical Scholarship Committee and former recipient of the scholarship