The North Iowa Area Community College John Pappajohn Entrepreneurial Center (NIACC JPEC) conducted the Youth Entrepreneurial Academy on June 15-19. This free annual academy is offered to all high school students interested in entrepreneurship. Participants receive a $500 NIACC scholarship sponsored by the John K. and Luise V. Hanson Foundation and John Pappajohn when they attend NIACC. This year 18 area high school students completed the academy which is held as a day camp from 8:30am-4:30pm. This is the third year the curriculum called Lean Canvas has been used.
This year all students were given the opportunity to stay in NIACC's new student housing, and several students elected to do so. The students not staying in the student housing received gas cards to help cover the week's travel from their homes to NIACC. Additionally six students received $500 seed money for the businesses they developed during the week.
The participants and schools represented were:
Corey Behrens: Forest City
Shelby Berte: North Iowa
Jenna Borcherding: Hampton-Dumont
Brianna Carrol: West Fork
Logann Elkin: Belmond-Klemme
Alexa Louise Garcia: Belmond-Klemme
Olivia Miller: Osage
Jackson Schumaker: Mason City
Wyatt Spitz: Osage
Noah Taylor: Clear Lake
Alysia Thorp: Clear Lake
Danica Voortman: North Iowa
Josiah Wunderlich: Mason City
Lauren Klaahsen: Mason City
Brady Holliday: Muscatine
Alex Covarubias: Muscatine
Emily Huggins: Muscatine
Hanna Wold: St. Ansgar
Friday, June 19, the final day of the academy the students pitched their business ideas by submitting an executive summary that included a company description, financial plans, and business model key measures that included startup costs and sales projections. The Academy's mentors included: Jim Elias, Muscatine Community College (facilitator), Holden Nyhus, Scout Pro, Kelley Crane, NIACC JPEC, Aaron Morse, U of I student/YEA Alum, Kayla Kearns, NIACC graduate/YEA Alum/Entrepreneur, Gavin Scroggin, YEA Alum, and Regatta Olinger (Tropical Sno/YEA Alum).
Special thanks to Luis Garcia of Mr. Taco and Cabin Coffee for waking us up every day!
Guest speakers included Scott Moorman of Moorman Clothiers and Mark Miller, Fitness Digest/NIACC Instructor – marketing and social media.
Brad Barber was the keynote speaker.
The top businesses presented their businesses to a panel of five judges: Tyler Heeren, First Bank Hampton; Jeffrey Short, Co-Founder of Writerr (YEA Alum); Brad Barber, Cabin Coffee Franchise; Brook Boehmler, NIACC SBDC; and Rick Whalen, Butler County REC/EDC
The judges chose six companies to win $500 seed monies. The winners were:
Alysia Thorpe—The Art Guru: The Art Guru is a service in which I will come to your home and set up an art studio in your own space, provide all the art supplies, walk you through the piece, and clean up. Examples of some parties are birthday parties, mother-daughter painting class, or even holiday themed parties. The client won't have to lift a finger, except for making art. My goal with this company is for my busy clients to be able to have a fun and unique party without all the hassle of planning, getting supplies, and setting up the party. I want this to create an efficient and personalized way to go about having a party.
Corey Behrens– Behrs Cinematography: Specializing in the making of wedding film. I deliver a beautiful style to a wedding film and tell a story that conveys an emotion that will stimulate the viewer's mind. The happy couple will be the main characters in their own fantasy story that I make for them. Ask yourself this, did your parents ever have a wedding photographer? Do you know where they are? Possibly in a storage closet? Photo albums are bulky and after a while they get annoying from the space they take. The product I will deliver is a film on three DVD's and a digital download, so I am taking the traditional photos to a video!
Lauren Klaahsen—Adorabow: Adorabow is a company that produces and sells hair bows. Adorabow produces bows for many events like softball, basketball, volleyball, cheer and dance teams, but could also be worn any day with any outfit to bring the look together or add a personal touch. Adorabow has an online base but will also be sold at local tournaments and events and customers can order for a whole team at a time or individually.
Briana Carroll—In Stiches: This business provides quilting services to people who need it. Those who want T-shirt quilts made for them, or quilting done for any other project they may not be able to complete on their own can contact me and I perform those services. For example, numerous people have quilt tops their loved ones have made that remain unfinished years later. Quilts are more useful on a bed or couch than in a closet or box, especially if there are memories attached to those quilts, and consumers are willing to pay for this to happen.
The next step in our company is to start the fabric store itself. On the same premises where we finish quilts, we plan on opening a fabric shop with a wide variety of different fabric types, colors, and styles available for sale. We will also sell various quilt related items, such as patterns, special rulers, rotary cutters, mats, quilting magazines, and precuts.
The last service we will offer are 'quilt retreats', where people can sign up, pay the camp fee, and show up at our shop at the set time (usually a Saturday and Sunday). Our customers bring their personal sewing machine and we will provide instruction, a few new patterns to try, and then we would all go down into the shop and buy fabric for these new patterns (with a 15% discount for campers). We will spend the day working on our projects in the barn, which has been partially refurbished and repurposed for the retreats already. Every few hours, everyone will compare projects, share, talk about different techniques, and then after a while, switch projects.
Noah Taylor—Home Zoo & Aquatics: My business is Home Zoo & Aquatics. I build, sell, and clean custom fish tanks and stands and I share our profits with the North Iowa Humane Society. Our product is a personal, unique fish tank with a unique stand included that is made specifically for the needs of each customer. Our customers are middle class Midwestern families who share our passion for animals and who want quality, unique, hand built tanks and tank stands to personally match their needs. I provide our customers with face to face interactions to ensure that we are meeting their specific requests. I market our product through social media websites, the local newspaper, and fish tank blogs. I am partnering with local welders and supplies wholesalers so that I can keep costs low and still maintain quality. I am launching my business in north Iowa, but have expansion plans to move to Ames and purchase an existing store where I will include my custom fish tank business.
With the $500 grant, I will purchase a computer with a CAD program. This will allow me to model out more efficient ways to create tanks and stands, which will save material costs and time.
Jenna Borcherding—Faded to Fancy: Faded to Fancy will repurpose and refinish any type of furniture. One of my goals is to help families and businesses decorate their homes and offices. I will help future customers with their own products and will also have on hand items that are refinished for customers to purchase. The furniture that I finish and create can be anything from a pallet made into a jewelry holder to sanding and staining a dresser or table. By customizing the products to my customer's needs, they are more highly satisfied with the final product than if they would have purchased new. Many pieces will have a sentimental value, and can be passed on to the future generations. I plan to expand my business in the future by owning a small boutique that would carry women's clothing, refinished furniture, crafts, and cupcakes.
Photos below: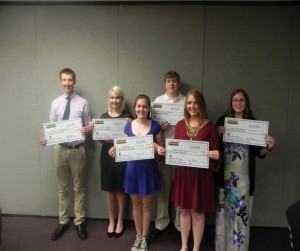 Pictured from left to right:  Corey Behrens, Alysia Thorpe, Noah Taylor, Lauren Klaahsen,Jenna Borcherding, Brianna Carroll.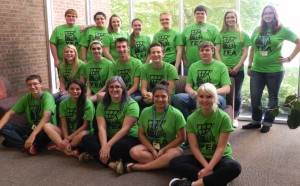 2015 Youth Entrepreneurial Academy Participants
#  #  #
Ref # 4071
#NIACC