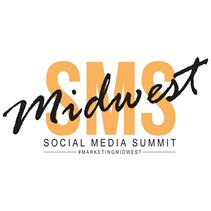 The North Iowa Area Community College (NIACC) John Pappajohn Entrepreneurial Center is hosting a full-day workshop on effectively using social media, digital marketing, and automation tools to complement and enhance small business marketing and sales success. The Midwest Social Media Summit has speakers from states throughout the upper Midwest and offers both inspirational examples to follow and hands-on coaching and experience to assure successful follow-through.
The Midwest Social Media Summit will be held on Saturday, October 24, 2015 from 8:00 AM – 3:30 PM at  NIACC in the Muse-Norris Conference Center.
There are two workshop tracks. Track A: First Steps is for beginners new to social media and digital marketing. This includes the basics of getting key accounts set-up and learning how to engage customers effectively. Track B: Next Steps is for more experienced bloggers and social media marketers. This includes advanced tools and using analytics to improve your targeting and return on time and money invested.
Both tracks emphasize improving connections with existing customers or clients, improving name identification and local reputation, as well as reaching new customers. Social media can help create a path to your door.
Registration is available on-line at www.marketingmidwest.town or at the door. The $79.99 price includes lunch, beverage, and snack service during the day. There are discounts offered for Chamber members and students with a valid .edu e-mail address.
"If we were to bring these speakers into work with our small businesses, it would not only cost us thousands of dollars, but many days of time away from our business.  It's exciting to know that in one day our members can learn many new ways to market their business and leave with a toolkit to help grow their business," said Tim Coffey, Executive Director of the Clear Lake Chamber of Commerce.
The organizing lead co-sponsors of the summit are Social Connections, LLC, Clear Lake Area Chamber of Commerce and Webster City Area Chamber of Commerce. All lead sponsors are participants in the North Iowa Social Media Breakfast Club. The North Iowa Bloggers will provide the staff and expertise to assure attendees get one-on-one assistance through the workshop sessions.
"I can't tell you how many times I've gone to conferences and came home and promptly filed the paperwork I received and didn't use the information I learned.  We're providing a digital toolkit that the attendee can take home and actually use.  Small businesses are extremely busy, we know that.  We're looking at providing tools they can use on Monday to help their businesses grow," said Deb Brown, Executive Director of the Webster City Area Chamber of Commerce.
Speakers and topics include:
•         Shannon Latham:  Vice President of Latham Hi Tech Seeds and Enchanted Acres. (Iowa) Using social media as another marketing tool for your small business.
•           Lori Lite, Stress Free Kids (Georgia) — How social media marketing led to real world sales and fed the famous Shark Tank investor. Using Twitter as an effective tool.
•         Professor Kelli Bloomquist, Digital Mass Communication Iowa Central Community College (Iowa) – Building Your Online Presence
•          North Iowa Bloggers – Assistance with setting up Facebook Business Pages
•         Darcy Maulsby, Farmer Paparazzi and rural marketer (Iowa) — Shoot! How to Dramatically Improve Your Social Media Photos
•          Noah and Brooke Kupcho, Wolftree Magazine (North Dakota) – Instagram and building your business
•         Tony Halsted, Hoover's Hatchery (Iowa) — How we used social media to reinvigorate a 70-year old family business to multiple year-over-year sales growth greater than 30%.
•         Small Business Panel – Tips, Suggestions, and Answers on Using Social Media as another tool in your small business arsenal
•         Scott Meyer, 9Clouds.com digital literacy for businesses (South Dakota) —  Keynote Speaker Predictive Social Media: Growing Business and Changing a Community
Participants are encouraged to bring a wireless device to the event, as using social media during the day is an essential part of the workshop.  There will be a limited number of iPad tablets and laptops available to check out for use during the day if participants do not have a portable wireless device of their own. Experienced social media marketers consistently say, "Just get started. You don't have to be perfect day one."
Seating is limited to 250 people and seats are filling quickly.  If you're a small business owner and looking for ways to utilize the technology of social media to grow your business, this is the conference you want to attend.
For more information or to register online go to www.marketingmidwest.town or contact Anna LaVallee at 641-422-4384, lavalann@niacc.edu .  You can also find the summit on Twitter at @MWSMediaSummit #MarketingMidwest and on Facebook at Social Media Summit Midwest.
#  #  #
Ref # 4098
#NIACC