In celebration of National Manufacturing Day 2015, North Iowa Area Community College (NIACC) offered a $2,000 scholarship to a new student planning to attend one of NIACC's advanced manufacturing programs.
After careful review of the scholarship applications, the NIACC Foundation is pleased to announce that Kyle Post, son of Susan and Allen Post of Woden, has been awarded the MFG Day scholarship. Kyle is a student at Forest City High School and attends NIACC's Tool & Die program through Career Link. "I am very thankful for this opportunity and the scholarship will substantially reduce my debt when I graduate," said Post. He went on to say, "I like combining my math skills with mechanical concepts to manufacture real world products."
Manufacturing Day is an annual national event executed at the local level supported by thousands of manufacturers as they host students, teachers, parents, job seekers and other local community members at open houses, plant tours and presentations designed to showcase modern manufacturing technology and careers.
NIACC's MFG Day events were held on campus Thursday, October 1. In the morning, 150 high school students attended activities exposing them to both career options in manufacturing and the programs available at NIACC.
Approximately 125 individuals attended the evening activities in which guests were given tours of the Industrial Systems Technology, Tool & Die, and Welding programs, watched live demonstrations and had the opportunity to speak with eighteen local manufacturers.
As the cost of higher education continues to increase, so does the need for student financial assistance in the form of loans, grants and scholarships. Scholarship donations help students keep their borrowing to a minimum. While the College experiences great support from groups and individuals each year, the need remains for private support of the NIACC Foundation. For more information on how to provide scholarships for deserving students or to apply, please contact the NIACC Foundation at 641-422-4386.
# # #
Ref # 5002
Pictured below: NIACC President Steven Schulz and scholarship winner Kyle Post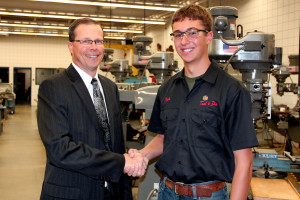 #NIACC