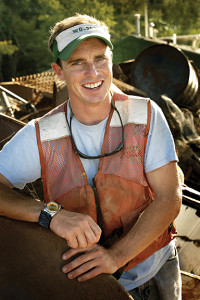 Mercy Medical Center of North Iowa and Principal Financial Group proudly present inspirational speaker Chad Pregracke at the North Iowa Community Auditorium on the NIACC campus at 7:00 p.m. on Tuesday, April 19, 2016.  This presentation is part of the 2015-2016 Performing Arts and Leadership Series.
Chad Pregracke is the author of From The Bottom Up: One Man's Crusade To Clean America's Rivers. Pregracke was a 2013 CNN Hero of the Year and recently appeared on Mike Rowe's "Somebody's Gotta Do It". In the past 15 years, Chad Pregracke has helped pull more than 67,000 tires from the Mississippi River and other waterways across the United States.  But that's just scratching the surface.  He's also helped retrieve 218 washing machines, 19 tractors, 12 hot tubs, four pianos and almost 1,000 refrigerators.  "People intentionally dumped (these) in the river and also littered," Pregracke said. "Even 100 miles away, (trash) will find its way into a creek or a storm drain and into, ultimately, the Mississippi River."  For Pregracke, removing this debris has become his life's work. Sometimes called "The Rivers' Garbageman," he lives on a barge about nine months out of the year with members of his 12-person crew. Together, they organize community cleanups along rivers across the country.  "The garbage got into the water one piece at a time," Pregracke said. "And that's the only way it's going to come out."
It's a dirty job, but Pregracke, 38, took it on because he realized that no one was doing it. It began as a solo effort, and over the years his energy, enthusiasm and dedication have helped it grow. To date, about 70,000 volunteers have joined his crusade, helping him collect more than 7 million pounds of debris through his nonprofit, Living Lands & Waters.
Pregracke grew up in East Moline, Illinois, where the Mississippi River was in his backyard. As a teenager, he worked as a commercial shell diver and began to notice the heaps of debris in the fabled waterway — one that supplies drinking water to 18 million people in more than 50 U.S. cities.
In addition to the river cleanup, Pregracke has launched a floating classroom barge, where his staff educates high school students and teachers about the damages of pollution on river ecosystems. And in 2007, his nonprofit implemented a program to plant 1 million trees along river shorelines to protect and restore the natural environment. The group is halfway to its goal.
Pregracke says his nonprofit has already held more than 700 cleanups on 23 rivers, but he says that he's just getting started. He views his work as a different kind of service to the country.
"A lot of people call me a conservationist or an environmentalist, but the thing is I'm no different than anybody else," he said. "I just want to be known (as) a hardworking American."
For tickets to the show, call the NIACC Box Office at 1-888-466-4222, extension 4188. Tickets may also be purchased online at www.niacc.edu/boxoffice.
Platinum sponsors for the 2015-2016 Performing Arts and Leadership Series include Samuel & Patricia Congello, Globe Gazette, Elizabeth Muse Norris Foundation, Iowa Arts Council, Mason City Clinic, Mercy Medical Center of North Iowa, Principal Financial Group, Sukup, and Teamquest.
Gold sponsors include Dr. Dave and Cathy Beck, Richard Dean Families, First Citizens National Bank, First State Bank Belmond, Furniture/Mattress Outlet, Dean Genth & Dr. Gary Swenson, Henkel Construction Company, Historic Park Inn, Holiday Inn Express, KIMT, KGLO, North Iowa Eye Clinic P.C., North Iowa Broadcasting, Petro Blend, Stratford Foundation, and Visit Mason City.
# # #
Ref # 5078