North Iowa Area Community College (NIACC) received a $3,500 grant from the Alliant Energy Foundation to help fund the summer science camp being held at NIACC from June 29 – July 1.
The science camp will engage students by exploring science education and careers; providing an on-campus experience for students entering grades 8-10. Biology, chemistry, environmental science, and physics content will be covered. Subject matter will be explored through stimulating hands-on activities related to health, industrial technology, and science. NIACC Agriculture and Nursing Simulation (SIM) faculty will also provide breakout sessions to tie camp activities to career choices.
"The grant will help provide equipment and support for our science summer camp, allowing campers to explore a variety of STEM (Science, Technology, Engineering and Math) disciplines and careers through hands-on activities and tours," said Heather Rissler, NIACC Biology Instructor. "The activities supported by the grant will connect campers with experiences that foster development of their future educational and career goals in the sciences."
"At NIACC we're deeply appreciative of the grant funding we've received for the new summer science camp for high school students," NIACC President Steve Schulz said. "The College has a strong commitment to STEM education, and these camps engage and encourage our high school students in exploring the education that leads to exciting careers in high paying fields."
NIACC also received a $3000 grant from 3M to help fund the summer science camp. You can learn more about NIACC summer camps at https://www.niacc.edu/about/summer-camps/ .
# # #
Ref # 6011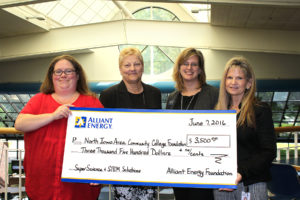 PHOTO CAPTION
L-R: Heather Rissler, NIACC Biology Instructor; Dr. Terri Ewers, Vice President of Student Services at NIACC; Molly Knoll, Director of Institutional Advancement at NIACC; Rebecca Gisel, Key Account Manager at Alliant Energy