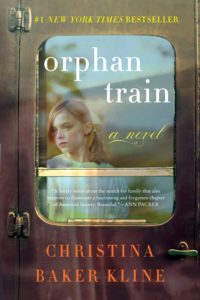 For decades, many train riders believed that the train they rode on was the only one. They didn't know that they were part of a massive 75-year social experiment. It wasn't until their own children and grandchildren got involved and started asking questions –there are more than two million descendants, according to some estimates – that they met other train riders and began sharing their stories.
"Christina Baker Kline's Orphan Train makes for compulsive reading–this is a story of resilience in the face of tremendous odds and oppressive loneliness. Meticulously researched and yet full of the breath of life, Kline's novel takes us on an historical journey where survival depends upon one's own steely backbone, and the miracle of a large and generous heart." Helen Schulman
Between 1854 and 1929, so-called orphan trains ran regularly from the cities of the East Coast to the farmlands of the Midwest, carrying thousands of abandoned children whose fates would be determined by pure luck. Would they be adopted by a kind and loving family, or would they face a childhood and adolescence of hard labor and servitude?
As a young Irish immigrant, Vivian Daly was one such child, sent by rail from New York City to an uncertain future a world away. Returning east later in life, Vivian leads a quiet, peaceful existence on the coast of Maine, the memories of her upbringing rendered a hazy blur. But in her attic, hidden in trunks, are vestiges of a turbulent past.
Seventeen-year-old Molly Ayer knows that a community-service position helping an elderly widow clean out her attic is the only thing keeping her out of juvenile hall. But as Molly helps Vivian sort through her keepsakes and possessions, she discovers that she and Vivian aren't as different as they appear. A Penobscot Indian who has spent her youth in and out of foster homes, Molly is also an outsider being raised by strangers, and she, too, has unanswered questions about the past.
Moving between contemporary Maine and Depression-era Minnesota, Orphan Train is a powerful tale of upheaval and resilience, second chances, and unexpected friendship.
The Common Read is a program designed to engage North Iowa Area Community College, its students, staff, faculty and community members, in a unified intellectual activity. For first-year students it introduces them to academic expectations, respectful discourse, and community building. The Common Read is supported by the Performing Arts and Leadership Series. First-year students will be asked to read the book as part of their Composition One requirements. The Common Read book is available through the NIACC Bookstore.
This program is supported by the Academic Affairs board of the institution, and a host of individual faculty, staff and community members on the Common Read Committee.
For more information about Christina Baker Kline, visit her website at www.christinabakerkline.com/ To learn more about the NIACC Common read visit www.niacc.edu/common-read, or watch a video at www.niacc.edu/palvideos.
For tickets to the show, call the NIACC Box Office at 1-888-466-4222, extension 4188. Tickets may also be purchased online at www.niacc.edu/boxoffice.
Platinum sponsors for the 2016-2017 Performing Arts and Leadership Series include Samuel & Patricia Congello, First Citizens National Bank, Elizabeth Muse Norris Foundation, Mercy Medical Center of North Iowa, and Principal Financial Group.
Gold sponsors include Dr. Dave and Cathy Beck, First State Bank Belmond, Globe Gazette, Mason City Clinic, Dean Genth & Dr. Gary Swenson, Dr. Bryan & Alicia Navarette, Henkel Construction Company, Sukup, Historic Park Inn, North Iowa Eye Clinic P.C., Petro Blend, Stratford Foundation, Arts Midwest Touring Fund, Holiday Inn Express, KIMT, KGLO, and North Iowa Broadcasting.
# # #
Ref # 6049