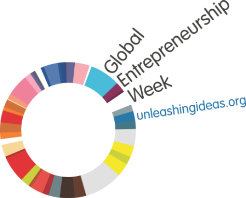 North Iowa Area Community College's John Pappajohn Entrepreneurial Center will celebrate thinking globally and acting locally with Global Entrepreneurship Week events on November 15-18.  Activities are intended to spark and feed the entrepreneurship spirit in North Iowa.
"Global Entrepreneurship Week is a wonderful opportunity to recognize those entrepreneurs who have taken the steps and accepted the risks that go along with starting a new business," said Tim Putnam, Pappajohn Center Director. "It's also a nice opportunity to encourage people to look into what being an entrepreneur is all about.  They can even give it a try with our NIACC Marketplace event where students, faculty and staff are provided a venue to sell their art, jewelry and other creations."
Global Entrepreneurship Week activities:
• November 15: Entrepreneur for a Day (E4D) for 5th grade at the Garner-Ventura-Hayfield School.
• November 15:  TechBrew will be held on Tuesday, November 15 from 5:00 – 7:00 p.m. at Mason City Brewing at 28 E State Street.  TechBrews are networking events designed to bring together entrepreneurs, technologists, business people and investors. TechBrew are presented by the Technology Association of Iowa in partnership with the North Iowa Corridor EDC and the NIACC Pappajohn Center.
• November 16:  A free Start Smart class is being offered by North Iowa Area Community College (NIACC) Pappajohn Center and Americas Small Business Development Center (SBDC). It will be held on Wednesday, November 15 at NIACC, Room #117 from 6-8 pm. This two hour workshop is designed for anyone who is considering starting a business or expanding their current business.  Participants will learn how to create a business plan, do market research, consider different types of business ownership and learn how to register a business. There is no cost to attend. To register, contact Mary Spitz at NIACC: 641-422-4342.
• November 17: Entrepreneur for a Day (E4D) for 5th grade at the St. Ansgar School.
• November 18:  NIACC will host a tax free shopping extravaganza.  The Marketplace features NIACC Students, Faculty, Staff, and Alumni entrepreneurs showcasing their homebased businesses.  The event will take place from 10 am to 2 pm in the Activity Center.   This is a great chance to pick up some holiday gifts and support our local entrepreneurs.
The national NACCE Innovation Award winning NIACC John Pappajohn Entrepreneurial Center provides college level courses and degree programs in entrepreneurship, as well as comprehensive consulting services for business start-ups, existing industries and owner transitions in the North Iowa region.   Space is available for start-up businesses in the North Iowa Business Incubator. For more information, contact the NIACC JPEC at 641-422-4111.
# # #
Ref # 6057