Students at North Iowa Area Community College (NIACC) who received scholarships this year had an opportunity to show their gratitude during the 13th annual NIACC Foundation Scholarship Recognition Luncheon held at the Muse Norris Conference Center on Thursday, October 27, 2016.
"This is an important tradition that allows scholarship recipients the opportunity to personally thank the donors who make scholarships possible," said Dr. Steve Schulz, NIACC President. "Each student has a unique story to tell and this year's student speakers shared their own amazing stories."  It was also noted that 584 students received scholarships from NIACC totaling just over $1,092,000.
The recognition program featured comments from Ron Eichmeier, Vice President of Farm Credit Services of America. Since 2012, Farm Credit Services of America has committed to supporting young adults at NIACC. Through a component of their Young and Beginning Program, Farm Credit provides two $1,000 scholarships for NIACC students pursuing a degree in agriculture. Eichmeier, a 1972 graduate of NIACC, challenged everyone in the room even NIACC leaders. Eichmeier stated, "I am issuing a challenge to NIACC, students and donors to take this relationship to the next level." He continued, "As a donor, get to know the student who received your scholarship. If you are a business owner have them come to your business and make the connections. Students, share what goes on in your life with your donor, maybe even have your donor join you at one of your classes." Eichmeier challenged NIACC saying, "And to NIACC, I encourage you to continue to provide mentoring type opportunities to students through employers, it's a win, win for everyone involved."
Several student scholarship recipients also spoke at NIACC's scholarship recognition luncheon.
Dirk Charlson from Forest City, chose NIACC almost 25 years ago, earning an Associate of Arts degree and an Associate of Applied Sciences degree in 1995. He transferred to Iowa State earning a bachelor's degree in biology and eventually a PhD in Crop Physiology and Agronomy. After spending years as a soybean breeder for DuPont Pioneer, corporate restructuring found him looking for his next career. Charlson enrolled in the Launch and Grow class with the NIACC John Pappajohn Entrepreneurial Center, pitched a business idea and after careful consideration started his own agricultural consulting business. Charlson shared with his fellow classmates, "A characteristic of a successful student, professional, entrepreneur or individual is, aspiring to seek out knowledge, in essence, be a life-long learner. Although I have many years of personal and professional experience, I believe it is important to stay relevant in our ever increasing, knowledge-driven economy." Charlson is pursuing a Pappajohn Entrepreneurial Certificate and an Agriculture Technology Diploma. The Jamie T. Zanios Entrepreneurship Scholarship and a John and Mary Pappajohn Scholarship have assisted Charlson in this pursuit.
According to Ian Dailey of Charles City, he was destined to attend NIACC. His dad and all of his siblings attend NIACC. He knew that NIACC was the right fit for him. Dailey received the Angus MacNider Arts and Sciences Scholarship and the Area 2 High School Scholarship. A member of Phi Theta Kappa and studying in Management Information Systems, Dailey is dual enrolled at UNI. Dailey stated, "I plan to earn both my AA and AS degree at NIACC and intend to continue my path to becoming a business/computer developer." He continued, "I want to thank the MacNider family and the NIACC Foundation for helping to take away the worry and stress of having to work many hours at a job as well as attend classes and most importantly for investing in my future success!"
Jordan Prantner is a freshman this year at NIACC. Prantner from Hampton is the recipient of the NIACC Trustee's Scholarship, the William Georgou Memorial Scholarship and a NIACC Athletic Scholarship. Prantner shared, "When I made my decision to come to NIACC last fall, I knew I made the right decision. I have always felt welcomed and accepted." She continued, "I chose NIACC because I knew that through the help of scholarships I would be able to concentrate on school as well as play basketball." Prantner is planning a degree in Secondary Education with a math focus as well as a minor in coaching. She continued, "I would like to tell all of the donors, thank you. These are words that you all do not hear enough. Every penny counts when you are in college and these scholarships are never taken for granted."
On the day her daughter started kindergarten, Heidi VanHorn, of Clear Lake, received an urgent phone call from her husband while she was at work. "My husband of 12 years said, we need to talk, and I thought oh boy this can't be good." VanHorn continued, "He told me that now that our little girl was in school full-time, I should be too!"  VanHorn's work as a tech in Mercy ER and her role as a volunteer EMT were comfortable for her and she carried the insurance for their family. After her husband reassured her they would make it work, the rest is almost history. VanHorn is finishing her 2nd year in the associate degree nursing program and will graduate in May. VanHorn recognized a special woman in the room, Mary Furleigh Woerner, for whom a scholarship was named and happened to be the scholarship VanHorn received. "I am honored to receive a scholarship in honor of a woman who is not only a nurse but also dedicated her life to the service of others through volunteerism. I plan to do the same someday."
As the cost of higher education continues to increase, so does the need for student financial assistance in the form of loans, grants, and scholarships.  Scholarship donations help students keep their borrowing to a minimum.  While the College experiences great support from groups and individuals each year, the need remains for private support of the NIACC Foundation.
For more information on how to help the College support deserving students, please contact the NIACC Foundation at 641-422-4386.
#  #   #
Ref # 6072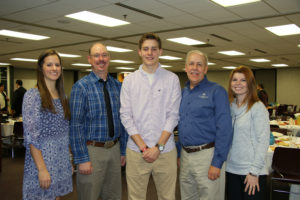 Pictured left to right, Student speakers, Jordan Prantner – Hampton, IA, Dirk Charlson-Forest City, IA, Ian Dailey – Charles City, IA, Donor speaker, Ron Eichmeier (Donor Speaker), student speaker, Heidi VanHorn – Clear Lake, IA.