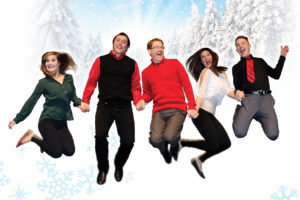 North Iowa Area Community College (NIACC) proudly presents Holiday Pops at the North Iowa Community Auditorium on the NIACC campus at 4 p.m. on Saturday, December 10, 2016. This presentation is part of the 2016-2017 Performing Arts and Leadership Series.
The same ensembles that brought the community Candlelight Christmas join together for a new holiday collaboration. With over 150 local performers on stage this show is sure to bring you into the holiday spirit.  Performers will include the NIACC Concert Choir, NIACC Singers, North Iowa Choral Society, River City Chorus and members from the North Iowa Concert Band and North Iowa Orchestra.
According to Musical Director Jayson Ryner, "The new format allows the performers more freedom to draw from some of the more recent holiday selections from musicals and movies."
The North Iowa Children's choir, under the direction of Allison Day, will present "It's Almost Christmas" from The Little Princess. The NIACC Singers will sing "Believe" from The Polar Express with a solo dance by Elyssa Wilson.  The show will also include solo big band inspired performances by NIACC music majors Lydia Ouverson of Mason City singing "White Christmas" and Emily Erhardt of Fairbank singing "A Christmas Song."  Add in novelty selections including "Slow Rockin' Christmas," "Mele Kalikimaka," and "Christmas Time is No Time to Diet" and you have the recipe for a fun holiday filled afternoon.
"The end of the show will bring back a traditional choral feel," Ryner said.
Included will be Franz Biebl's "Ave Maria;"  "Glow," by Eric Whitacre; and "Hark! the Herald Angels Sing!" as sung by the Morman Tabernacle Choir.  A featured solo with orchestra of "O Holy Night," by sophomore soprano Harleigh McKee from Webster City will surely be a highlight of the show.
Ryner added, "The NIACC Concert Choir has been out on several occasions throughout the semester and received great reviews at all of our stops.  Their featured spot at the end of the concert will surely be poignant and reverent."
For tickets to the show, call the NIACC Box Office at 1-888-466-4222, extension 4188. Tickets may also be purchased online at www.niacc.edu/boxoffice. Please note the change of performance time from previously advertised information.
Platinum sponsors for the 2016-2017 Performing Arts and Leadership Series include Samuel & Patricia Congello, First Citizens National Bank, Elizabeth Muse Norris Foundation, Mercy Medical Center of North Iowa, and Principal Financial Group.
Gold sponsors include Dr. Dave and Cathy Beck, First State Bank Belmond, Globe Gazette, Mason City Clinic, Dean Genth & Dr. Gary Swenson, Dr. Bryan & Alicia Navarette, Henkel Construction Company, Sukup, Historic Park Inn, North Iowa Eye Clinic P.C., Petro Blend, Stratford Foundation, Arts Midwest Touring Fund, Holiday Inn Express, KIMT, KGLO, and North Iowa Broadcasting.
#  #  #
Ref # 6074