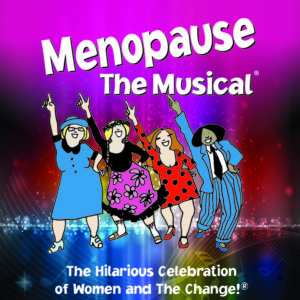 "Great for a girls' night out! Tickets on sale NOW!
The NIACC Performing Arts and Leadership Series proudly presents Menopause The Musical® at the North Iowa Community Auditorium on the NIACC campus at 7:30 p.m. on Saturday, January 28, 2017. This presentation is part of the 2016-2017 Performing Arts and Leadership Series.
Menopause The Musical® is a groundbreaking celebration of women who are on the brink of, in the middle of, or have survived "The Change." Now celebrating 14 years of female empowerment through hilarious musical comedy, Menopause The Musical® has evolved as a "grassroots" movement of women who deal with life adjustments after 40 by embracing each other and the road ahead.
Set in a department store, four women meet while shopping for a black lace bra at a lingerie sale. After noticing unmistakable similarities among one another, the cast jokes about their woeful hot flashes, mood swings, wrinkles, weight gain and much more. These women form a sisterhood and unique bond with the entire audience as they rejoice in celebrating that menopause is no longer "The Silent Passage."
Inspired by a hot flash and a bottle of wine, Menopause The Musical® is a celebration of women who find themselves at any stage of "The Change." The laughter-filled 90-minute production gets audience members out of their seats and singing along to parodies from classic pop songs of the '60s, '70s and '80s.
Menopause The Musical®, now in its fourteenth year of production, is recognized as the longest-running scripted production in Las Vegas and continues to entertain nightly at Harrah's Las Vegas. The hilarious musical has entertained audiences across the country in more than 450 U.S. cities, nearly 300 international cities and a total of 15 countries.
For more information, visit www.MenopauseTheMusical.com, or watch a video at www.niacc.edu/palvideos.
For tickets to the show, call the NIACC Box Office at 1-888-466-4222, extension 4188. Tickets may also be purchased online at www.niacc.edu/boxoffice.
Platinum sponsors for the 2016-2017 Performing Arts and Leadership Series include Samuel & Patricia Congello, First Citizens National Bank, Elizabeth Muse Norris Foundation, Mercy Medical Center of North Iowa, and Principal Financial Group.
Gold sponsors include Dr. Dave and Cathy Beck, First State Bank Belmond, Globe Gazette, Mason City Clinic, Dean Genth & Dr. Gary Swenson, Dr. Bryan & Alicia Navarette, Henkel Construction Company, Sukup, Historic Park Inn, North Iowa Eye Clinic P.C., Petro Blend, Stratford Foundation, Arts Midwest Touring Fund, Holiday Inn Express, KIMT, KGLO, and North Iowa Broadcasting.
# # #
Ref # 6083