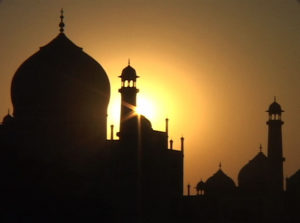 The 2016-17 Travel and Adventure Film Series continues with "Soul of India" at 7:00 p.m. on Friday, March 17 in the North Iowa Community Auditorium, located on the North Iowa Area Community College (NIACC) campus. The 2016-17 Travel and Adventure Series is sponsored by NIACC.
India defies every attempt at definition. You'd run out of ink, or paint, or video tape before you'd even begun to find her, let alone capture her. Take the landscape, there are jungles straight out of Rudyard Kipling, deserts to make Lawrence of Arabia weep with envy, the highest mountains in the world, tropical beaches, fading colonial hill stations, crowded cities.
Indians are varied as their landscapes. More than one billion people, thousands of languages, almost every religion known to man, and somehow all of it mixed into one vast, raucous and unruly democracy.
To make his new film "Soul of India" documentary filmmaker Rick Ray spent four months in India, braving heat, cold, altitude, earthquakes, and riots to patch together a personal tapestry of this nearly indescribable country.
"Rick Rays` The Soul of India" visits familiar sites like the Taj Majal, the palaces and forts of Rajasthan, the Himalayas and the river Ganges to peer into an India that few visitors see – a land of villages and inner cities, a country in which reside the hopes and dreams of one-sixth of the world`s population.
Our cinematic tour will take us to India's bustling cities of Bombay, New Delhi, and Calcutta. We will also visit the quiet and tranquil landscapes in South India and in the Himalayas. We'll explore the majesty of legendary cities such as Varanasa, Agra, Udaipur, Jaipur, Jodhpur, and Jaiselmer. The mysteries of South India will come alive with trips to Kerala`s famous Backwaters, silk factories, Cochin, Madurai, and more. Visit maharaja palaces, a camel festival, ride on the luxury Palace on Wheels, and see sides of the Taj Mahal that few ever explore. All of India's religions will be explained in depth including Hinduism, Buddhism, Islam, Christianity, the Jain faith and the Sikh faith.
We'll learn how political events have shaped the landscape and how the influence of the British empire brought ideas and concepts still deeply rooted in the Indian psyche today. We`ll explore concepts such as the caste system, democracy, marriage, privacy, life and death and see how they differ from our preconceptions in the West.
India is a challenge to the senses, to the mind and to everything we in America tale for granted. If you come to terms with her nearly infinite diversity, her stunning vitality and her in-your-face energy, you will learn a great deal about yourself. In the process, you will learn a great deal about humanity.
Once you have glimpsed the kaleidoscope of color, the encyclopedia of experience that is India, you`ll probably agree that you have discovered the most colorful and fascinating country on earth.
The 2016-17 Travel and Adventure Film Series is shown in the North Iowa Community Auditorium. These films appeal to a wide audience of travelers. Beautiful scenery, out-of-the-ordinary locations, various cultures and people are depicted throughout the films. Tickets are only $5 for adults and $3 for students. Tickets may be purchased at the door. For information, call the NIACC Continuing Education office at 641-422-4358.
# # #
Ref # 6097