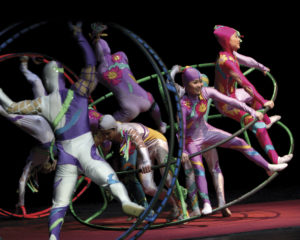 Dean Genth & Dr. Gary Swenson proudly present the Golden Dragon Acrobats at the North Iowa Community Auditorium on the NIACC campus at 7:30 p.m. on Friday, March 24, 2017. This presentation is part of the 2016-2017 Performing Arts and Leadership Series.
"This unique cirque spectacular showcases traditional Chinese acrobats who dazzle with amazing feats of athleticism, daring heart-stopping stunts and the grace of their centuries-old art form." ~Broadway World
The Golden Dragon Acrobats represent the best of a time honored tradition that began more than twenty-five centuries ago. The Golden Dragons are recognized throughout the United States and abroad as the premiere Chinese acrobatic touring company of today.
The reputation of the company is solidly rooted in a commitment to the highest of production values and an attention to artistic details that is unparalleled in the art form. World renowned impresario Danny Chang and choreographer Angela Chang combine award-winning acrobatics, traditional dance, spectacular costumes, ancient and contemporary music and theatrical techniques to present a show of breathtaking skill and spellbinding beauty.
In November 2005, the Golden Dragon Acrobats made their Broadway debut to a sold out audience at the New Victory Theater, New York's ultimate theater for kids and families. Their Broadway run over the next six weeks led to adoration and standing ovations from audiences of all ages and universal critical acclaim from the New York press. The run was highlighted by the Golden Dragons receiving two most prestigious New York Drama Desk nominations — Danny Chang for Unique Theatrical Experience and Angela Chang for Best Choreography.
The Golden Dragon Acrobats have been continuously touring the United States for over 30 years and have traveled around the world, to all 50 states, and to over 65 countries on five continents. The Golden Dragons remain the ONLY Chinese acrobatic company touring year-round in the United States.
This renowned troupe continues the centuries-old Chinese traditions of acrobatics, athleticism and artistry. They perform routines that push the boundaries of human ability, requiring years of constant training and immense concentration. Through their professionalism and skill, they create a show that will delight audiences of all ages.
To learn more about The Golden Dragon Acrobats visit their website at www.goldendragonacrobats.com, or watch a video at www.niacc.edu/palvideos.
For tickets to the show, call the NIACC Box Office at 1-888-466-4222, extension 4188. Tickets may also be purchased online at www.niacc.edu/boxoffice.
Platinum sponsors for the 2016-2017 Performing Arts and Leadership Series include Samuel & Patricia Congello, First Citizens National Bank, Elizabeth Muse Norris Foundation, Mercy Medical Center of North Iowa, Principal Financial Group, and US Bank.
Gold sponsors include Dr. Dave and Cathy Beck, First State Bank Belmond, Globe Gazette, Mason City Clinic, Dean Genth & Dr. Gary Swenson, Dr. Bryan & Alicia Navarette, Henkel Construction Company, Sukup, Historic Park Inn, North Iowa Eye Clinic P.C., Petro Blend, Stratford Foundation, Arts Midwest Touring Fund, Holiday Inn Express, KIMT, KGLO, and North Iowa Broadcasting.
# # #
Ref # 6102