Ruan has increased their level of support for the Keeping NIACC First capital campaign by donating a semi-trailer to the Diesel program at North Iowa Area Community College (NIACC). "Ruan is a family company with a strong commitment to education," said Jim Cade, Vice President for Fleet Services for Ruan. "We believe in contributing to the development of the next generation of Iowans and supporting the community colleges of this state."
"We are grateful for Ruan's donation of this trailer, in addition to their earlier cash donation to the campaign. It will serve our students well," said Steve Schulz, NIACC President. "It will help students learn to manage equipment both on the road and in the shop."
The trailer is approximately 18 years old and was recently in use in the Davenport/Muscatine area. According to Brad Gehring, Director of Asset Management for Ruan, "the trailer is reliable and will allow students to work on and experience the real world issues of a working trailer." Ruan has 300+ operations nationwide and more than 250 diesel technicians all over the country.
"It's awesome," said Denny Salz, NIACC Diesel Instructor. "Enrollment in the Diesel program continues to increase each year and this trailer provides us another piece of equipment for hands-on learning. Our students will gain experience in coupling, ABS trailer braking systems, maneuverability, and trailer service in general."
President Schulz is also excited about the prospect of using the trailer as a moveable billboard. He said, "We are working with a local company to secure a wrap for the truck. We hope to be able to take this trailer, pulled by the truck cab donated by Harrison Truck Centers as part of the Keeping NIACC First Capital Campaign, to the numerous communities in our service area. The NIACC community can look forward to seeing the customized NIACC tractor and trailer in the very near future," Schulz said.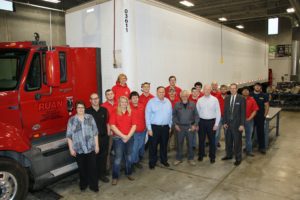 Pictured: NIACC Diesel Technology students: Laura Wood (NIACC), Nick Hinnenkamp, Trey Tesch, Katelyn Johnson, Chase Stokka, Caleb White, Rylan Fleshner, Jim Cade (VP, Ruan), Taylor Bennett, Tanner Peterson, Mitch Upchurch (Ruan), Clay Pierce, Dalton Adams, Brad Gehring (Ruan), Denny Salz (NIACC), Brandon Emhoff, President Steve Schulz (NIACC), Jonas Rosonke, Sterling Adams
# # #
Ref # 6118