Campus Visit
The best way to learn more about North Iowa Area Community College is to visit our campus.  We think you will be delighted with the beauty of campus, our state-of-the-art facilities, and our friendly faculty, staff, and students.  A visit to NIACC will help you figure out that NIACC is the Perfect Fit for You.
Find out about campus visit options, schedule your visit, and get directions to North Iowa Area Community College.  When you come to the NIACC campus, just look for the Activity Center. That's where the Admissions offices are located.
Campus Visits Options at NIACC
---
Saturday Visits – Oct 18, 2014  thru April 18, 2015
You may choose to visit campus on a Saturday morning where you and your family can attend a group presentation and a campus tour. This option is intended for students who do not need individual counseling, but instead want an overview of admissions requirements, financial aid, academic programs, and student life.The admissions office will have group presentations 10:00 a.m. & 11:00 a.m. Call the Admission Office to reserve your spot.
Saturday visits will be held:

October 18, 2014
November 15, 2014
January 17, 2015
February 21, 2015
March 21, 2015
April 18, 2015

Sign up for a Saturday Visit Here
---
Explore – November 6, 2014
NIACC Auditorium – 6:00 p.m.
An evening campus visit for you and your parents. Pick two career sessions to learn about your opportunities at NIACC. Check out our website for the career sessions & to register for this event. www.niacc.edu/admissions/explore
---
Business Visit

– December 5, 2014
Muse-Norris Conference Center -10:00 a.m.
Business…It's What We Do.
Ever think how cool it would be to be your own boss or work in the business world. Come to NIACC for a taste of what that may feel like. Whether you are interested in being the boss, the accountant, the computer IT person, the office assistant or the one who markets the company or products, NIACC can help you get to your career goal. The day will consist of real world entrepreneurs and business professionals working with you. You will experience hands on activities and lots of interaction with current business students and faculty. Plus lunch is on us!
---
Agriculture Visit – February 25, 2015
Muse-Norris Conference Center – 10:00 a.m.
Career opportunities in the agriculture industry are vast! There are tons of paths to go down depending on where your passion and interests fall. It may be on the production line, in the field, marketing, working in finance or tending to crops or animals. Come to campus to interact with current faculty and students, see the farm, tour campus and have lunch on us. We will explain the "perks" of NIACC and show you why the NIACC Agriculture program is the Perfect Fit for You.
---
Parents Night – March 4, 2015
Activity Center – 5:30 p.m.
Parents of high school students are invited to attend a special night with NIACC faculty, staff and students to learn about the college enrollment process and how to best support your student during the transition from high school to college.
Check out our web site for details & registration.
www.niacc.edu/admissions/parents-night
---
Campus Visit – April 3, 2015
Muse-Norris Conference Center – 10:00 a.m.
It is never too early to begin visiting colleges to get a sense of how they fit your goals and expectations. During this Campus Visit, you will have the opportunity to learn about all things at NIACC.
During your visit you will:
Tour the campus and housing facilities
Learn about student activities and organizations on campus
Learn more about how easy it is to afford NIACC with financial aid and scholarships
Get an overview of the programs and degrees NIACC offers
Meet and visit with instructors in your academic area
---
Individual Visit
When you visit campus you will receive enrollment information covering admission procedures, financial aid, housing, student life, academic programs and the many opportunities available to students at NIACC. Your visit will include a walking tour of campus and the residence halls. We can arrange a visit with an instructor in the department of your choice, if you choose. Other activities can be arranged according to your special interests.
When should I Schedule a Visit?
The Admissions Office is open weekdays from 8 a.m. to 4:30 p.m. We recommend that you contact us at least one week in advance so that we can arrange a personal visit for you, or reserve a place in one of our Special Visits, or Saturday visits.
To schedule your individual visit and tour, call the Admissions Office at:
1-888-GO NIACC. Ext 4245
---
How Do I Get to NIACC?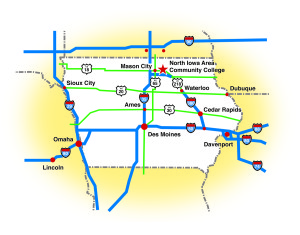 NIACC is located on the east edge of Mason City in North Central Iowa. The countryside campus is about a 2-hour drive from Minneapolis, Minnesota and Des Moines, Iowa.
Staying Overnight?
We'll be happy to provide a listing of available lodging in Mason City. Call the Admissions Office at 1-888-GO NIACC, ext. 4245.
Phone Numbers You May Need
Admissions 641-422-4245 Athletic Office 641-422-4344 Financial Aid 641-422-4168
Special Assistance
If someone in your party will need special assistance or accommodation, please notify the Admissions Office between 8 a.m. and 4:30 p.m., Monday through Friday.
Questions?
Contact the NIACC Admissions Office
North Iowa area Community College
500 College Drive
Mason City, IA 50401
Local Phone 641-422-4245
Toll Free 1-888-GO NIACC, ext. 4245
Web: Admissions Office
NIACC does not discriminate on the basis of race, color, age, religion, national origin, sexual orientation, sex, marital status, disability, or status as a U.S. Vietnam Era Veteran.
The information in this publication is believed to be current. While every attempt is made to provide accurate and up-to-date information, some details may be subject to change.