HSED Online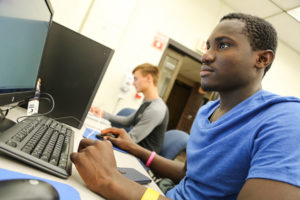 HSED online is a blended approach in which students take pre-assessments and official HiSET practice tests at a face-to-face site while doing the majority of their study online. Students interested in online study must still attend an orientation session at their nearest HSED class site.
Online study is reserved for those students who have barriers to attending class at a face-to-face site (work schedule, no transportation, lack of childcare). However, students with low pre-assessment scores at orientation will be encouraged to attend face-to-face because of the increased need for assistance with coursework.
What skills are needed?
Self-discipline
Time management
Motivation and determination to succeed
Technological understanding of computers
Ability to navigate the internet
Strong reading and math skills
Effective writing and strong communication skills
What are the technology requirements?
Students must have daily access to a computer and internet
Students must have good word processing skills
Students must be able to easily move around a web site
Students must know and follow proper "Netiquette"– accepted rules for Internet usage