Announcements
The fall 2018 brochure is now available online
Room Changes
The Art of Calligraphy
Instructor: Kathie Vix
Dates: Fridays, September 14, 21, 28, October 5 & 12
Time: 10:00am – 11:30am
Location: AC101
Course #: 2214
The 1918 Influenza: Lessons Learned
Instructor: Suzanne Hofstrand
Dates: Wednesday, October 24
Time: 3:00pm – 4:00pm
Location: BC200
Course #: 2237
Room and Time Change
Ghosts of the Midwest
Instructor: Arlene (Midge) Gaylor
Dates: Tuesday, October 30
Time: 2:30pm – 4:00pm
Location: BC200
Course #: 2241
---
Art Is For Everyone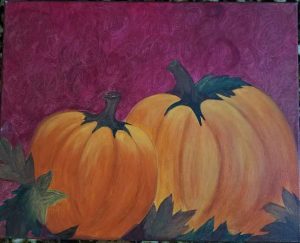 Instructor: Janell Drumheller
Date: Thursday, October 4
Time: 5:30pm – 7:30pm
Location: Mulligans Bar and Grill, 2791 4th St SE, Mason City, IA 50401
Course #: 2226
Material fee: $30 for 11X14 canvas
Class minimum is 10 and maximum is 50.
Creating art is a very effective way to stimulate the brain, and anyone can do it. We are all born with an inherent desire to express ourselves, and art covers an extensive range of activities to help benefit our brain and mental health to make us happier and healthier people.
This is a step-by-step instructional painting class that will teach technique and blending with acrylic paints on canvas. Learn how to express yourself with a professional artist who will guide you in completing a work of art by the end of the session.
The artwork to be completed in class is "Fall Pumpkins", as pictured above.
Janell Drumheller is an expert painter who has been teaching high school art and science in Mason City since 2008. She also owns an art business that was born right here in North Iowa through NIACC's Entrepreneurial studies class at the Papa John Center. When not teaching, Janell keeps herself busy by painting murals for business and residential clients all over Iowa as well as holding regular canvas painting classes at several locations all over the state. She volunteers for the city of Mason City and also at MacNider Museum when time allows.
---
Ukulele For You
Instructor: Allison Day
Dates: Mondays, October 1, 8, 15, 22, 29 & November 5
Time: 4:00pm – 5:00pm
Location: AC150
Course #: 2224
The Ukulele, or Uke for short, is a four string, six string, or eight string instrument. Originally from Portugal, ukuleles are educational, affordable, and easy to learn. They are also portable, versatile, and FUN! Here is your opportunity to learn how to play an instrument which, despite its size, produces an assortment of sounds!
Allison Day is the music teacher at Harding Elementary and Pinecrest Center in Mason City. Allison is originally from Mason City and holds a Bachelor of Arts in Music (History and Choral Music) from Southern Illinois University Edwardsville and a Teaching Certificate from Buena Vista University, Mason City Campus. She also holds a Master of Arts in Teaching, Music Education Strand. Allison began her love for ukulele when she was looking for an instrument for her students that was "mobile" enough to transfer between schools. From there she has lead her students to love the ukulele, and they were even fortunate enough to perform with the Great Britain Ukulele Orchestra.
What to Purchase
Diamond Head DU-150 Soprano Ukulele – Mahogany Brown https://www.amazon.com/dp/B008277N80/ref=cm_sw_r_cp_api_FmKABbC05DCD4
Hola! Music HM-21BR Soprano Ukulele Bundle with Canvas Tote Bag, Strap and Picks, Color Series, Natural https://www.amazon.com/dp/B00AT9IVYO/ref=cm_sw_r_cp_api_2nKABbD939974
Reiman Music also has some Makala Soprano Ukuleles.
As long as the ukulele is Soprano and not a toy it should be fine. A four string is recommended for beginners.
N.B.: The instructor has a few that she can bring to class for use. However, she would not recommend borrowing these because she would like the students to practice at home.