SHRM Certification Prep Course

Define Yourself as an HR Leader With SHRM Certification
SHRM's global HR credentials, SHRM-CP and SHRM-SCP, offer growth, advancement and recognition. These credentials are based on extensive global research involving employers, academics, and practicing HR professionals at all levels to ensure they maintain an industry-leading level of excellence and relevance in our ever-evolving profession.
By becoming a SHRM-CP or SHRM-SCP, you prove your knowledge, competency and value to colleagues and to employers looking for a competitive edge in today's global economy. Wherever your career takes you, your SHRM certification will define you as an HR expert and leader.
Choose Expert Leadership and Guidance
Attending our course is the most effective way to prepare to pass the SHRM-CP and SHRM-SCP exams.
Learn from a certified instructor who provides expertise, insights and one-on-one guidance.
Network, share experiences, and discuss topics with a diverse group of HR professionals.
Stay on track to earn your certification with a structured learning experience and support.
Take advantage of funding options, such as corporate tuition reimbursement.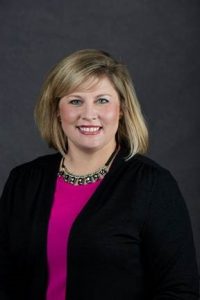 Elizabeth is Professor of Management and Chair of the Management program with Des Moines Area Community College.  Elizabeth has been teaching with DMACC since August 2016 with courses in Management Principles, HR Management, Organizational Behavior, and Leadership Development.  Elizabeth also coordinates the Internship program for Management and Marketing students on campus. She enjoys teaching this course to keep up to date with the happenings in the workplace in the HR sector. Before launching her teaching career, Elizabeth spent 12 years in the HR profession, working in a variety of roles within Healthcare and the Manufacturing sector.  She completed her Master's in HR Management from Briar Cliff University in 2013 and her Bachelors in Management from ISU in 2005.  Elizabeth is active with Central Iowa SHRM on the College Relations board and is a member of the East Marshall School Board.
NIACC's SHRM Certification Prep course is provided via webinar. You will interact with the instructor in real-time through an easy-to-navigate web-based interface. A pre-test is given to determine which areas of the SHRM Learning System you need to focus on. At the end of the course, you will take a post-test to gauge your preparedness for the exam. Practice tests are given throughout the course. The instructor will walk you through each module of the SHRM Learning System and real-time discussion is encouraged. Assignments designed to maximize retention of the material are given. The instructor designates office hours during which you will receive one-on-one assistance. As an added bonus, all webinars are recorded so they can be reviewed at a time that works best for you.
Register for NIACC's SHRM Certification Prep Course today. Classes fill quickly and space is limited.
Course # 2890
Thursdays, Jan. 24 – Apr. 18, 2019
Online
7:00 PM – 9:00 PM
Tuition: $1,270 *Tuition includes SHRM Learning System ($1,020 value)
Instructor: Elizabeth Crandon
---
Former Student Testimonial:
Elizabeth is an excellent teacher, who uses real life examples to make the class interesting and informative. I was a member of the spring 2017 SHRM Certification Exam Prep Course. I have spoken to two others that were in my class and all three of us have passed our test and received our certifications. Between the three of us both SHRM-CP and SHRM-SCP were represented.
-Becky Santee SHRM-SCP
---
For more information, contact:
Jamie Malek
Business & Industry Program Manager
North Iowa Area Community College
(641) 422-4076 | Jamie.Malek@niacc.edu