NIACC's annual Spring Grill was held Monday, May 9, to honor outstanding faculty and staff. The event also recognized service anniversaries, new employees and retirees. More than two hundred current and former NIACC employees attended the luncheon.
Awards and Recognition: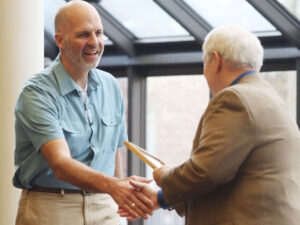 Outstanding Faculty Member: Brent Hamilton.
Brent has been an active member of the NIACC campus community teaching a variety of course in mathematics from Intermediate Algebra through Differential Equations and Introductions to Ethics for 23 years.
Hamilton also serves as the Curriculum and Academic Affairs Committee Chairperson, mentors new faculty members, and is the faculty advisor for the Campus Ministry Association.
Brent is student focused, passionate about student learning, and dedicated to student success. He has worked with Student Services to develop student wellness activities and organizes service learning opportunities for students.
Hamilton also records his daily content presentations and uploads them to the learning management system so that students have access to ideas and concepts they missed or are struggling to understand. Simply put, Brent wants all students to be successful and supported both academically and personally.
Locally, Brent serves on Boards of Directors, participates in service organizations, and is an assistant coach at a local high school. He has served two terms as President of the state-wide Iowa Mathematical Association of Two-Year Colleges (2003-2004 and 2020-2021).
Brent has received the Foundation Excellence in Service Award, an honor resulting from nominations by his peers, and has been recognized by the Iowa Mathematical Association of Two-Year Colleges for outstanding leadership in mathematics.
Outstanding Staff Member: Tony Pappas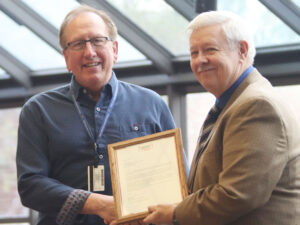 Tony has been part of our campus community for the last 39 years. He has proven himself a pivotal leader on our campus, he has been our project manager for over $45 million in various construction projects. His expertise and supervision have ensured quality and innovative construction and saved the college hundreds of thousands of dollars.
Tony leads the college's Sustainability Council and has developed the NIACC energy conservation plan, a climate action Plan, campus carbon footprint measurements, energy policy, along with many others. He led the development and installation of one of the nation's largest solar fields located at a community college. This project will ultimately save the college over $10 million over the course of the lifespan of the infrastructure.
Tony is a highly respected member of the NIACC family and devoted to the longevity of the college. Tony has great relationships with all of our staff and faculty. He is approachable, diligent, supportive, and takes time to hear individuals' ideas and concerns.
Tony is a very active volunteer in our community, he has served as the owner representative on a $15 million renovation of the Frank Lloyd Wright Hotel in Mason City, Iowa. He has also served on volunteer committees with Trinity Lutheran Church and Habitat for Humanity. Tony is an admired member of the North Iowa community.
New Employees:
Cassidy Allison, Performing Arts & Leadership Series Assistant Director
Dyan Childress, Community Education and Lifelong Learning Coordinator
Abra Christians, Administrative Assistant – Athletics
Cory Dahlstrom, Library Interlibrary Loan and Media Assistant
Sara Ewing, Cashier
Andrea Fuoss, Associate Hall Director
Lincoln Hochmuth, Interim Head Baseball Coach/Athletic Dept. Associate
Lauren Hunt, Adult Education & Literacy Associate
Julie Kiger, Recruitment and Career Coordinator
Ashley Kraus, Community Education Coordinator – Garner
Tom Moore, Director of Innovation and Acceleration, Pappajohn Center
Vickie Pralle, Recruitment and Career Coordinator
Arian Schuessler, Graphic Designer
Steven Story, Academic Advisor/Head Cross Country Coach
Kara Trettin, Promotions Specialist
Dee Dee Winter, Academic Administrative Assistant, Business/Humanities/Public Service
Longevity Awards: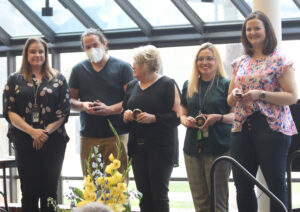 5 Year   
Chrysten Dohrmann
LeAnn Eckhardt
Larry Guadagnoli
Josh Mack
Dalila Sajadian
Tim Staudt
Lisa Toole
Sara Udelhofen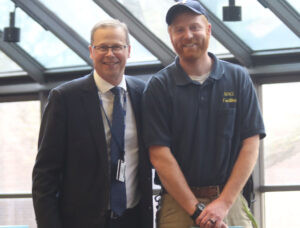 10 Year  
DeAnn Halligan
Brandon Krull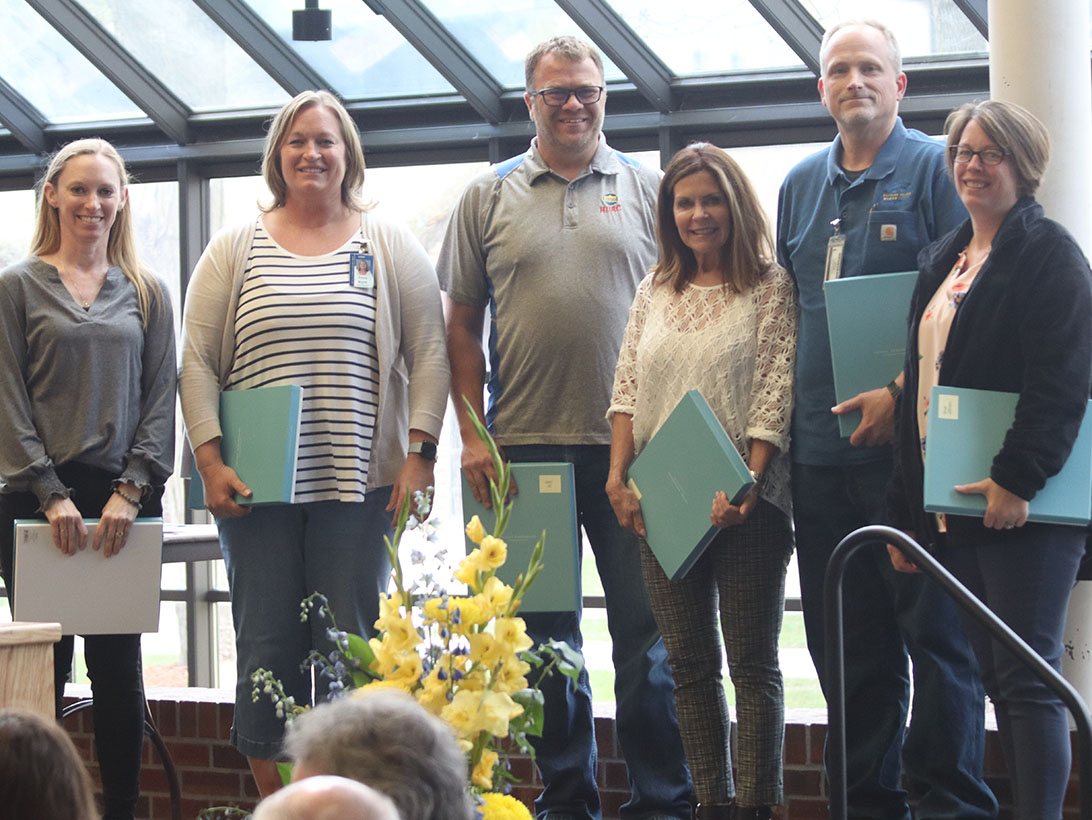 15 Year 
Chris Brandt
Tanya Dadisman
Chris Frenz
Gregg Helmich
Kelley O'Rourke
Jason Ott
Jennifer Rosauer
Andrea Schweizer
Lisa Vance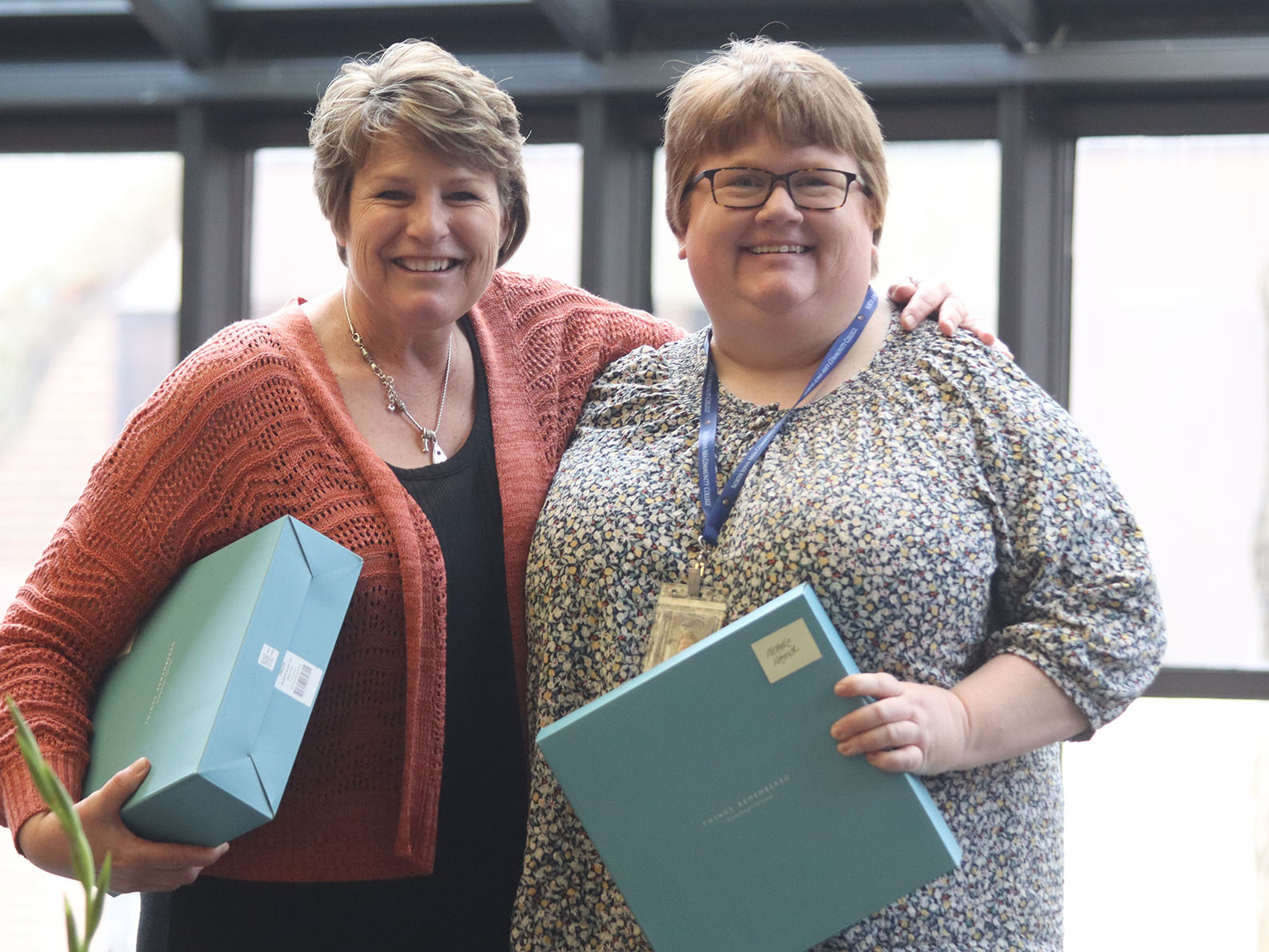 25 Year  
Michelle Petznick
Laura Wood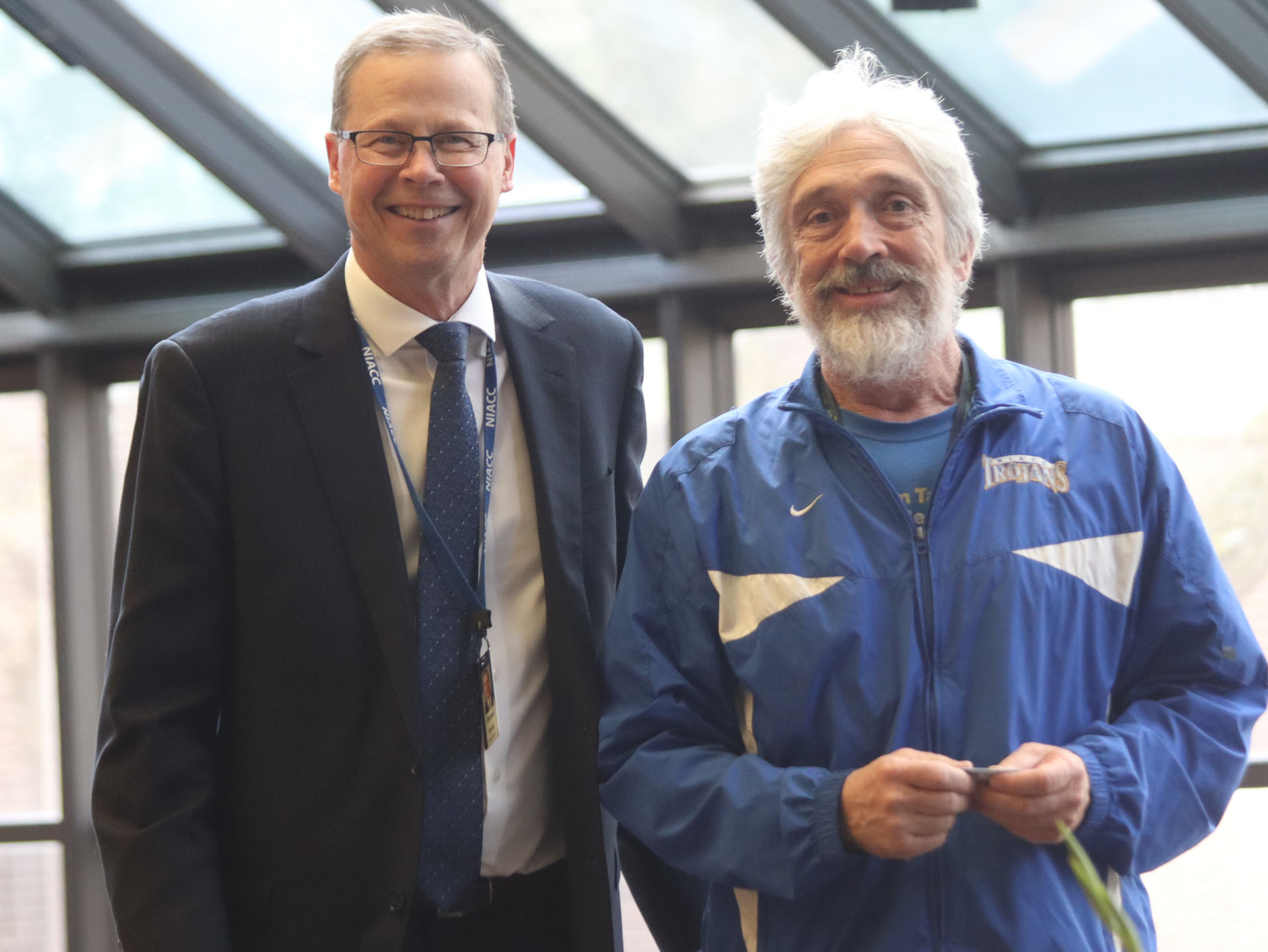 30 Year 
Tim Slaven
45 Year  
Mary Wendt
 2022 Retirees  
Larry Kollman
Larry Kollman came to NIACC after being a social worker for 23 years. He started teaching philosophy classes as an adjunct in 1999 and then in 2005 he was hired full time as an academic advisor. A year later, he brought his experience as social worker to the classroom when he became a full-time psychology instructor.
Throughout his teaching career, Larry emphasized the human aspect of psychology. He reminded students that although learning psychological theories was important, remembering that everybody is a human being worthy of dignity and respect was more important. Larry also applied this philosophy to his everyday interactions with students. If you walked around campus with Larry or just talked to him in a hallway, you would see him always greeting students with a smile and engaging in small talk with them. No matter how busy he might be, he always had time to talk to students. As a result, students really connected with him and selected Larry as Teacher of the Year twice.
In addition, Larry has always advocated scholarship with his students. He always encouraged them to stay curious and be lifetime learners. As usual, Larry practiced what he preached and shortly after being hired to teach psychology, he decided to enroll in a graduate program to earn his Master's degree in psychology. Larry always said he never wanted to be minimally qualified for anything he did. Larry's devotion to scholarship can also be seen in his work as director of the Human Services program at NIACC and more recently as the Faculty Advisor for Phi Theta Kappa.
Mark Messer
How many of you would have guessed that Mark Messer was a volleyball coach or that he taught at University College of London? Well, he is a man of surprises. Today I would like to recognize Mark and to express our fondest wishes as he retires and sets out for the next chapter in his life. Mark will fill his time with family; spending time with his grandkids, both here in Mason City and in Utah. In recent years, he has taken up photography, with one accepted in a photography contest at McNider. He will also continue with his love of nature by hiking and hunting. Mark, for thirty-four years, you have been a presence here at NIACC.
Kathy Olson
There are countless examples of challenges that Kathy encountered while working in the Facilities department. Her experience, patience and attention to detail seemed to always shine and provide everyone with positive and successful outcomes.
Just one example of this happened many years ago, when we were discussing the need to organize and make sense out of the building keys. You did not hesitate as you volunteered to tackle the project, but the look on your face was unforgettable, when you suddenly realized the previous key database consisted of 10 coffee cans with several hundred keys inside each can. And of course, you organized all of them and created a mapping system and database that is still used today.
Kathy was always involved with many groups on campus like College Senate, the Sustainability Committee, Earth Day activities and promoting pot luck events.
Mitch Olson
Mitch, your technical knowledge and mechanical skills have been extremely valuable to us for over 26 years, as you have kept the many diversified building systems throughout the college, operating properly. Those countless skills will be sorely missed.
Olson's dedication to the college has been obvious, whether it was responding to an issue with a student door lock on a weekend, helping with the clean-up from the flooding of the Book Store, working all weekend to resolve the freeze up of heating pipes in Beem Center, working on the air conditioning during graduation, operating the road grader during a snow storm, or working at midnight helping to restore power in the Careers building.
These are just a few examples of the numerous times that he has contributed above the average expectation to maintain the campus and at the same time always performing in a professional manner.
His hard work and diligence have greatly benefited the college.
Tony Pappas
Tony Pappas has been a dedicated member of NIACC since 1983. Tony's dedication to the college and to the facilities is going to be greatly missed. While at NIACC, Tony has been involved in overseeing numerous construction projects, being innovative with energy savings like the solar panels, installing LED lighting throughout campus and Alliant rebates totaling $500,000, and making sure the day-to-day operations are running smoothly across the campus.
Over his years at NIACC, Tony has led the Sustainability Council and he has developed NIACC's Energy Conservation Plan, a climate action plan, campus carbon footprint measurements, energy policy, and maintained countless compliance records. Tony is always the first to be called on to solve a problem and his ability to find solutions to many of those complex problems will make him hard to replace.
His attention to detail, his ability to save the college money on every project, and his "get it done" approach to work are just a few of his many strengths that have served NIACC, the facilities, and students very well. While he probably won't miss the early morning drives on snowy roads to help make the decisions to cancel classes or being called back out to campus when construction crews hit water mains, we will surely miss Tony's friendly face and his 38 years of vast knowledge of the campus.
——————————————————————————————————-
Are you interested in attending NIACC?  Apply Today!
North Iowa Area Community College, founded in 1918, is a nationally-recognized, two-year college located in central North Iowa.  With approximately 3,000 career and transfer students, the College has been recognized by the Aspen Institute as a leading community college in the nation.  NIACC welcomes students from across Iowa, Minnesota, the nation, and the world. The College has served as a leader in student-centered learning, community engagement, and collaborative leadership for more than 100 years.