A NIACC 'painting team' was one of the many volunteer teams that helped paint the Building CommUNITY mural last week in downtown Mason City.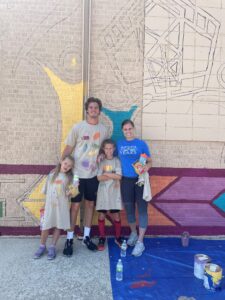 Krista Algor, NIACC Volunteer Center Coordinator, said volunteers were invited to join in on the fun of a hands-on and family-friendly project that was created to give a highly-visible testament that Mason City is a welcoming community to everyone.
The NIACC team mostly worked on finishing touches to the mural, making lines clean and dark. Volunteers were provided with all the supplies necessary and given painting t-shirts as well as taught tips and techniques for painting on the wall surface.
Mason City Chamber of Commerce staff member, Zoie Papouchis designed the mural that is located along the north wall of the Community Health Center on North Federal Avenue.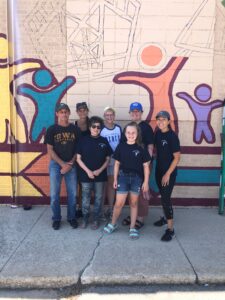 The NIACC Volunteer Center  offers NIACC employees, students, and community members a wide array of volunteer opportunities. The center pairs organizations in need with volunteers, and vice versa, assisting in activities such as yard clean-up, event staff, and apparently painting murals!
In fact, the NIACC girls softball, track and field team, and the wrestling team received the Governor's Volunteer Service Award in May of 2022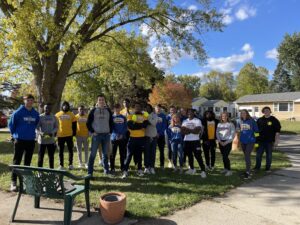 for outstanding commitment and service, they were nominated by Elderbridge Agency on Aging.
Not only does volunteering help meet essential needs in the community and create lasting change in North Iowa, it has also been proven to help people feel healthier and happier.
Non-profit organizations can contact the Volunteer Center Coordinator, Krista Allgor, to get information about how to partner, get volunteers, or promote your organization's opportunities.
Useful Links: