Kevin Muhlenbruch never wanted to do anything other than farm. He just didn't know he'd be doing the farming on a college campus.
Muhlenbruch, an Ag Instructor at NIACC, reflected on his long history of teaching (and learning) after being named as the recipient of NIACC's Excellence in Teaching Award in Career/Technical.
Hashtag Ag Life
Muhlenbruch was raised on a dairy farm in Franklin County, five miles north of Dows with his parents and five siblings. "Growing up on a dairy farm was a good way to grow up."
"I was really active in FFA and agriculture in high school," said Muhlenbruch, "I wanted a degree in Ag Ed."
After graduating from Dows High School, Muhlenbruch attended Iowa State and earned that degree. "I wanted to start farming but that was during the farm crisis of the 1980s so things weren't so good on the farm back then."
"So, I thought I'd teach until I could figure out how to start farming —34 years later I'm still teaching." Muhlenbruch said with a grin.
He taught two years at Albert Lea High School and three years at Rockford. While teaching in Rockford he ended up meeting some of the faculty and administration during a workshop on the NIACC campus.
When a job opened up he thought he'd apply. "I kind of liked the idea of teaching at a community college," he said.
Over the last 34 years Muhlenbruch has taught agronomy, farm management and commodity market courses to hundreds of students at NIACC. "With ag ed you can do lots of things, you can go into business, you can start farming, you can teach."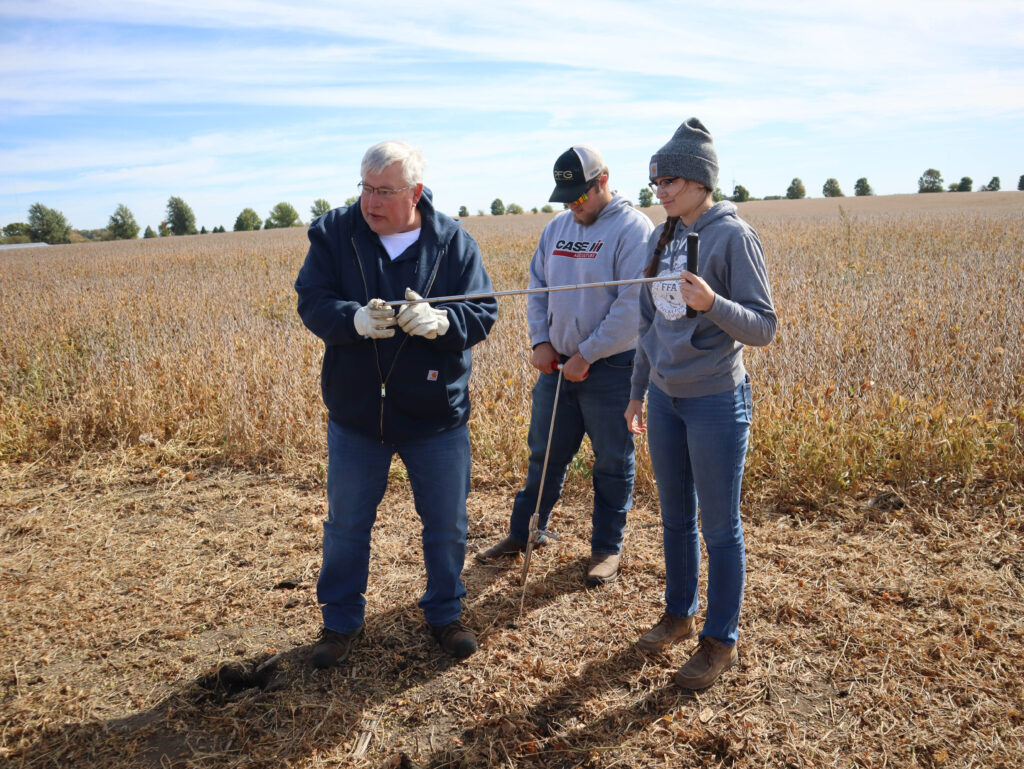 Making multi-generational connections
Muhlenbruch and about twenty students were in the field on the NIACC farm earlier this fall taking soil samples and readings. His students listened intently as he broke apart large clumps of dirt while talking about the condition of the soil.
Many of his students grew up or are currently living on farms. Just like he did. He makes them feel at home at the NIACC Farm. Their common experiences and background connects them and creates lasting bonds.
"We've got some really good kids here. They are into it — they want to do things, learn about things and be involved." – Kevin Muhlenbruch
An example of one of those connections is Aaron Cunningham.
Cunningham graduated from NIACC in 2008. "When he was a student here we had a guy, who was combining for us," explained Muhlenbruch. "Aaron wanted to take that over someday."
Five years ago, Muhlenbruch took him up on his offer from ten years earlier and Cunningham has been the NIACC Farm ever since.
Aaron and his wife Laura own and operate SkyView Farms in Nora Springs. They also keep 50 cattle on the NIACC farm that help students build knowledge in beef production.
Excellence in Teaching
When asked about the award Muhlenbruch said, "It's a very humbling experience. There are so many good teachers here at NIACC. "
This is the second time Muhlenbruch has been recognized with this prestigious honor.
"The thing about this award is that it's selected by students. To have students feel that way about you is great. It makes you feel like you are doing ok with your job."
His students agree. He's doing more than ok.
One of his students summed it up nicely, "He made me feel at home and is by far the best teacher that I have ever had."
---
North Iowa Area Community College, founded in 1918, is a nationally-recognized, two-year college located in central North Iowa. With approximately 3,000 career and transfer students, the College has been recognized by the Aspen Institute as a leading community college in the nation. NIACC welcomes students from across Iowa, Minnesota, the nation, and the world. The College has served as a leader in student-centered learning, community engagement, and collaborative leadership for more than 100 years.
Are you ready to become a Trojan? Apply Today at https://www.niacc.edu/apply-mkt/