Do you enjoy woodworking or the construction of small projects such as mailboxes or birdhouses? If so, you might also enjoy a career in the construction industry.
Whether you are looking for a career or want to hone your existing skills, NIACC's Business & Workforce Solutions offers a quick solution to your need: Short Term Certificates.
NIACC's Fundamentals of Construction certificate class is designed to provide you with the skills necessary to obtain a high-demand, entry-level position with a residential or commercial contractor. Throughout this offering, you will take a hands-on learning approach in the development of following skills that are critical in the construction field: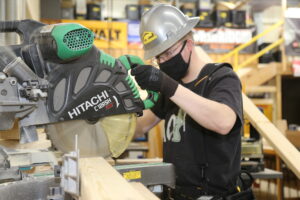 Identify basic tools
Understand building components
Learn the ins and outs of site layout and preparation
Develop knowledge of floor systems
Become proficient in wall, ceiling, and roof framing
Build your skills in shingling and siding installation
Learn how to complete trim work
Complete the OSHA 10-Hour Safety for Construction course
Short Term Certificates provide opportunities to set students up for success within a career across a variety of skilled trades industries. They are also an ideal way for students to get a taste of a specific trade to find out what type of work they enjoy before transferring to a credit program to earn a diploma.
NIACC has several short-term certificate programs that will get you in, get you out, and get you to work – fast! Graduates of these programs are in high-demand across the region.
Additionally, certificate courses begin at various times throughout the year compared to a traditional academic year, so you can register for a time that works in your schedule.
Lastly, if you have financial barriers to registering for a course, many of the certificate programs offered at NIACC have possible free tuition and support for course-related expenses making the Short Term Certificate courses appealing at any stage of your career search.
One upcoming Short Term Certificate opportunity is Fundamentals of Construction, from June 20-24; however, the deadline to enroll is June 10th, so don't delay – register today!
Are you interested in attending NIACC? Apply Today!