Albert Einstein once said, "Look deep into nature, and then you will understand everything better."
Our connection to nature is one dating back to the very beginning. Back when we hunted for food and lived off the land. Humans were not made to be cooped up inside for days on end. We need sunshine and fresh air, not only for survival but for our mental well-being.
For kids, the great outdoors can be a place of curiosity, creative play, and discovery. It's where they go to get their hands dirty and learn about plants and animals. It's where they can JUST BE KIDS!
Thankfully, the Winnebago County Conservation Board has found a way for children to connect with nature. To teach them to love, nurture, and care for our planet. For them, it's about more than just getting our kids outside to play. It's about fostering a connection with our planet and teaching them how to care for our environment.
I mean, they are our future leaders, right?
RIGHT!
Now is the time to shape their mindset into one of respect for our planet, so they grow into adults who care for it and keep it clean.
For Lisa Ralls, Naturalist at Thorpe Park in Forest City, the goal is to help kids experience and learn about nature. Her hope is that when kids are provided this type of experience, they will gain a lifelong love of the outdoors.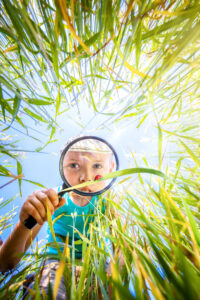 "If we foster kids' love for nature at a young age, they are more likely, when they are adults, to enjoy hobbies like camping, fishing, and birdwatching which will enrich their lives and encourage them to conserve the natural resources that have become important to them."

Lisa Ralls
Her plan to achieve this goal? Critter Day Camp!
Kids can enjoy this 3-day camp by diving deep into the wonderful world of insects, making a plaster of animal track casts, and watching their peers turn into bugs right before their eyes! This incredible opportunity will help kids connect with nature and grow and explore their love for the outdoors.
Not only is the science aspect important for kids to learn and expand their knowledge of nature, but it gets them outside, away from screens and technology. Kids can be active and moving as they experience the great outdoors.
Plus, Mother Nature is a pretty great teacher!
Researchers have studied the benefits of outdoor activities and play in children for decades. According to Sanford Health, there are five key benefits to shutting down the screens and getting outside.
Build physically healthier children. What better place to run, jump, throw a ball, catch, lift things and carry heavy objects than the great outdoors?! All these actions require motor skills and balance which will improve with practice. Plus, kids can get aerobic exercise from playing on outdoor equipment, which strengthens bones and muscles. And the sunshine? Well, that gives those kids a healthy dose of Vitamin D.
Contribute to cognitive and social/emotional development. Unstructured outdoor play helps kids learn to take turns, share, and develop other behavioral skills. When they explore and learn, their attention span increases and they learn to use their own abilities instead of expecting adults to take care of everything.
Improve sensory skills. Young children, in particular, learn so many new things about their senses when they play outdoors. Plus… it's better for your eyes to be outdoors than it is to be glued to a tiny screen where your vision is strained.
Increase attention spans. Let's face it, people these days have the attention span the size of a gnat! When kids are outdoors they become curious and filled with wonder, which means they'll likely stay focused on a task for longer.
Grow in happiness and immunity. Outdoor light stimulates the pineal gland which is vital to keeping our immune system strong and making us feel happy. Especially after being cooped up inside for the long, cold winter.
If you're looking for ways to get your kiddos engaged in the great outdoors, check out the Critter Day Camp and get signed up! Tell your friends. Tell your neighbors. Take this opportunity to spend some time in the fresh air and become one with nature.
Check out all of the summer 2023 DiscoverU offerings and sign up for the monthly E-newsletter, so you never miss a class again!