When choosing a career in healthcare, the first steps on your journey often pave the way for a prosperous future— and, it's exciting!
A career in healthcare has boundless twists and turns depending on your interests and passions.
For Andrea Anderson, ARNP, PMHMP – BC, at the Mason City Clinic, that journey began at NIACC.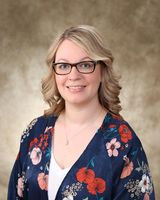 She began her medical career by enrolling in the NIACC Certified Nurse Aide (CNA) program, which provided her with the knowledge and skills needed to care for patients in various long-term care facilities. This course also prepares students for the Iowa Direct Care Worker registry exams.
The first 55 hours of the course are held in a classroom or lab, and the remaining 30 hours of clinical take place in a nursing home environment. The academic strategy of combining classroom/lab time with actual hands-on experience boosts the success rate for students.
"My love of helping others started to flourish while studying to be a CNA at NIACC."
Upon completion of the course, Andrea obtained a job as a nurse aide while she continued her educational path through the medical field. This gave her the upper hand as she studied, learning the skills needed while also applying them in real-life situations at her job.
Students often obtain a Med Aide Certificate next. A certified medication aide administers non-parenteral medications (anything oral, topical, or suppositories) to patients in health facilities like nursing homes. At NIACC, this is a 52-hour course consisting of 42 hours of classroom time, followed by a minimum of 10 clinical hours of experience. Students often double as CNA's, providing patient care and administering medications.
Obtaining an associate degree in nursing is the next step in the journey! This gives students a solid foundation for a career in healthcare. Popular among registered nurses, this degree provides opportunities to work in entry-level nursing positions.
But, Andrea Anderson didn't stop there. She used the knowledge gained while at NIACC as a stepping stone to further her education. "NIACC helped me learn how to study and learn time management prior to going to a bigger college," she stated.
Upon graduation, Anderson went on to complete her Bachelor of Arts in Psychology, followed by her Bachelor of Nursing at Allen College in Waterloo. Five years later, she completed her Master of Nursing degree.
Looking back, Anderson understands the importance of her time spent at NIACC. "I highly recommend NIACC as the first place to start your journey," Anderson said. "It is a wonderful place to take general classes in a small setting where the instructors are available when you need help."
NIACC prides itself on the progression of nursing students into four-year universities to complete their degrees. Under the RN to BSN 3+1 structure, nursing students can take coursework at NIACC for three years and then complete their Bachelor of Science in Nursing undergraduate degree in only one year through the University of Iowa online RN-BSN program. NIACC also has a formalized articulation agreement to complete a baccalaureate degree in Nursing with a slew of prominent universities across the state of Iowa.
NIACC can help you take the first step on your journey to a successful career in medicine.