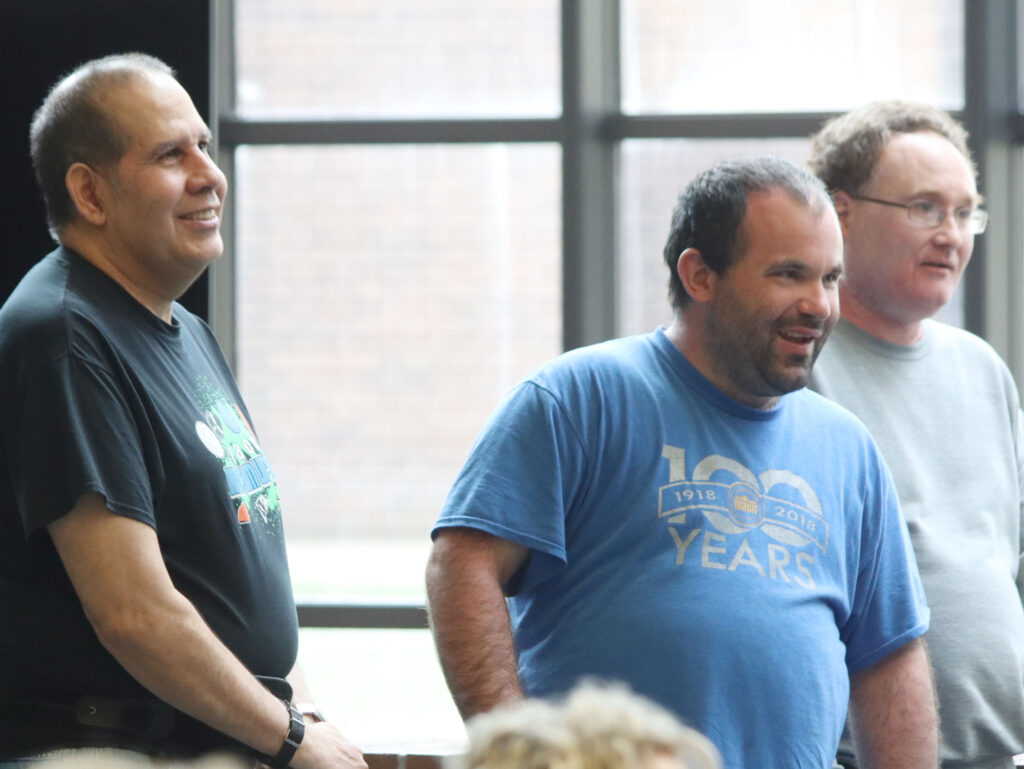 A group of workers from One Vision were recognized for being a positive influence on students, faculty, and staff at North Iowa Area Community College on Monday, May 5.
William DeLaFuente, Jared Gardinier, Shawn Williamson received certificates thanking them for their service to the college.
The trio perform custodial duties on campus. They are quick to smile and visit with staff and faculty. "There's only one person on campus that calls me bro," joked NIACC President Dr. Steve Schulz, referring to Jared Gardinier.
Gardinier visits almost every office on campus on a daily basis.  While doing so, he offers a fist bump or asks what people are doing for the weekend, or sometimes he just likes to talk about NIACC sports teams.
"It's one of the brightest parts of my day," said Schulz.
One Vision is a human services nonprofit organization that supports people with intellectual and developmental disabilities (IDD). Incorporated in 1966, they first opened their doors in 1971.  They serve more than 400 individuals across 30 communities in North Iowa.
Questions or comments?  Email Arian Schuessler, arian.schuessler@NIACC.edu
——————————————————————————————————-
Are you interested in attending NIACC?  Apply Today!
North Iowa Area Community College, founded in 1918, is a nationally-recognized, two-year college located in central North Iowa.  With approximately 3,000 career and transfer students, the College has been recognized by the Aspen Institute as a leading community college in the nation.  NIACC welcomes students from across Iowa, Minnesota, the nation, and the world. The College has served as a leader in student-centered learning, community engagement, and collaborative leadership for more than 100 years.