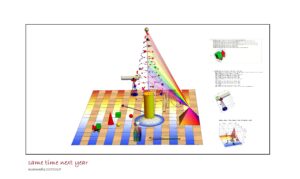 NIACC Physics Instructor Andreas Soemadi doesn't use a paintbrush on canvas for his art.  He doesn't draw in a traditional sense either.  His handiwork doesn't involve sculpted clay or photographs.  Soemadi's original art is derived from the mathematical representations of lines and shapes.
Soemadi occasionally posts his art on the NIACC intranet site "Trojan Home" for the enjoyment of others.  Until now this was the only place you could find it; however, Soemadi's math art was recently accepted into the MacNider Museum Summer Arts Festival.
"Geometry loves the beauty of things," said Soemadi while explaining how the principle of his art is founded in the historical convergence of Geometry and Algebra.
A more lengthy explanation of lines, Bézier curves, parabola, functions, mathematical physics, coordinate systems and Rene Descartes followed.
Soemadi created his first mathematical art work in 2019. The figure of a pensive robot was inspired by the works of author Isaac Asimov. "The picture was attractive to me but I don't know how to draw," laughed Soemadi, "I wanted to replicate it."
So, he set to work creating mathematical code to replicate every part of that robot. All the code snippets were combined to finish the work.
Since he began Soemadi has created many works.  His biggest challenge? To impose mathematical command to recreate the human nose. He's still working on it.
"Now when I see something pretty I wonder what equation is that —and how do I code it." – Andreas Soemadi
Soemadi's work can be seen at the MacNider Arts Festival, Saturday, June 11. The museum is located at 303 2nd Street Northeast in Mason City.
Questions or comments?  Email Arian Schuessler, arian.schuessler@NIACC.edu
——————————————————————————————————-
Are you interested in attending NIACC?  Apply Today!
North Iowa Area Community College, founded in 1918, is a nationally-recognized, two-year college located in central North Iowa.  With approximately 3,000 career and transfer students, the College has been recognized by the Aspen Institute as a leading community college in the nation.  NIACC welcomes students from across Iowa, Minnesota, the nation, and the world. The College has served as a leader in student-centered learning, community engagement, and collaborative leadership for more than 100 years.