Iowa artist, Pamela Douglas, didn't sit idly by when she was asked to shelter in place during the COVID pandemic.
Douglas, of Clive, felt a profound call to address our collective loss–– both tangible and emotional–– through creativity.
She spent countless hours folding more than 10,000 colorful origami paper cranes, one by one, as the pandemic evolved over a period of three years.
Each one represents an Iowan who lost their lives to COVID.
On Wednesday, staff and faculty helped painstakingly hoist the exhibit high up into the rafters of the NIACC Activity Center.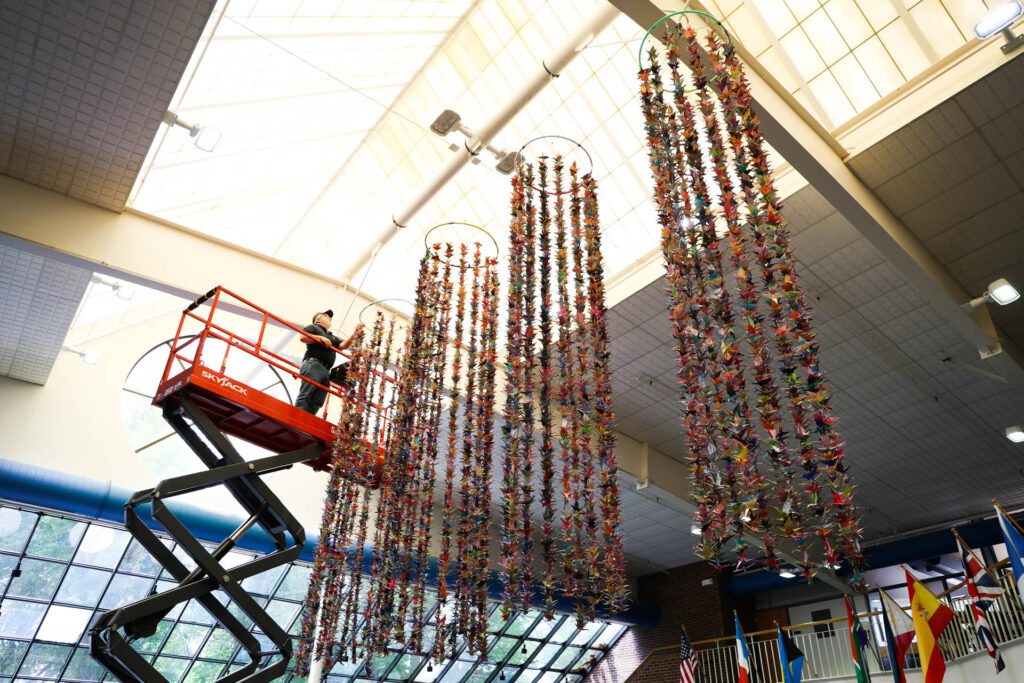 The crane was chosen for this memorial to incorporate the globally recognized tradition of paper crane folding as an act of love to encourage healing and hope, according to Douglas.
The cranes sway and dance as sunbeams of light land on the vividly patterned paper joined by over 80 12-foot strands.
The beauty of the collection of cranes and the memorial's sheer size seems to have a "loving" effect both in visitors' grieving and honoring the victims of COVID.
NIACC President, Dr. Steven Schulz, thinks the art conveys a very important message "I am excited to welcome the exhibit to our campus as it represents not only the stories of loss and hardship endured during the pandemic but also the unwavering determination and hope that have propelled us forward."
This display is a symbol of remembrance, healing, and unity, reminding us of our collective ability to overcome adversity and emerge stronger together. I'm thankful that we have the opportunity to share it with our students, staff, faculty, and the community."

-Dr. Steven Schulz
The exhibit has already made stops in Des Moines, Reiman Gardens in Ames, Waukee, Des Moines Area Community College's Ankeny campus and Loras College in Dubuque
The COVID Memorial is expected to be on display at NIACC until the end of the year.
The public is welcome to come see the cranes from 8 a.m. – 5 p.m. Monday through Friday.
In 2024, the cranes will head to Western Iowa Tech College in Sioux City.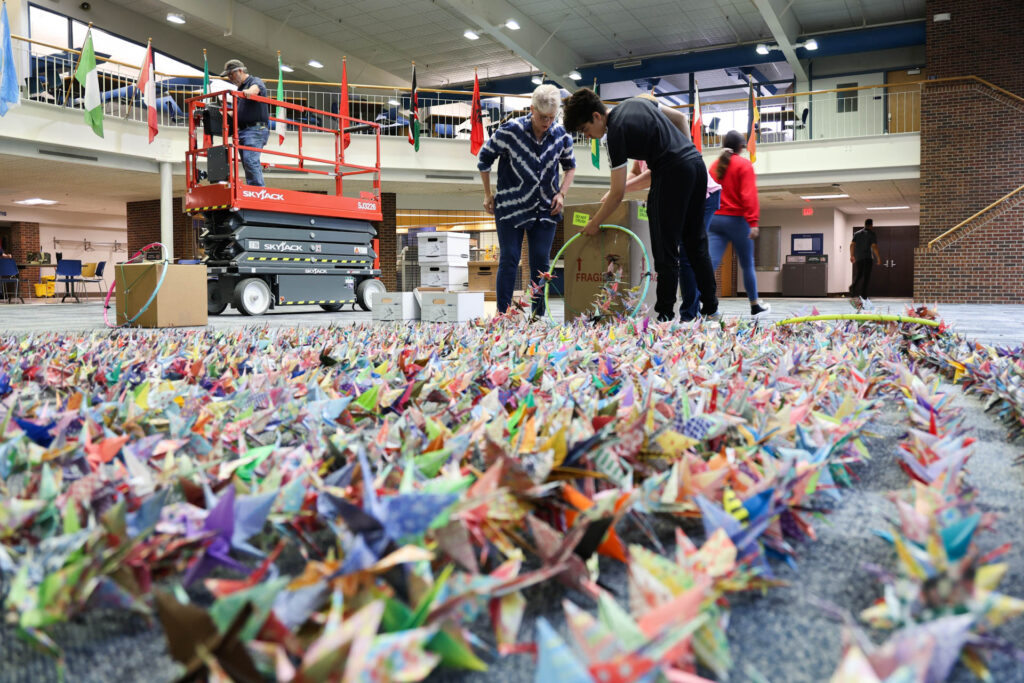 More information about the COVID Memorial here
North Iowa Area Community College, founded in 1918, is a nationally-recognized, two-year college located in central North Iowa. With approximately 3,000 career and transfer students, the College has been recognized by the Aspen Institute as a leading community college in the nation. NIACC welcomes students from across Iowa, Minnesota, the nation, and the world. The College has served as a leader in student-centered learning, community engagement, and collaborative leadership for more than 100 years. Are you ready to become a Trojan? Apply Today at https://www.niacc.edu/apply-mkt/