Campus Map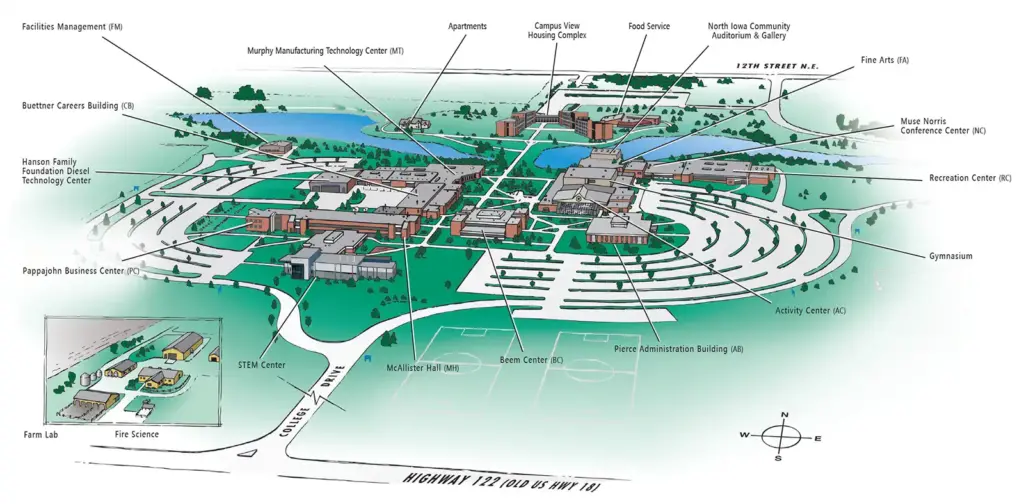 Places you may need to know:
Building
Places of interest
Activity Center (AC)
BookZone (Book Store)
Buena Vista University Center
Cafeteria
Continuing Education
ICN Classroom
NIACC Foundation
Lifelong Learning Institute
RSVP Office
Beem Center (BC)
Beem Forum
Cafe Bean
Communications Division
Library
Social Science Division
Student Learning Center
Testing Center
Writer's Workbench
Careers Building (CB)
Agricultural Technology
Automotive Service Technology
Building Trades
Heating & Air Conditioning
ICN Classroom
Marketing & Community Relations
Welding
Facilities Management (FM)
Shipping & Receiving
Farm Lab
Cattle Barn
Cow/Calf Operation
Farrowing House
Machine Shed
No-Till Demonstration Fields
Office Center
Sheep barn
Swine Nursery & Finishing
Fine Arts (FA)
Art Department
Humanities Division
Music Department
Fire Science
Emergency Training Center
Gymnasium
Competition Center
McAllister Hall (MH)
Adult Education & Literacy
Business Division
Computer Labs
Copy Center
Health
Health Simulation Center
Outdoor Classroom
Science Division
Technology Services
Murphy Manufacturing Technology Center (MT)
Industrial Systems Technology
Tool and Die Technology
Muse-Norris Conference Center (NC)
Meeting Facilities
Pappajohn Business Center (PC)
Business Division
Pappajohn Entrepreneurial Center
Small Business Development Center
University of Iowa Transfer Office
Pierce Administration Building (AB)
Academic Affairs
Admissions
Business Office
Board Room
Box Office
Career & Internship Center
Career Link
Disability Services
Financial Aid
Governmental Affairs
Human Resources
President's Office
Student Development
Recreation Center (RC)
Athletics Offices
Fitness Center
Student Gym
Wellness Division
STEM Center
Math Division
Natural Science
How Do I Get to NIACC?
NIACC is located on the east edge of Mason City in North Central Iowa. The countryside campus is about a 2-hour drive from Minneapolis, Minnesota and Des Moines, Iowa.