Common Read
About Common Read
The Common Read is a program designed to engage North Iowa Area Community College, its students, staff, faculty and community members, in a unified intellectual activity. For first-year students it introduces them to academic expectations, respectful discourse, and community building. The Common Read is supported by the Performing Arts and Leadership Series as well as the NIACC Foundation, which sponsors a keynote address by the author of the Common Read, or someone closely associated with the book. First-year students will be asked to read the book as part of their Composition One requirements. The Common Read book is available through the NIACC Bookstore.
The opportunity to be selected for the $500 NIACC Common Read Scholarship is made available to all degree seeking, full-time or part-time NIACC students. One (1) $500 scholarship will be awarded with payment transferred to student's NIACC account Spring 2023 (student must be enrolled either full or part-time Spring 2023). Application deadline is 11:59 pm on November 23rd. The scholarship award will be made before the end of the Fall semester.
This program is supported by the Academic Affairs board of the institution, and a host of individual faculty and staff members on the Common Read Committee
If you have any questions, please contact us at Common.Read@niacc.edu
---
This Years Common Read
Book Description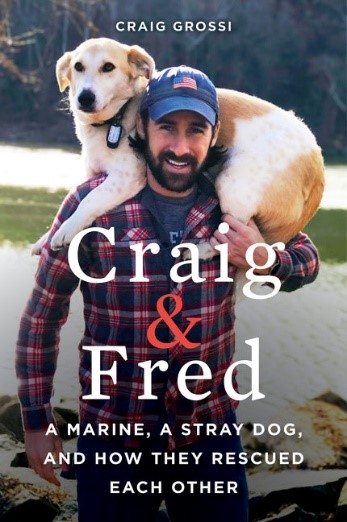 Craig & Fred: A Marine, A Stray Dog, and How They Rescued Each Other
The uplifting and unforgettable true story of a US Marine, the stray dog he met on an Afghan battlefield, and how they saved each other and now travel America together, "spreading the message of stubborn positivity."
In 2010, Sergeant Craig Grossi was doing intelligence work for Marine RECON—the most elite fighters in the Corps—in a remote part of Afghanistan. While on patrol, he spotted a young dog "with a big goofy head and little legs" who didn't seem vicious or run in a pack like most strays they'd encountered. After eating a piece of beef jerky Craig offered—against military regulations—the dog began to follow him. "Looks like you made a friend," another Marine yelled. Grossi heard, "Looks like a 'Fred.'" The name stuck, and a beautiful, life-changing friendship was forged.
Fred not only stole Craig's heart; he won over the RECON fighters, who helped Craig smuggle the dog into heavily fortified Camp Leatherneck in a duffel bag—risking jail and Fred's life. With the help of a crew of DHL workers, a sympathetic vet, and a military dog handler, Fred eventually made it to Craig's family in Virginia.
Months later, when Craig returned to the U.S., it was Fred's turn to save the wounded Marine from Post-Traumatic Stress. Today, Craig and Fred are touching lives nationwide, from a swampy campground in a Louisiana State Park to the streets of Portland, Oregon, and everywhere in between.
A poignant and inspiring tale of hope, resilience, and optimism, with a timeless message at its heart—"it is not what happens to us that matters, but how we respond to it"—Craig & Fred is a shining example of the power of love to transform our hearts and our lives.
Author Biography
Craig Grossi
Craig Grossi is an eight-year Marine Corps veteran, and a recipient of the Purple Heart. After returning from Afghanistan, he worked for the Defense Intelligence Agency and attended Georgetown University. When not travelling with Fred, he works intensively with veteran organizations, including the USA Warriors Ice Hockey Program and the Tragedy Assistance Progams for Survivors (TAPS).
---


Author Visit Information:
Craig & Fred
Craig Grossi
The uplifting and unforgettable true story of a U.S. Marine, the stray dog he met on an Afghanistan battlefield, and how they saved each other. They now travel America together "spreading the message of stubborn positivity."
WEDNESDAY, NOVEMBER 9, 2022 • 7:00 P.M.
ALL TICKETS ARE $20
NO CHARGE FOR NIACC
COLLEGE CREDIT STUDENTS
CALL FOR TICKETS
641-422-4188
www.niacc.edu/boxoffice
fredtheafghan.com