Common Read
About Common Read
The Common Read is a program designed to engage North Iowa Area Community College, its students, staff, faculty and community members, in a unified intellectual activity. For first-year students it introduces them to academic expectations, respectful discourse, and community building. The Common Read is supported by the Performing Arts and Leadership Series as well as the NIACC Foundation, which sponsors a keynote address by the author of the Common Read, or someone closely associated with the book. First-year students will be asked to read the book as part of their Composition One requirements. The Common Read book is available through the NIACC Bookstore.
The opportunity to be selected for the $500 NIACC Common Read Scholarship is made available to all degree seeking, full-time or part-time NIACC students. One (1) $500 scholarship will be awarded with payment transferred to student's NIACC account Spring 2022 (student must be enrolled either full or part-time Spring 2022). Application deadline is 11:59 pm on November 5th. Award will be made mid-November.
This program is supported by the Academic Affairs board of the institution, and a host of individual faculty and staff members on the Common Read Committee
If you have any questions, please contact us at Common.Read@niacc.edu
---
This Years Common Read
Book Description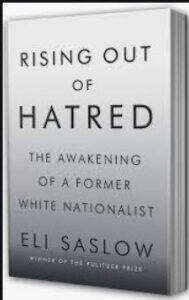 Rising Out of Hatred: The Awakening of a Former White Nationalist
Derek Black grew up at the epicenter of white nationalism. His father founded Stormfront, the largest racist community on the Internet. His godfather, David Duke, was a KKK Grand Wizard. By the time Derek turned nineteen, he had become an elected politician with his own daily radio show–already regarded as the "the leading light" of the burgeoning white nationalist movement. "We can infiltrate," Derek once told a crowd of white nationalists. "We can take the country back."
Then he went to college. At New College of Florida, he continued to broadcast his radio show in secret each morning, living a double life until a classmate uncovered his identity and sent an email to the entire school. "Derek Black … white supremacist, radio host … New College student???" The ensuing uproar overtook one of the most liberal colleges in the country. Some students protested Derek's presence on campus, forcing him to reconcile for the first time with the ugliness of his beliefs. Other students found the courage to reach out to him, including an Orthodox Jew who invited Derek to attend weekly Shabbat dinners. It was because of those dinners–and the wide-ranging relationships formed at that table–that Derek started to question the science, history, and prejudices behind his worldview. As white nationalism infiltrated the political mainstream, Derek decided to confront the damage he had done.
Author Biography
Eli Saslow Washington, D.C.
Reporter on the National desk. Education: Syracuse University, 2004Eli Saslow is an author and a staff writer for The Washington Post, where he travels the country to write in-depth stories about the impact of major national issues on individual lives. He won the 2014 Pulitzer Prize in Explanatory Reporting for a series of stories about the rise of food stamps and hunger in the United States. He was a finalist for the Pulitzer Prize in feature writing in 2013, 2016 and 2017. Both of his books were published by DoubleDay: Rising out of Hatred and Ten Letters: The Stories Americans Tell Their President. An occasional contributor to ESPN the Magazine, four of his stories have been anthologized in Best American Sportswriting. He is the winner of a Polk Award, a James Beard Award for Food Writing, a PEN America Award and several journalism honors. A 2004 graduate of Syracuse University, he now lives in Portland with his wife and three children.Honors & Awards:
2014 Pulitzer Prize for Explanatory Reporting
2017 Pulitzer Prize finalist for Feature Writing
2016 Pulitzer Prize finalist for Feature Writing
2013 Pulitzer Prize finalist for Feature Writing
2017 PEN Center USA Literary Award for Journalism
2017 Mike Berger Award for Human Interest Reporting
2017 Dori J. Maynard Award for Justice in Journalism
2014 George Polk Award for National Reporting
2014 James Beard Award for Food Writing
2014 ASNE Award for non-deadline writing
2015 Sigma Delta Chi Award for Feature Reporting
2013 Mayborn Best American Newspaper Narrative Contest, First Place
2013 Darrell Sifford Memorial Prize in Journalism, Missouri School of Journalism
2014 Mayborn Best American Newspaper Narrative Contest, First Place
2016 DART Award for Excellence in Trauma Reporting
---


Author Visit Information:
MercyOne North Iowa Medical Center Proudly Presents
Rising Out of Hatred
Eli Saslow
In his Pulitzer Prize-winning coverage for The Washington Post, Eli Saslow reveals the human stories behind the difficult issues of our time. Rising Out of Hatred tells the story of how Derek Black, the one-time heir to America's white nationalist movement, came to question the beliefs he helped spread. Rising Out of Hatred immerses us in Derek's world—as challenging, even uncomfortable, as we might find that—and suggests that outspoken communication, education, and active listening have the power to change lives.
WEDNESDAY, NOVEMBER 10, 2021 • 7:00 P.M.
ALL TICKETS ARE $20
NO CHARGE FOR NIACC
COLLEGE CREDIT STUDENTS
CALL FOR TICKETS
641-422-4188
www.niacc.edu/boxoffice
www.eli-saslow.com