TRIO Student Support Services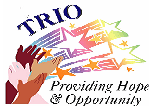 Student Support Services is a federally funded grant project which helps eligible students stay in college and graduate. The goal of SSS at NIACC is to promote academic and personal success of all participants. The Project offers counseling, tutoring, college survival skills, orientation classes, career exploration, transfer assistance, and cultural awareness.
Recipients of these services must be citizens or legal residents of the United States who are currently enrolled full-time in a credit program. Participants must meet at least one of the following eligibility requirements: first generation student, low income, and/or students with a physical or learning disability. Students interested in these services should call 641-422-4105, or 1-888-GO NIACC, ext. 4105 or stop at the Student Services Office in the Administration Building.