100 Year Anniversary
Celebrating the Journey. Creating the Future.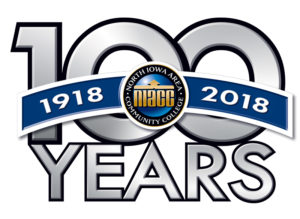 Marking a significant milestone, the college proudly celebrated its centennial year from 2018-19. Mason City Junior College (MCJC), as we were once known, welcomed its inaugural class on September 9, 1918. Over the course of a century, the name evolved, the campus shifted, and fresh faces have continually graced our halls. Yet, our steadfast dedication to the students and the broader North Iowa community has endured without waver.
Our centennial celebrations began with a bang at the Friday Night Live event in Mason City's Central Park on June 15, 2018, culminating in a dazzling Night to Shine Gala on June 8, 2019. Throughout this year, our presence was felt in parades, fairs, and myriad community engagements across North Iowa, all captured in our online Flickr album.
We invite you to delve into our historical timeline and retrace our cherished memories. Your unwavering support and participation have made our journey unforgettable. Join us in reflecting on this landmark occasion and thank you for being an integral part of our story.