Buena Vista at NIACC
Buena Vista University has college representatives on the NIACC campus to assist students in the transfer process.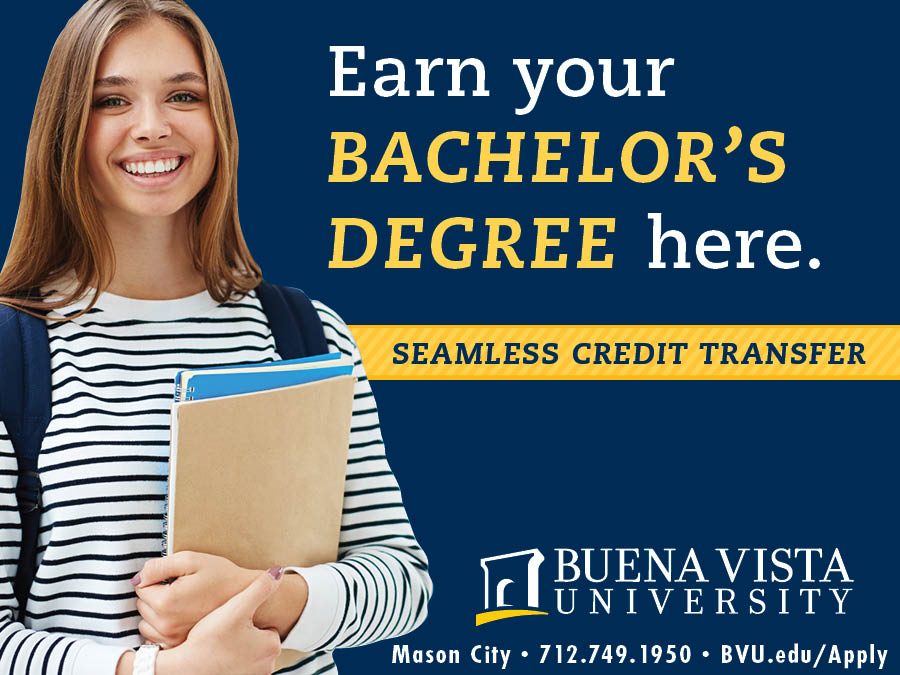 Buena Vista University has worked in partnership with NIACC since 1984. NIACC students have a seamless transfer to Buena Vista University. BVU accepts up to 68 credit hours from the community college.
Students that transfer in their AA degree have satisfied all general education requirements with Buena Vista University. The BVU office is located in the Activity Center on the NIACC campus. Buena Vista University has 6 term starts dates throughout the year along with 8 week terms. Students are able to attend either face-to-face or hybrid evening courses along with online courses depending on their major of study.
NIACC to BVU Dual Admissions Program
Advantages for Students:
Guaranteed Admission to BVU (pending all requirements are met)
Personal Academic Advising & Mentoring
Free transcript exchange between NIACC & BVU.
Early Orientation
Early Scheduling
Assistance from a financial specialist (help with FAFSA, questions on financial aid, scholarships, etc.)
Eligible for a free class (0BVU200- BVU Seminar)
To be eligible:
Students must be enrolled in and graduate from the community college.
Students must sign the dual admissions form before they finish their second s semester at the community college.
Students must have an associate's degree and have a cumulative GPA of 2.0 or higher once they transfer to BVU.
Students must complete the BVU application form and the dual admissions form.
All majors at BVU Mason City site location are eligible for the dual admissions program.
Benefits of the Dual Admissions Program:
Students commit to BVU early on.
Students stay right here in their communities
(If students are not qualified they are still encouraged to apply at BVU)
For more information, please contact the Mason City Buena Vista University office at 712-749-1000.
Bachelor's Degrees in:
Accounting
Bachelor of Applied Studies
BASc Applied Management
Business Administration
Business Education with Teaching Licensure (5-12)
Criminology and Criminal Justice
Educational Studies
Elementary Education
English
English with Teaching Licensure (5-12)
Exceptional Student Service and Instruction (Special Education)
Finance and Banking
General (Distributive)
Health Services Leadership
History
History with Teaching Licensure (5-12)
Human Services
Management

Entrepreneurship Track
Human Resources Track
Sports Management Track

Organizational Leadership

Business Emphasis
Human Services Emphasis

Post Baccalaureate Certification Program
Psychology
Social Science for Secondary Education
Social Science with Teaching Licensure (5-12)
*Selected education endorsements are available.
Master's degrees in:
Master of Arts in Organizational Leadership (Online only)
Master of Education- Exceptional Student Services and Instruction (Special Education)
Master of Education in Curriculum and Instruction
Master of Science in Education- Mental Health Counseling
Master of Science in Education- Professional School Counseling
*Selected graduate education endorsements available.
Contact: Buena Vista University, Mason City Center (712-749-1000), online@bvu.edu