Class Schedules
For the most current class schedule information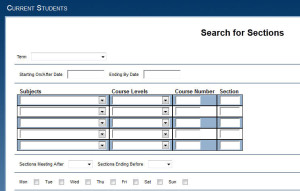 Find the classes you need.
Search for Sections in WebAdvisor is updated regularly to provide you with the most up-to-date class schedule information. Current students can also View Course Offerings or Search and Register for Classes in TrojanHome. To find online courses only change the Location to "Web-Based Instruction".
---
Click any of the following class schedules to download the pdf for a list of classes offered. You can save it to your computer by going to "File" and clicking "Save as".
---