Three students representing North Iowa Area Community College (NIACC) competed at the regional level in The Pappajohn Student Entrepreneurial Venture Competition held at NIACC on March 29, 2017. TJ Hauser, Sami Schupanitz and Tucker Tusha pitched their business ideas to panel members Jill Kramer, Executive Director of the Hancock County Economic Development; Doug Morse, NIACC Business Instructor; and Tim Putnam, Director of the Pappajohn Center. Students submitted executive summaries using the one-page Business Model Canvas format and financial projections were judged by concept and viability of their business ideas.
Schupanitz and Tusha were awarded $500 as regional winners. Hauser was selected to move on to the state competition on April 21, 2017, at the Pappajohn Higher Education Center in downtown Des Moines and pitch his business to John Pappajohn and his team at Equity Dynamics for a chance to win $5,000 in seed grants. He was awarded $500 at the competition and asked to compete at the Young Entrepreneurs Conference on April 22, 2017. He finished third out of a field of 60 collegiate students and awarded $1000 cash and an in-kind agreement from the Zarley Law Firm of Des Moines for Intellectual Property services valued at $20,000.
Both Hauser and Schupanitz attended and were past winners at the Youth Entrepreneurial Academy (YEA) hosted by the NIACC JPEC and held every summer for high school students interested in creating and nurturing business ideas.
For descriptions on the student businesses please read below:
EcoPits – TJ Hauser
EcoPits offers a proprietary answer to car wash owners' recurring pain point of sludge removal and disposal. EcoPits uses a patent-pending system to remove car wash sludge and offers an environmentally safer and economically superior solution to disposal.
Sami's Sock Monkeys – Sami Schupanitz
Sami's Sock Monkeys creates with the goal to bring a smile to all customers. Sami's Sock Monkeys offers everything from personalized items to available monkey making courses. The focus is to promote the value of a handmade item. Each monkey is personalized to the customer's individual preference.
Tusha Customs – Tucker Tusha
Tusha Customs is a fabrication shop that can build anything from roll cages, rock crawlers, motorcycle frames, trailers, and most things to do with metal. Tusha Customs specializes in rail frames for Model A and Model T cars.
# # #
Ref # 6129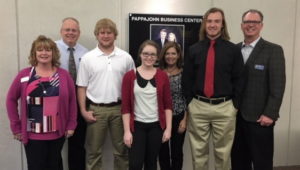 Left to right: Jill Kramer, Exc. Director of Garner Chamber of Commerce; Doug Morse, NIACC Business Instructor; TJ Hauser – EcoPits; Samantha Schupanitz – Sami's Sock Monkeys; Kelley Crane, School …  Tucker Tusha – … Customs; and Tim Putnam, Director of Pappajohn Center.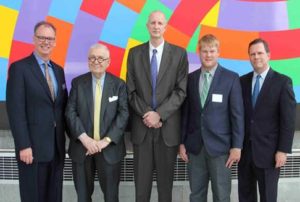 Tim Putnam, Director; John Pappajohn, President, Equity Dynamics Inc.; Dan Storck, CFO; TJ Hauser – NIACC Student and Matt Kinley, Sr. Vice President