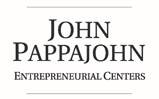 Mason City, Iowa – Applications for the John Pappajohn Entrepreneurial Venture Competition are now being accepted. This year's statewide competition will be awarding $100,000 in cash prizes. This is double the amount that the competition has awarded in the past thanks to a new partnership with the Iowa Economic Development Authority (IEDA).
The thirteenth annual competition has historically awarded $50,000 in prizes, funded by a contribution from John and Mary Pappajohn in an effort to support Iowa's entrepreneurial ecosystem. This year's competition will include an additional $50,000 in prizes matched by the IEDA.
Iowa businesses that have been in operation for four years or less, or are not yet cash flow positive are eligible to apply. This competition is open to businesses including, but not limited to, technology, bio-technology, green technologies, medical, advanced manufacturing, agriculture, engineering, and education industries.
Participants will present their business plan containing components to represent and execute on a viable end business model. Participants will be judged on written submissions, and, if they advance to the final round of the competition, their presentations to the judges. First place will be awarded $40,000, second place $25,000, and third place $15,000. Awards for other categories will total $20,000.
Applications for the John Pappajohn Entrepreneurial Venture Competition are due Monday, May 21.
For more information or to apply, visit www.pappajohnentrepreneurialventurecompetition.com
The 2018 John Pappajohn Iowa Entrepreneurial Venture Competition is co-hosted by the John Pappajohn Entrepreneurial Centers and the Iowa Economic Development Authority.
The NIACC John Pappajohn Entrepreneurial Center is the expert in rural business innovation and success. In partnership with North Iowa's Small Business Development Center, together we provide tools, support, and resources to Iowa's entrepreneurs. We counsel both new and existing local businesses, from Main Street to industry leaders. We're growing Iowa's entrepreneurial culture through grade school initiatives, college and community programs, and business training and development. Contact the NIACC Pappajohn Center at 641-422-4111 or pappajohn@niacc.edu.
 # # #
Ref # 6347