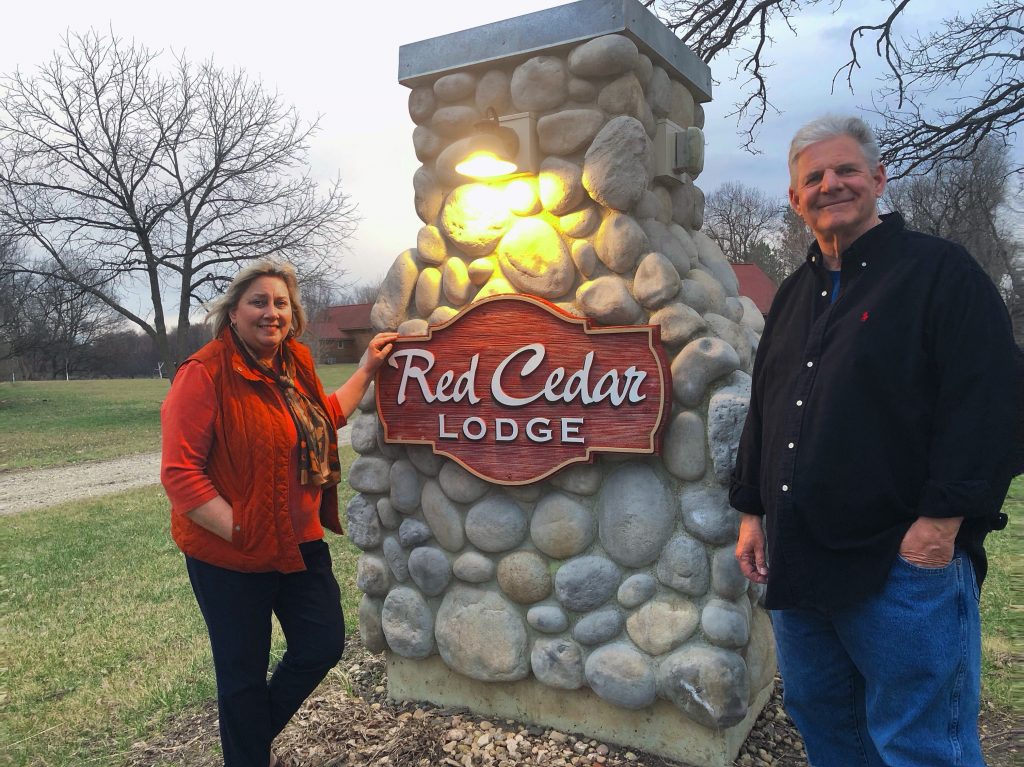 The NIACC John Pappajohn Entrepreneurial Center and the North Iowa Area SBDC are proud to announce Tom and Lorraine Winterink of Red Cedar Lodge as the April 2019 Entrepreneurs of the Month.
Red Cedar Lodge began with a walkthrough of an overgrown farm where Tom Winterink used to play as a child. The property had recently come on the market and during a hometown visit, Tom and his wife Lorraine explored the property with a new camera, snapping pictures along the way of the old barn, farmhouse, and log cabin. Tom grew up in Charles City, Iowa before beginning a 30-year career in multi-unit management with International Dairy Queen and living in cities from coast to coast. When the Winterinks returned to their current home in Phoenix, Arizona, the photos of that overgrown farm and the lure of a rural small town lifestyle sparked an idea. They wondered: could it be possible to build, market, and develop a business in rural Iowa modeled after the family's favorite cabin vacations they enjoyed throughout the western United States?
Tom proceeded into a year of market research and developed a business plan. After securing financing through First Security Bank & Trust, Tom, Lorraine, and their daughter, Madison moved to Charles City in October 2008. Demolition and construction began the same week they moved to town and within ten months, Red Cedar Lodge was a reality. Red Cedar Lodge offers three beautiful log-sided vacation cabins and provides a getaway destination for families and friends outside of Charles City.  The luxury amenities, cleanliness, and peaceful location have proven to be a draw for visitors across the country.
Tom and Lorraine knew it would take time and hard work to develop and grow Red Cedar Lodge, especially in the economic climate of 2008. With efficient marketing and patience, the Winterinks grew their customer base and business. Over the last ten years, Red Cedar lodge has become a highly regarded destination, garnering accolades and awards from tourism organizations and destination guides. In 2015, Red Cedar Lodge was awarded Outstanding Lodging Property by Iowa Tourism, the top award for destinations in the state.  A few months ago, Red Cedar Lodge was featured in a national article, "The One Place to Visit in Your State in Winter" and again was named by Iowa Tourism. Red Cedar Lodge has succeeded to create a destination business in rural Iowa, attracting guests from all over Iowa, the surrounding states and for folks wanting to return "home" to Iowa with their families.
While Tom and Lorraine have focused on growing their own business, they're also insightful entrepreneurs who keep their eye on the big picture. "We believe and understand the movement of people from urban lifestyles to small town America," Tom said. "Iowa is poised in the best position in the country to attract these people and if we want to grow Iowa and her small towns, we should market to those in America's largest cities hungering for a simpler lifestyle."
As they promote Red Cedar Lodge, they also promote North Iowa communities as their very own "resort amenities." This regional approach to attract guests sparks conversations about Clear Lake, Mason City, Nora Springs, Rockford, Northwood, and Charles City – boosting North Iowa's other local businesses and creating a positive ripple effect across the entire region. "We believe our local businesses help us to offer the same amenities found in a five-star resort, but our offerings extend into Charles City and across the region.  We feature and promote our local restaurants, shops, culture, and outdoor recreation", says Lorraine.  "We help our guests to find the type of getaway and amenities they desire." The Clear Lake beaches and boating, Surf Ballroom, Music Man Square, Frank Lloyd Wright District, the rich variety of North Iowa craft breweries, Fossil & Prairie Park, new Nora Springs Aquatic Center, in addition to the outdoor local recreation in Charles City, are some favorite destinations among their guests. "Guests arrive in numbers from two to twenty-eight, and they're ready to spend money on food, drink, entertainment, and fuel, "says Lorraine. "We estimate that Red Cedar Lodge guests contribute an estimated $60,000 to our local economy, annually."
Tom and Lorraine have worked with the NIACC John Pappajohn Entrepreneurial Center and North Iowa Area SBDC in addition to their area financial institutions. "We believe these resources can help attract ambitious, talented young people who want to 'hang their own shingle' and become entrepreneurs," says Tom. "The spirit of entrepreneurship in rural Iowa is strong, collaborative, and always growing. The NIACC Pappajohn and SBDC Center helps feed that spirit."
To learn more about Red Cedar Lodge, please visit http://www.theredcedarlodge.com or call 641-228-3444.
Every month, the Pappajohn Center recognizes the North Iowa entrepreneurs who make our region a success. To self-nominate or nominate a business, visit the Pappajohn Center website at https://www.niacc.edu/pappajohn/entrepreneur-of-the-month/
The NIACC John Pappajohn Entrepreneurial Center is the expert in rural business innovation and success. In partnership with North Iowa's Small Business Development Center, together we provide tools, support, and resources to Iowa's entrepreneurs. We counsel both new and existing local businesses, from Main Street to industry leaders. We're growing Iowa's entrepreneurial culture through grade school initiatives, college and community programs, and business training and development. Contact the NIACC Pappajohn Center at 641-422-4111 or pappajohn@niacc.edu.
# # #
Ref #6481