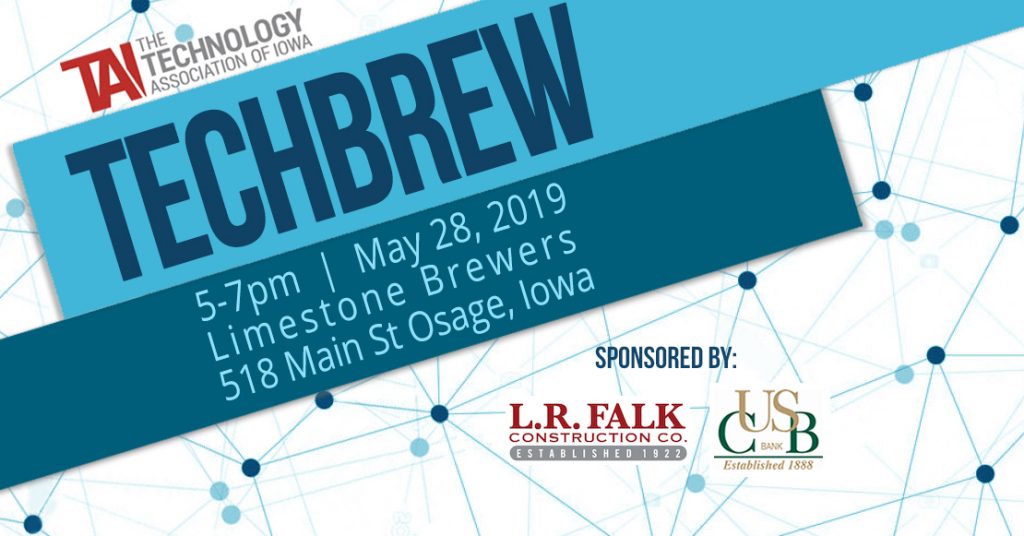 MASON CITY, Iowa – TechBrew comes to Osage, Iowa for the first time on Tuesday, May 28, 2019. Join us at Limestone Brewers from 5pm-7pm. TechBrew is a monthly event bringing together entrepreneurs, technologists, business people and investors from across North Iowa. Join like-minded North Iowans for an evening of creative thinking, conversation, and connections.
TechBrew May is sponsored by L.R. Falk Construction and CUSB Bank.
TechBrew North Iowa is a community-run organization in North-Iowa. Our mission is to bring out the entrepreneur within all of us and foster collaboration to spread our passion for technology and entrepreneurship to the local community. TechBrew connects people with each other and technology.
The NIACC John Pappajohn Entrepreneurial Center is the expert in rural business innovation and success. In partnership with North Iowa's Small Business Development Center, together we provide tools, support, and resources to Iowa's entrepreneurs. We counsel both new and existing local businesses, from Main Street to industry leaders. We're growing Iowa's entrepreneurial culture through grade school initiatives, college and community programs, and business training and development. Contact the NIACC Pappajohn Center at 641-422-4111 or pappajohn@niacc.edu.
 # # #
Ref # 6492