The North Iowa Area Community College John Pappajohn Entrepreneurial Center (NIACC JPEC) conducted the Youth Entrepreneurial Academy on June 10 – 14 sponsored by the John K. and Luise V. Hanson Foundation. The academy is offered annually and free to all high school students interested in entrepreneurship. Participants receive a $500 NIACC scholarship sponsored by John Pappajohn. This year's academy included 12 high school students. The aspiring entrepreneurs completed the academy which is held as a day camp from 8:30am- 4:30pm.
Students were given the opportunity to stay in NIACC's student housing, and several students elected to do so. Students not staying in the student housing received gas cards to help cover the week's travel from their homes to NIACC. Additionally, four students received a $500 seed money award for the businesses they developed during the week. The participants and schools represented were:
Chloe Anderson                 Forest City High School
KJ Barkema                         North Iowa Christian School
Clara Dow                           Rudd Rockford Marble Rock School District
Mattilyn Flack                      Hampton Dumont
Trace Gau                           Lake Mills High School
Brecken Huisman              St. Ansgar High School
Collin Kollasch                   Newman Catholic High School
Madelyn Kollasch               Newman Catholic High School
Keanna Peterson               West Fork School District
Ean Pringnitz                      Mayo High School
Paige Rolling                      Clear Lake High School
Cydney Shackleton           Rudd Rockford Marble Rock School District
Throughout the entire week, the young entrepreneurs worked diligently to progress a business model canvas. Students had the opportunity to network with local entrepreneurs, develop leadership skills, and gain fundamental skills required when starting a business. Friday, June 14, the final day of the academy the students pitched their business ideas by submitting an executive summary that included a company description, financial plans, and business model key measures that included startup costs and sales projections.
The Academy's mentors included: Jim Elias, Limitless RN Holistic Health and Startup Grind (Muscatine); Holden Nyhus, Scout Pro (Ankeny); Kelley O'Rourke, NIACC Pappajohn Center (Mason City); Corey Behrens, (YEA Alumni) University of Northern Iowa student and owner of Simplistic Views (Cedar Falls), Sami Schupanitz (YEA and NIACC Alumni) University of Northern Iowa student and owner of Sami's Sock Monkeys.
Guest speakers for the week included:
Tyler Anderson – Roller City, Tropical Snow, Escape Room. (Being an Entrepreneur)
Brad Barber – Cabin Coffee Franchise (Customer Service and branding)
Joyce Martin – Pappajohn Center/North Iowa Corridor (Social Media Marketing)
Spencer Stensrude – Ag Venture Alliance (Investing in your business)
The students presented their businesses to a panel of four judges: Hunter Callanan, North Iowa Corridor; Beth Bilyeu, Forest City Economic Development; Jessica Graham, Jane Fischer & Associates, Sky High Heels; Tim Esbeck, MBT Bank; Ronnie Pitzen, OmniTel.
Jennifer Andrade, Founder and CEO of Avance Alliance was the keynote speaker.
The judges chose four businesses to win an additional $500 seed money award. The winners are:
KJ Barkema— River City Mini Golf: River City Mini Golf (RCMG) will be a mini golf course located in Southbridge Mall in Mason City, Iowa. We will focus on the experience as the driving force of our entertainment. RCMG will feature holes based on the history of the North Iowa region and businesses in North Iowa. Our environment will be lively, fun, and family friendly. We will focus on providing fun for all ages, groups, and stages of life.
Mattilyn Flack—Trade Customs: Trade Customs is a manufacturing business that specializes in customized machined products. Working with the hands-on aspect of machining is something that I am passionate about and I take pride in seeing my products evolve from a chunk of material into the finished goods. Knowing that my employees and I are able to machine products that help our customers in their everyday lives is one of the reasons we strive to maintain valuable relationships and top of the line customer service. We emphasize excellence and precision when it comes to creating products that perfectly match our customer's specifications.
Trace Gau- Crystal Sky Imagery: Crystal Sky Imagery is an aerial imaging and videography company that uses drones to capture a bird's eye view of the subject. They mainly focus on real estate and insurance inspections but do offer to work alongside wedding photographers to shoot a different perspective, adding to their business. Crystal Sky Imagery offers 4K videos and images that frame the subject and provide a stunning photo. Quality and customers are always first, so they make sure that their work is top quality and customers are always happy with the product. To make sure that the customer is satisfied they send them regular updates, and truly get to know them. Knowing them makes it easier to know what they want to showcase on their property. Crystal Sky Imagery is always looking towards the sky and the future.
Brecken Huisman—Huisman Hog Waters: Every year thousands of pigs get sick from diseases and from bacteria that grows in the dirty warm water that sits in cement and rubber troughs. HHW is a locally owned business that builds hog waters for people that show and raise hogs. The Hog waterer not only gives water to the hog, but it builds muscle on the hog loins and it teaches the hog to keep its head up. With the hog learning to keep its head up, it puts less stress on the 4-Her or FFAer when walking because they don't need to stress about keeping the pig's head up when walking around.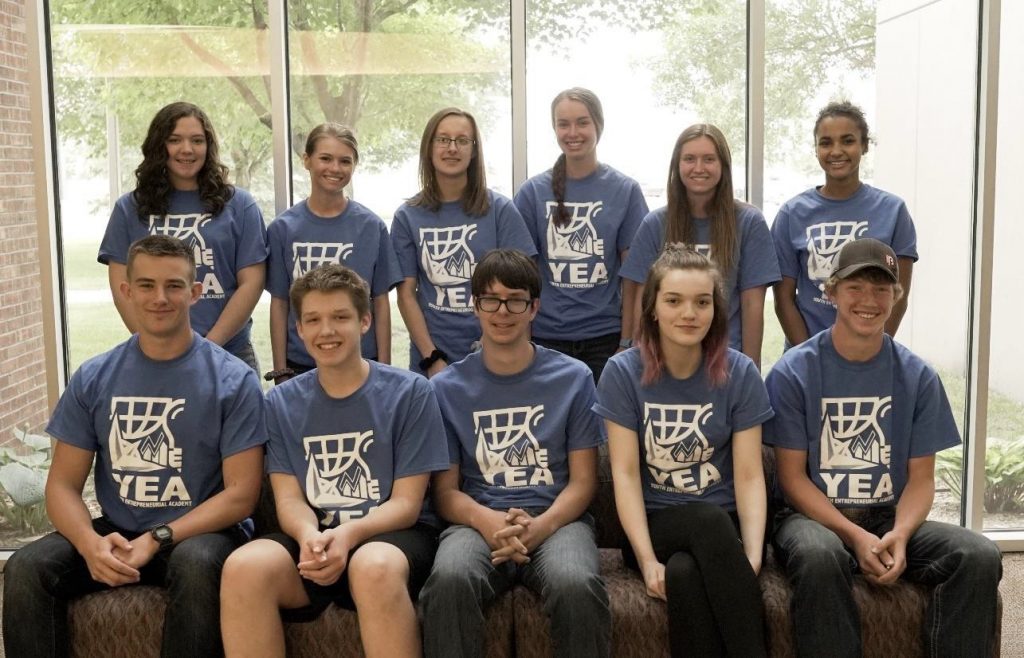 Pictured from left to right: Back Row- Mattilyn Flack, Madelyn Kollasch, Cydney Shackleton, Clara Dow, Paige Rolling, Keanna Peterson. Front Row – KJ Barkema, Ean Pringnitz, Trace Gau, Chloe Anderson, Brecken Huisman.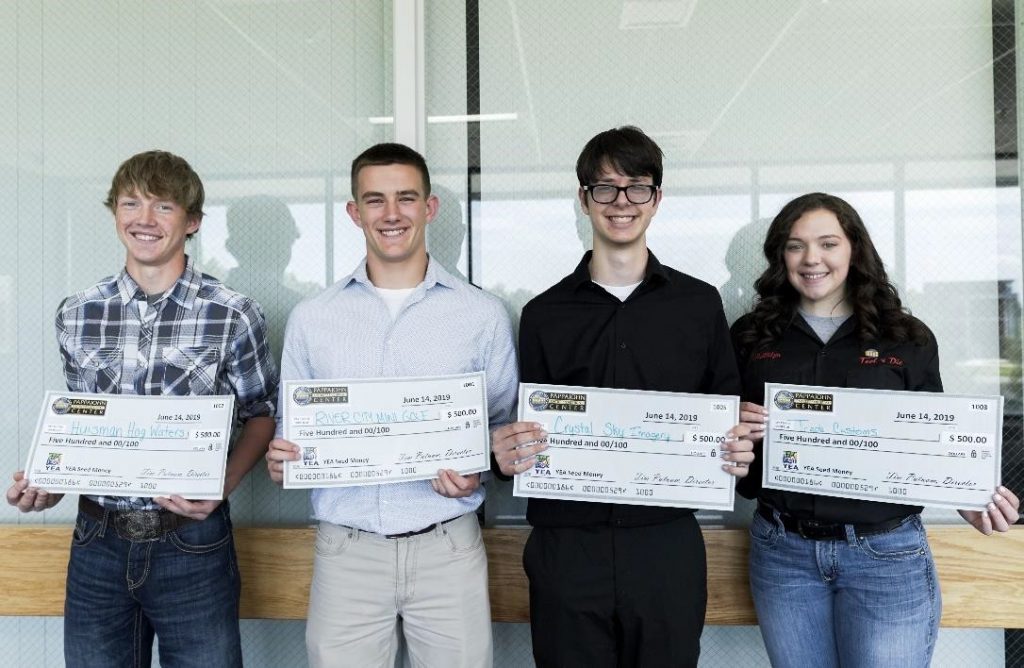 Pictured from left to right are the winners of the pitch competition: Brecken Huisman, KJ Barkema, Trace Gau and Mattilyn Flack.
# # #
Ref # 6502