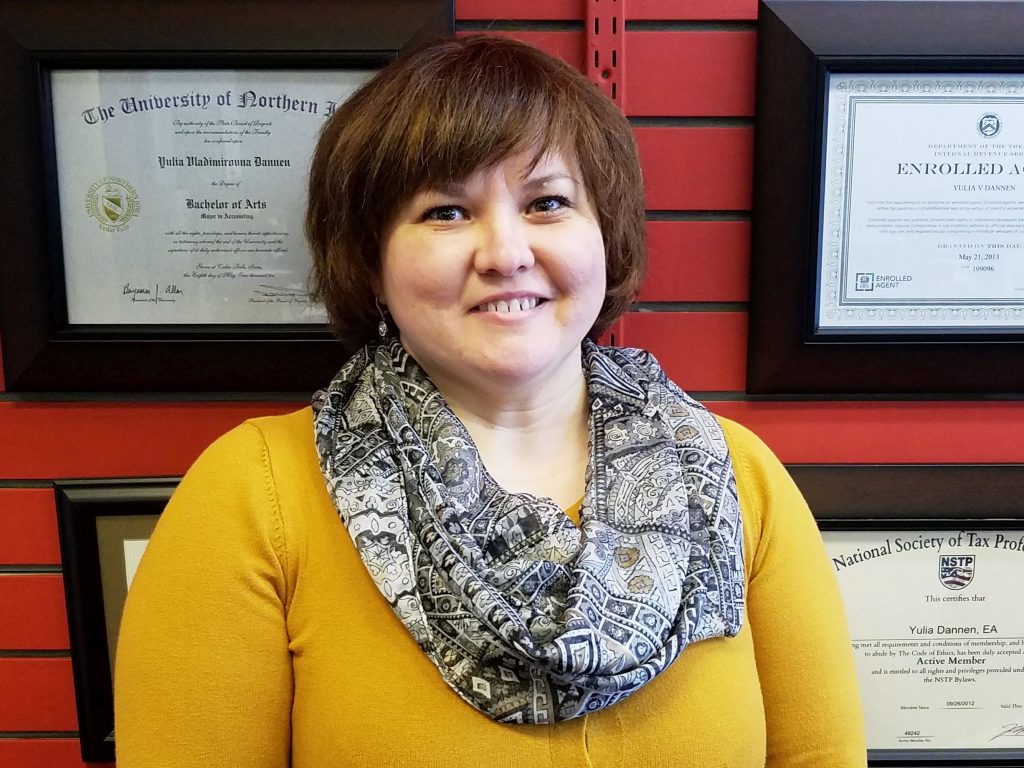 The NIACC John Pappajohn Entrepreneurial Center and the North Iowa Area SBDC are proud to announce Julia Dannen of D&S Services as the January 2020 Entrepreneur of the Month.
Julia Dannen is an Enrolled Agent who is a federally licensed taxpayer representative admitted to practice before all branches of the IRS and IRS Office of Appeals. She currently works with taxpayers that owe the IRS and state taxing authorities back taxes. "Everything to help troubled taxpayers get a fresh start," Julia explains. "I've been representing individuals and small businesses with complex IRS and State issues. Seeing them getting out of financial tax burden is very rewarding."
Julia has been called an inspiration by clients and fellow business owners. She immigrated to the United States from Russia in 2004. She put herself through college and in 2010 graduated from University of Northern Iowa with a Bachelor's degree in accounting. She purchased D&S Services in 2008. In 2011, Julia became a United States citizen and is raising her daughter (now a freshman in high school) while operating D&S Services.
Julia Dannen was named a finalist for the Young Entrepreneur of the Year Award at the 2019 NIACC Pappajohn Entrepreneur Gala, with multiple nominations from the community. As a recognized expert in her field, Julia has built a reputation for D&S Services as providing reliable, superior quality services. Julia's clients span the Midwest, including Iowa, Minnesota, Wisconsin, and North and South Dakota. The successful growth of her business can be largely attributed to the power of providing a high-caliber, in-demand service. Often the most valuable type of marketing is a satisfied customer's personal recommendation. While D&S Services has also used traditional marketing, the resounding positive word-of-mouth marketing has been a constant and invaluable marketing tool. "Our clients are D&S Services' best advertising," says Julia.
D&S Services has been a member of the Targeted Small Business program since 2012. Julia is a valuable advocate for the program in North Iowa. She has shared her experience as a TSB member with other North Iowa business owners at Start Smart and the NIACC John Pappajohn Entrepreneurial Center's Launch & Grow Your Business course at the request of the North Iowa Area SBDC.Brook Boehmler, North Iowa Area SBDC Director, says, "Julia has been an inspirational long-term client of the Small Business Development Center. Her 'can-do' attitude helps put small business owners at ease." Julia's tenacity and dedication to excellence has helped her build a successful and influential business.
The NIACC John Pappajohn Entrepreneurial Center is the expert in rural business innovation and success. In partnership with North Iowa's Small Business Development Center, together we provide tools, support, and resources to Iowa's entrepreneurs. We counsel both new and existing local businesses, from Main Street to industry leaders. We're growing Iowa's entrepreneurial culture through grade school initiatives, college and community programs, and business training and development. Contact the NIACC Pappajohn Center at 641-422-4111 or pappajohn@niacc.edu.
# # #
Ref #6564