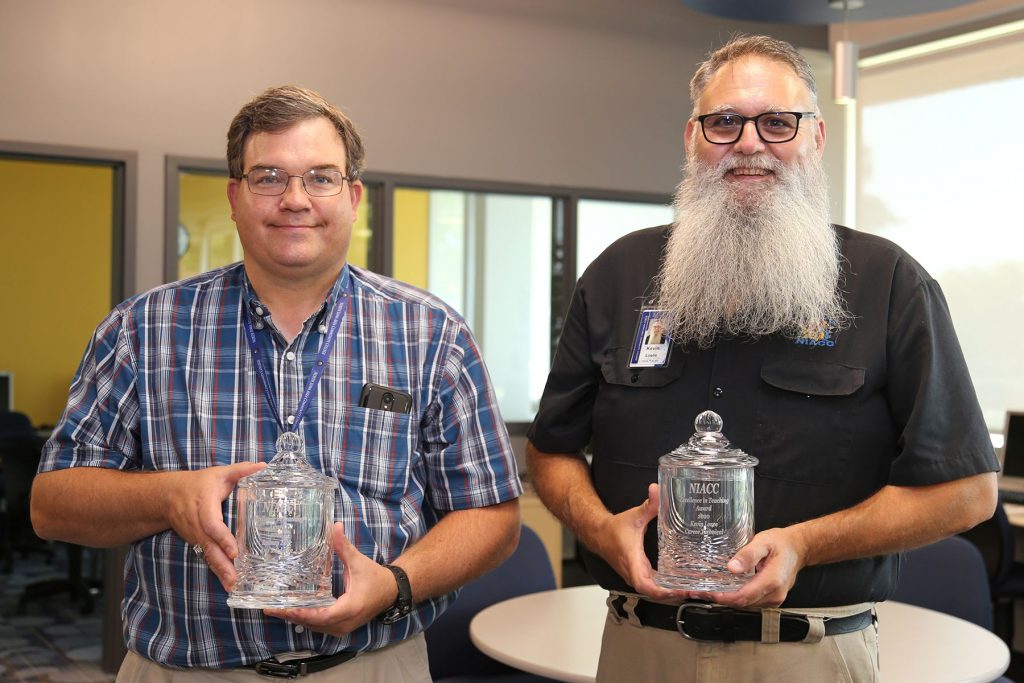 North Iowa Area Community College (NIACC) congratulates this year's Excellence in Teaching award winners: Rodney Zehr, Kevin Losee, and Brad Grout. During the 2019-20 academic year graduating students were invited to respond to a survey and provide comments about an instructor they had in class who made a positive impact in their life and educational experience. NIACC President, Steve Schulz, presented the awards during the NIACC All-Staff meeting on August 24.
Arts and Science: Rodney Zehr – According to President Schulz, "Rodney Zehr is an outstanding mathematics instructor committed to helping students achieve successful outcomes in mathematics. His willingness to meet students "where they are" in their learning and support them through the successful completion of their math requirements sets a standard for all instructors to follow."
A student responded, "This whole year Rod has been so helpful, making everyone feel important. He was a huge impact on my freshman year and I believe he would be great for this award because he is so caring and passionate about teaching his students. I felt that Rod was very understanding and made me feel at home when in his classroom."
Career/ Technical: Kevin Losee — "While I was in Kevin's Tool and Die program, he was always there to help his students. He helped me in finding my passion towards working in the trades industry. Kevin gave me the tools that enabled me to become a successful student during my time in his program. Even after the loss of his close co-worker, he was still always there when the students needed him, and he always did as much as he could for me during his class. I appreciate teachers like Kevin Losee," said one of Kevin's students.
President Schulz shared, "Kevin Losee's commitment to his students is one of his greatest strengths. He understands students, their goals, and the challenges they face and he will commit whatever time is required to help them achieve their academic and professional goals."
Adjunct Teaching Award: Brad Grout — A student said, "I took his Composition 1 course this summer. Although very fast paced, he was very encouraging and supported all of his students' ideas and writing. He gave good suggestions and the work he assigned really got all of us to think. I was worried about sharing my personal writing before the class began but the environment he created made it very easy for me to be honest and real in my writing. I learned a lot through his teaching style and I really appreciated it since my other class put me under a lot of pressure."
Congratulations to these three outstanding NIACC instructors.
# # #
Ref# 6601