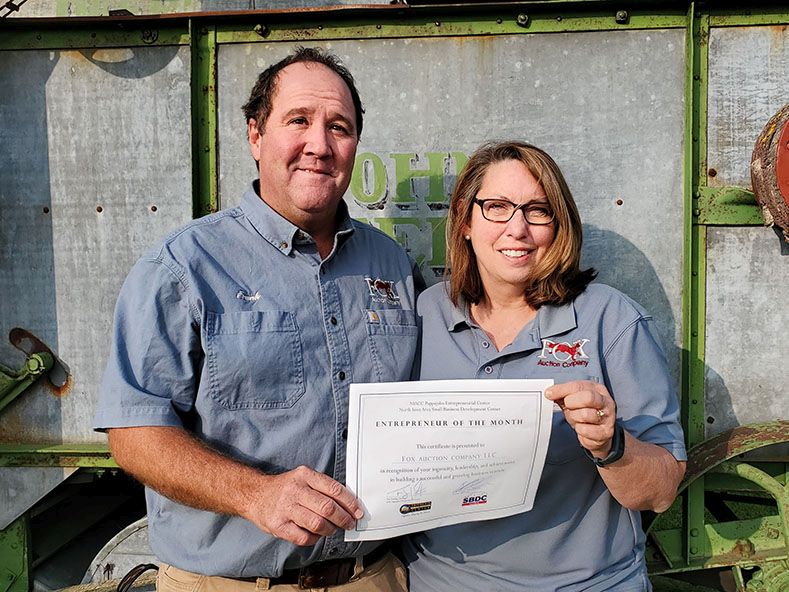 The NIACC John Pappajohn Entrepreneurial Center and North Iowa Area SBDC are proud to announce Frank and Julie Fox of Fox Auction in Mason City, IA as the September 2020 Entrepreneurs of the Month.
Frank Fox founded Fox Auctions in 2004. Frank grew up on a farm and was familiar with the world of auctions and farm sales, the excitement of bidding, the camaraderie, the thrill of the win, the captivating power of the auctioneer. While working at a civil engineering firm, he decided to go to auctioneering school and discover if he could forge a new career path. Frank said, "I wanted to make a business of it. Not just punch a clock for someone else, but be in charge of managing my own time and profit."
In order to get their business off on the right foot, Frank and Julie enrolled in FastTrac (the predecessor to the Pappajohn Center & SBDC's 8 week entrepreneurship training program Launch & Grow). "It really helped us realize how much value there is to every hour when you're an entrepreneur, and how important it is to have a business plan to focus you and make the most out of your time. With the business plan, you know where you want to go and you can keep checking your milestones to make sure you're staying on track," Julie said. Frank and Julie have continued their relationship with the NIACC Pappajohn Center & SBDC, working with Ted Bair (former North Iowa SBDC Regional Director) and later Brook Boehmler, current Regional Director. "Working with the Pappajohn Center & SBDC has been invaluable. They asked us tough questions and made us think about the future," Julie said. Frank and Julie have utilized the Pappajohn Center & SBDC for additional training and expertise, and connections to expert mentors for the managerial expertise necessary for a business in the growth phase.
Fox Auctions provides a variety of services: land auctions, farm equipment sales, hay sales twice per month, farm retirement sales, estates, real estate, business liquidations, and commercial equipment. Frank and Julie pride themselves on providing a full range of auction services, catering to each client's specific needs. Fox Auctions also regularly holds benefit auctions for local organizations (e.g. The Friendly Garden Plant Club of Clear Lake, 4H), non-profits (Ducks Unlimited, Salvation Army), and individuals in need. "This is one of the best businesses to be in to use your talents to give back to the community," Frank observed.
Over the last 10 or 15 years, the internet has irrevocably changed the way people buy and sell. Frank, who has a background in technology and computer aided drafting, quickly realized that the internet would shape the future of the business. Fox Auctions was an early adopter, one of the first in the region to develop a website and utilize online bidding technologies like webcast bidding and online auctions, as well as important strategies like digital marketing and drone footage for land sales. But although Fox Auctions has nimbly adapted to technological advances, the core of the business remains the same: relationships. Frank said, "It all comes down to the relationships with our clients and our bidders and buyers. Our reputation is the best word-of-mouth marketing." Auctions are based on trust between seller, auctioneer, and buyer. Julie added, "We're there for a big event in someone's life. When you're conducting an estate sale, it's a representation of that person and it's important."
Frank and Julie had a few final words of advice to entrepreneurs, "Work through the process, and keep moving forward through the mistakes or failures, because you will make them. Find your cheerleaders and keep them close. It's amazing how many people want to help you when they see who you are and what you represent – not just friends and family, but also your bankers and mentors, your community."
The NIACC John Pappajohn Entrepreneurial Center is the expert in rural business innovation and success. In partnership with North Iowa's Small Business Development Center, together we provide tools, support, and resources to Iowa's entrepreneurs. We counsel both new and existing local businesses, from Main Street to industry leaders. We're growing Iowa's entrepreneurial culture through grade school initiatives, college and community programs, and business training and development. Contact the NIACC Pappajohn Center at 641-422-4111 or pappajohn@niacc.edu.
# # #
Ref# 6606