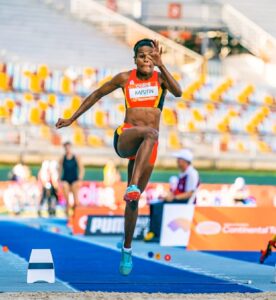 Millions of young female athletes around the world grow up dreaming of someday competing in the Olympics.
For former NIACC track and field standout Rellie Kaputin that dream has come true.
Kaputin, who holds five NIACC track and field school records, will compete in the women's long jump for her home country of Papua New Guinea at the upcoming Tokyo Summer Olympics.
"I was in tears of joy when I got the news," Kaputin said about qualifying for the Olympics. "I mean to get news about a childhood dream come true is just amazing.
"I have been dreaming to be an Olympian since I was a little girl."
Kaputin, who is 28 years old, qualified for the Olympics with a jump of 6.42 meters (21 feet, 0 3/4 inches) at the Festival of Athletics in Townsville, Queensland last month. Kaputin competed in events on the Australian athletics circuit in her lead-up to the Olympic games.
Kaputin, who competed at NIACC in 2014-15, was one of 32 athletes selected to compete in the women's long jump. The qualifying round for the women's long jump is set for 10 a.m. (AEST) on Aug. 1 with the finals being held at 10 a.m. (AEST) on Aug. 3.
Kaputin is one of eight Papua New Guinea athletes (four female and four male) that will be competing in the Summer Olympics and lone track and field athlete. The other Papua New Guinea athletes will compete in boxing (one), sailing (two), swimming (two) and weightlifting (two).
Kaputin is the second NIACC athlete to compete in the Olympic Games. Former NIACC wrestler Joe Corso was a member of the United States Olympic team in 1976.
Kaputin's jump coach (Megan Bedford) when she was at NIACC was also thrilled when she heard the news about one of her former athletes qualifying for the world's grandest stage when it comes to track and field.
"I was so happy for her," Bedford said. "I know that she not only competed for herself but always wanted to make her country proud.
"To be the only female selected for her country in track and field is pretty incredible."
While COVID-19 put the world and the Tokyo Olympics on hold in 2020, Kaputin would not have qualified for the Olympics if they would have gone on as originally planned.
Kaputin cracked her fibula bone in August of 2019 and spent the next six months in rehab in her country's capital of Port Moresby.
"For myself personally, COVID-19 was a blessing," Kaputin said. "I was cleared to resume training in Australia in February (of 2020) with a less chance of making it to Tokyo because I was missing a lot of competitions during my injury rehabilitation.
"When we received the news that the Olympics were being postponed (until the summer of 2021) my coach and I were so happy."
That meant Kaputin had another calendar year to get stronger and qualify for the Olympics.
"Having 12 months to build back my form was worth it," she said. "I had to stay focused on getting back stronger before the Australian competition season started in November.
"It was a bit tough traveling overseas to attend big competitions because of travel restrictions."
Kaputin said she competed in several events in the long jump in Brisbane, Australia to collect points for her world ranking. When domestic flights opened back up in Australia, she competed in Canberra, Sydney and Townsville.
While at NIACC in 2014-15, Kaputin competed in all three of the jumps – long jump, triple jump and high jump.
Kaputin owns the school's indoor track and field records in the long jump (5.79 meters in 2015), triple jump (12.22 meters in 2015) and high jump (1.70 meters) in 2015. She is the school's outdoor track and field record holder in the long jump (5.91 meters in 2015) and triple jump (12.31 meters in 2015).
At the 2015 NJCAA indoor national meet, Kaputin placed third in the triple jump, sixth in the high jump and seventh in the long jump to help lead the Lady Trojans to a 10th-place finish with 22 points.
At the 2015 NJCAA outdoor national meet, Kaputin placed second in the triple jump and third in the long jump as the Lady Trojans placed seventh with 39 points.
Bedford has fond memories of Kaputin in her time on the NIACC campus.
"She was so humble, but fiercely competitive," Bedford recalled. "She was a great listener and always was willing to learn, grow and excel.
"Above being a great athlete, she was an all-around amazing person – kind, sweet and thoughtful."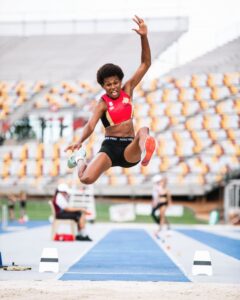 Bedford said she thought that Kaputin's best event at NIACC was the triple jump.
"That girl had springs," Bedford said. "(At NIACC), she loved to focus on the triple jump.
"But she was so good at the other jumps, as well. Although each event is super unique, I think they all helped her become a better all-around athlete. She always spent a lot of time on all of the little details. That's what makes a good jumper great."
Kaptutin, who transferred to West Texas A&M after her two years at NIACC, said she decided to focus on the long jump when she received a Tokyo Olympics Scholarship from her country in 2018.
"I decided then to put all my heart and soul into the long jump because I had a strong feeling that I would make it to the Olympics in it," she said.
Kaputin was one of four athletes from Papua New Guinea on the NIACC women's track and field teams in 2014 and 2015. The other three were Adrine Monagi, Sharon Toako and Kalama Towarap.
Monagi holds eight school records (five indoor, three outdoor) in the sprint and hurdle events and Toako is the school record holder in the javelin. Toako was the national champion in the javelin at the 2014 NJCAA outdoor national meet and Monagi placed second in the heptathlon at the 2015 outdoor national meet.
Kaputin said her time at NIACC was two years well spent.
"I am very grateful to be a part of the NIACC track and field program," she said. "Representing NIACC at the national championships put me on the radar to my NCAA university.
"NIACC helped me so much with some great performances in my jumps to earn a full track and field scholarship to West Texas A&M University."
At NCAA Division II West Texas A&M, Kaputin was a three-time national champion and 11-time all-American. She was also named USTFCCCA national field athlete of the year in 2017 after scoring 21 points at the NCAA Division II Indoor Track and Field Championships.
Kaputin is also Papua New Guinea's national record holder in the long jump (6.5 meters), triple jump (13.28 meters) and high jump (1.77 meters).
By comparison in the long jump at the 2016 Olympics, Kaputin's personal-best jump of 6.5 meters would have placed her 13th in the qualifying round with the top 12 making the finals.
At the Tokyo Olympics, Kaputin's goals are simple.
"I want to make it to the finals and also break my own national record of 6.5 meters," she said.
TOKYO OLYMPICS WOMEN'S LONG JUMP SCHEDULE
(Times are AEST)
Sunday, Aug. 1
10 a.m. to 1 p.m. – Women's qualifying round.
Tuesday, Aug. 3
10 a.m. to 1:35 p.m. – Women's finals.
PAPUA NEW GUINEA FACTS
Papua New Guinea is located in a region of the southwestern Pacific Ocean, north of Australia.
Capital: Port Moresby, which is located on the country's southeastern coast.
Population: 8,935,000.
PAPUA NEW GUINEA AT THE OLYMPICS
Papua New Guinea first participated at the Olympic Games in 1976 and has sent athletes to every Summer Olympic Games since then except when they participated in the American-led boycott of the 1980 Summer Olympics.
The nation has never won a medal at the Olympic games and has never participated in the Winter Olympics.
Swimmer Ryan Pini is the country's most successful athlete. Pini reached the finals of the men's 100-meter butterfly at the 2008 Summer Olympics.
Papua New Guinea had eight athletes compete at the 2016 Summer Olympics in Rio de Janeiro and eight athletes at the 2012 Summer Olympics in London.