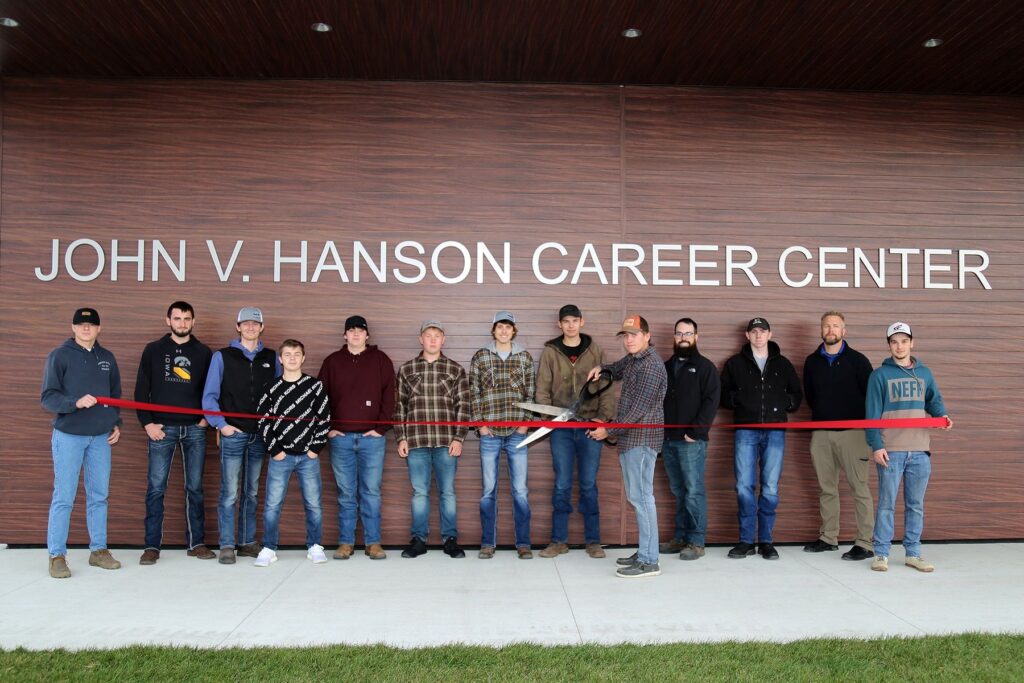 Almost a year to the day from when ground was broken, the John V. Hanson Career Center officially opened today to students and the public. Local and state officials, along with representatives from the partner high schools, donors, and community members gathered in Forest City to celebrate the opening of the new Career Center.  Due to inclement weather, the grand opening ceremony was held at the Boman Fine Arts Center, with tours following at the Career Center.
North Iowa Area Community College (NIACC) President Steve Schulz said, "The grand opening today is a celebration of the collaboration between the four partner high schools, the City of Forest City, Forest City Economic Development, and the many donors and partners that came together for a common goal – to build a state-of-the-art learning space that will benefit students, businesses, and the community for many years to come. We wouldn't be here today without their support."
The speakers at the event included Dr. Steve Schulz, President, NIACC; Dr. Ann Lebo, Iowa Department of Education; Jay Hanson, Hanson Family Foundation; Huw Bower, Winnebago Industries; Darwin Lehmann, Forest City Schools; Eric Kingland, Kingland Construction; and Jim Haag, Career Center Director.
"The community of Forest City and the surrounding communities have enthusiastically and graciously welcomed the John V. Hanson Career Center into the community. The outpouring of support and encouragement has been overwhelming and has not gone unnoticed. We very much appreciate everyone's warm welcome and look forward to becoming an integral partner in the community and region.  We would welcome opportunities to partner and collaborate with groups who wish to bring educational opportunities and programs to the area. We believe the possibilities are endless and are excited about what the future holds," said Jim Haag, Director of the John V. Hanson Career Center.
The Career Center is a regional partnership designed to provide educational opportunities to school districts, adults, families, businesses, industry and local communities. The Center was made possible thanks to a combination of bond revenue, generous donations by the Hanson Family Foundation, Winnebago Industries, and the City of Forest City, and a $1 million grant from the IA Department of Education.
The partner school districts include the Community School Districts of Forest City, Garner-Hayfield-Ventura, Lake Mills, and North Iowa. Students have the opportunity to enroll in a college-level academy in one of four areas – Advanced Manufacturing, Construction Trades, Information Technology, or Health Careers. These academies feature state-of–the-art equipment and technology and are offered at no cost to students or their families.
The Center isn't quite ready for full occupancy yet but is planned to open completely in the next couple of weeks. In the meantime, students have been attending classes at partner businesses in Forest City.
# # #
Ref# 6695