It was a perfect Saturday night for the NIACC wrestling team at the Mid-America Center in Council Bluffs.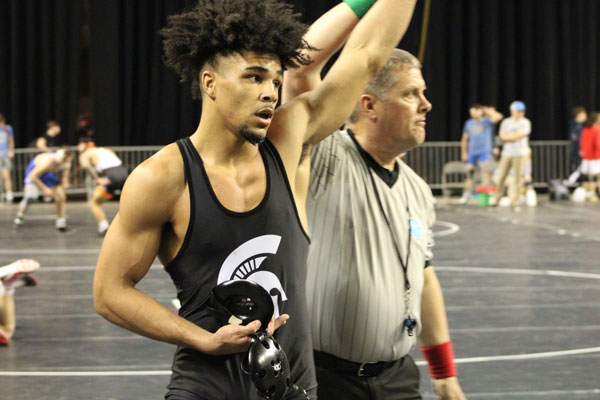 First, NIACC's Christian Minto became the school's fourth two-time NJCAA national champion when he claimed the 165-pound national title with a 14-5 major decision over Clackamas' Steele Starren.
"It feels awesome to be a two-time national champion," Minto said. "I've worked very hard for this.
"There is nothing like it. There have been struggles I've had to overcome and I did. This competition can get tough at time but you have to have the mindset that it's mine and I want it."
Other two-time national champions for the Trojans are Joe Hatchett (1970-71), Nosomy Pozo (2014-15) and Yoanse Mejias (2014-15).
"He's quite the athlete," NIACC coach Steve Kelly said of Minto, who compiled a record of 51-1 at NIACC. "He knew what he wanted to do."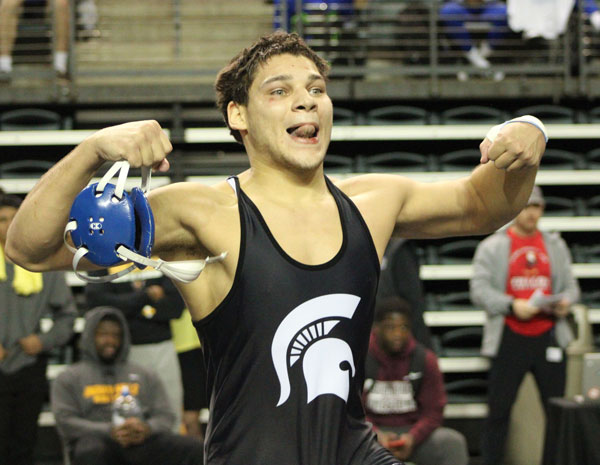 Later in the evening on Saturday, NIACC's Jose Valdez claimed the 197-pound national title with a 6-4 overtime victory over Iowa Lakes' Massoma Endene.
Valdez advanced to the title match earlier in the day with a last-second 6-4 victory over Cloud County's Zach Ferris in the semifinals.
Ferris edged Valdez 3-2 in three overtime in the 2021 197-pound national title match.
"I worked so hard in the off-season and tried to fix every flaw I had in my game," Valdez said. "I thought about that loss every day and I worked even harder so that it wouldn't happen again.'
Valdez' narrow semifinal and finals matches at the 2022 national tournament had the NIACC coaching staff biting their nails.
"He had us all a bit nervous," Kelly said. "He knows how to handle himself."
Minto and Valdez became NIACC's 15th and 16th national champions in the sport of wrestling.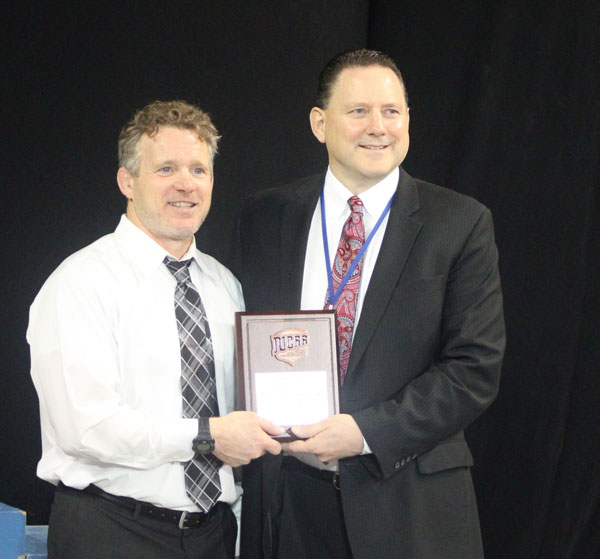 And if crowning a pair of national champions for the first time since 2015 wasn't enough for the NIACC wrestling program wasn't enough, the night was capped off with Kelly, who is in his 13th season as coach of the Trojans, was honored as the 2022 NJCAA national coach of the year.
"That was definitely unexpected," Kelly said of his award. "Now, Christian should have been the tournament's Most Outstanding Wrestler, in my eyes."
Valdez had high praise for the entire NIACC coaching staff.
"My coaches were one of the key reasons I succeeded here at NIACC," Valdez said. "They treat me like family and believed in me when I didn't.
"They told me I was right on track to winning a national title and no one could beat me. I trusted my coaches and it paid off."
NIACC, which placed fifth in the team standings at the national tournament, crowned a total of six all-Americans. Also earning all-American honors for the Trojans were Clarence Lee-Green (133), Quentrevion Campbell (141), Deville Dentis (149) and Ein Carlos (174).
Three other Trojans competed at the national tournament – Cruz Aguilar (125), Josh Barretta (157) and Chase McCleish (184).
"There's always a lot of highs and lows at the national tournament," Kelly said. "You put a lot of time into a kid and it's always tough when they miss out on their goals. That's tough to handle."