CLEAR LAKE – History was made Tuesday morning at Clear Lake High School.
Clear Lake's Haley Jackson and Chloe Williamson became the first two females to sign with the NIACC women's wrestling program.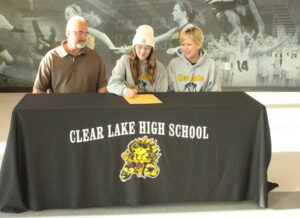 "It's really exciting to be the first two girls to sign there," said Williamson, who was a two-time state qualifier, "and be the beginning of the program. I hope we can do great things for the team."
NIACC, which added women's wrestling as a sport in February, is one of four ICCAC schools to now have women's wrestling. Indian Hills, Iowa Western and Iowa Central also have recently added the sport.
Women's wrestling will become a sanctioned sport by the NJCAA starting in the 2022-23 season. The women's wrestling season will take place during the winter sports season along with the men's wrestling season.
NIACC women's wrestling coach Basil Minto is excited to have his first two recruits signed.
"It's a great thing to get two local talents," Minto said. "This will help build the program and it's a great thing for NIACC and Clear Lake."
Women's wrestling is one of the fastest growing sports in the United States, according to the National Wrestling Coaches Association. Since 1994, the number of women who wrestle in high school has grown from 804 to over 28,000 (as of 2021).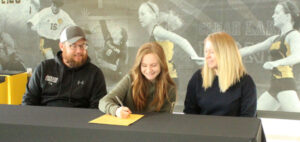 Jackson didn't start wrestling until her senior year of high school and qualified for the state tournament. Now Jackson is looking forward to competing at the collegiate level.
"I joined my senior year and didn't really know what I was getting myself into," Jackson said, "but it turned out to be one of my favorite sports and it's something that I'm really passionate about."
"I hope to really improve myself in college and do something good for the sport."
Jackson said she's excited about the growth of women's wrestling.
"We were there at state when the (IGHSAU) sanctioned it," Jackson said of the decision to sanction girls wrestling as a sport. "We kind of new it was coming and when I heard that NIACC was adding wrestling, I immediately wanted to wrestle, because I was planning on going there."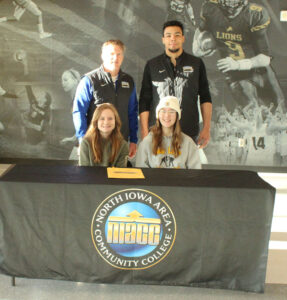 Minto said he's surprised about the growth of women's wrestling.
"In the last six months, it's really blown up," Minto said. "I didn't think it would take off this quick. It's a good thing for the sport of wrestling. If you look at the sport of basketball, women have the WNBA. It's about time women have their voice in wrestling.
"Women want to wrestle and it's just going to continue to grow."
Williamson is relatively new to the sport of wrestling as she started competing during her junior season.
"It's been really great learning in high school," Williamson said. "It's not like any other sport that I've done. It's a really good environment.
"I really hope that we can inspire other girls in the area to wrestle. I think NIACC having a team will give girls something to look up to."