An apprentice is defined as a person who is learning a job or trade from a skilled employer.  Becoming an apprentice is a great way to get on a career pathway that will help fast-track professional goals, avoid massive debt, and earn a competitive wage.
Apprenticeship is an industry-driven, high-quality form of learning.  While getting hands-on experience on the job, apprentices spend at least 20% of their working hours completing classroom-based learning with a college or training provider.
All their time – including classroom hours – are paid.
While apprenticeships are ideal for those wanting to earn while they learn, they are highly beneficial to employers as well.  Apprenticeships are valuable to employers because they can tailor their program to meet their current needs.  As they develop and prepare the future workforce, they can customize instruction to ensure the apprentice learns exactly what they need to perform the job.
A few key benefits highlighted for employers are:
To recruit and develop diverse and highly skilled workers
To improve productivity and profitability
They create flexible training options to ensure workers develop the right skills
Reduce turnover, improve loyalty, and retain top talent
It demonstrates an investment in the community
Employers also have the option to register their program with the U.S. Department of Labor to show prospective job seekers their apprenticeship program meets national quality standards.  The state of Iowa has grants available for businesses interested in starting this type of program.
On November 16th, the NIACC Business and Workforce Solutions (Formerly known as Continuing Education), held an Apprenticeship Breakfast in conjunction with the Mason City Chamber of Commerce.  The purpose of the event was to connect local employers from around the region and learn about how apprenticeships can best build their workforce pipeline.
Mayor Bill Schickel proclaimed November 14th through the 20th officially "National Apprenticeship Week" in Mason City.  He recognized the efforts of NIACC and their push to grow the apprenticeship program to secure upcoming workforce for the future.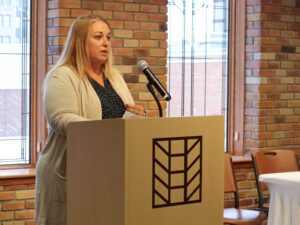 Patti Hanson, NIACC Dean of Continuing Education stated, "While we are thrilled to recognize National Apprenticeship Week, we celebrate apprenticeships all year long."  NIACC currently offers apprentice programs for welding, carpentry, industrial maintenance and phlebotomy.
While apprenticeship programs go all the way back to the Middle Ages, they have only been registered within the state of Iowa for the past 85 years.  Kyle Whitaker, an Apprenticeship & Training Representative for the state of Iowa, gave a rundown of the numbers for apprentice programs.  In Iowa, there are currently:
*890 Registered Apprenticeship Programs (33 of which are served by NIACC)
*1988 Employers providing positions
*204 High School students as registered apprentices
*9730 active registered apprentices within the state of Iowa
"This program gives folks the opportunity to have their education path lumped together with work-based learning," Kyle stated.  "It is a great avenue for someone looking to get right into it and start their career."
Typically, apprentice programs are designed in trade-related fields, but across the state of Iowa, there are several available for teachers, information technology, healthcare, barbers & cosmetology, retail and agriculture.  Some programs are completed within a year, while others can take as long as 4-5 years.
NIACC works closely with local companies to ensure the students have the courses they need and are getting the proper allotment of time for work experience, classes and study time.  Looking at the workforce, local meat processing plant, Smithfield, knew their pool of candidates for upcoming job openings would not fill their demands.  They utilized the apprenticeship program at NIACC in order to "grow their own employees" tailored to their specific needs.
Apprenticeship is not a hand-out.  Yes, the company will pay for time worked and the cost of classes, but the dedication to the program falls heavily on the students' shoulders.  It's a big commitment, but one that is worth it in the end.
For companies looking to establish or grow their own apprenticeship programs, contact Melinda McGregor, NIACC Director of Emerging Workforce Solutions at Melinda.mcGregor@niacc.edu.
Collaboration is key for North Iowa to survive the workforce shortage.  Communication between high schools, businesses, NIACC and the entire community is what will ultimately pull our region together to ensure we stay a thriving economic force.