The NIACC John Pappajohn Entrepreneurial Center and North Iowa Area SBDC are proud to announce Mitchell Hora of Continuum Ag in Washington, IA as the September 2023 Entrepreneur of the Month.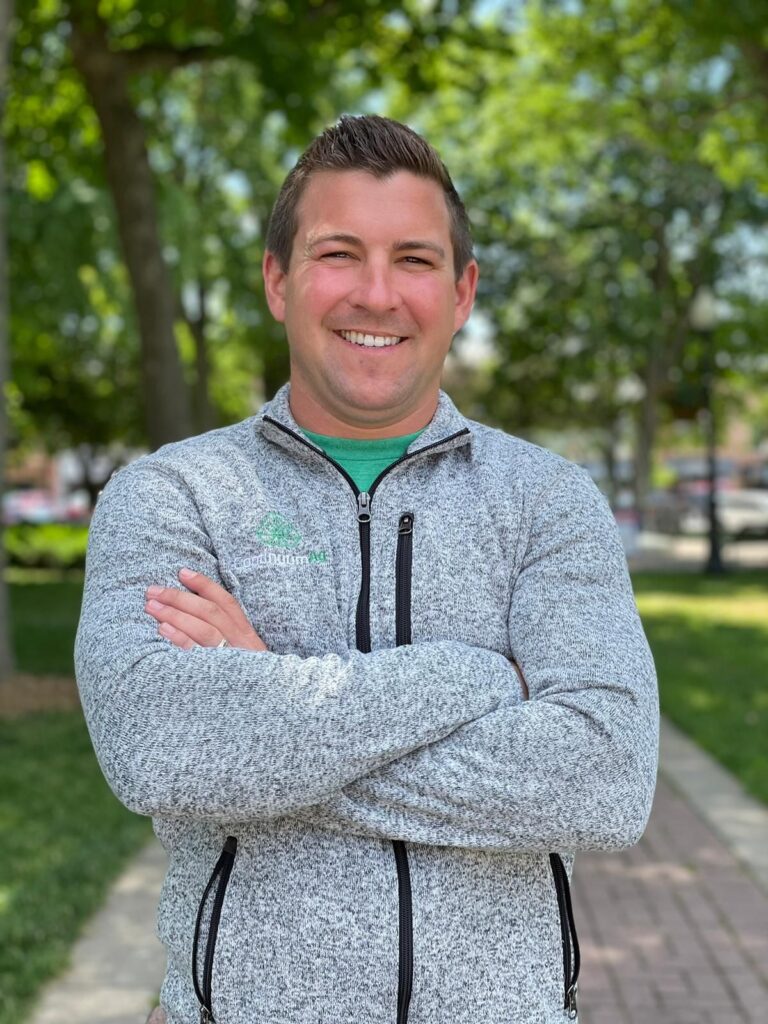 Continuum Ag is a soil health data intelligence company, using its TopSoil Tool to scale the "how-to" of regenerative agriculture and enable farmers to profit from improving their soil health. Mitchell founded Continuum Ag in 2015 as an agronomy consulting company for farmers, using the Haney test to offer insights into soil health and make fertility recommendations. As a 7th generation Iowa farmer himself, Mitchell is passionate about creating results: improving soil health, increasing crop productivity, increasing yields, and overall improving land management. "I care about family farm profitability and rural communities," Mitchell says. "Continuum Ag is farm-focused first."
As the consulting business grew, Mitchell saw that they needed better tools to document and manage the data produced by new agricultural technologies and practices. He took on the task himself. Mitchell enrolled in the Spring 2019 cohort of the University of Iowa Venture School, a 7-week entrepreneurial training program hosted at the NIACC Pappajohn Center & SBDC. In Venture School, Mitchell refined his value proposition and business model and then got to work. "Venture School is a no-brainer starting point for Iowa entrepreneurs," Mitchell says. "The resources, mentorship, and guidance are the perfect launch pad and ignoring the resources available would be a mistake."
Continuum Ag's system connects with labs and agronomic data systems and returns actionable recommendations to farmers. Farmers can view all of this personalized information in one place through a web-based interface and make data-informed decisions for their land. "Regenerative practices make farmers more profitable and more resilient," Mitchell says. Continuum Ag's program mimics nature and how our soils were originally built, supporting a natural cycle of increasing soil health while improving water quality, lowering the carbon intensity, and increasing yield.
To continue expanding the reach of Continuum Ag, Mitchell has proactively sought out opportunities and made use of his resources. He began by competing in the University of Iowa Venture School Launch Day competition at EntreFest in Summer 2019, where he made it to the finals. Mitchell was a finalist at the John Pappajohn Iowa Entrepreneurial Venture Competition multiple times, winning First Prize in 2022. He worked with America's SBDC Iowa which helped with grant writing, proposals, and projects.
Continuum Ag's innovative yet practical solutions have garnered much acclaim and recognition in the last few years. In 2021, Continuum Ag was the Fourth Runner-Up in the Cisco Global Problem Solver Challenge. In 2023, they were chosen as the Grand Champion of the Mass Challenge Sustainable Food Solutions competition, and winner of the Thrive Global Accelerator IX. And Continuum Ag's momentum continues to operate full speed ahead. In June 2023, they announced the initial closing of their Series A investment round, led by Omaha-based venture capital firm Grit Road, with additional investment from ISA Ventures, Ag Ventures Alliance, and SVG Thrive. Continuum Ag has also secured Propel funding through the Iowa Economic Development Authority. Mitchell and his team have raised over $2 million in capital over the last three years.
Mitchell's advice for entrepreneurs is simple but comprehensive. "Utilize the advice and resources around you," he says. "Understand the specific problem and value proposition you need to solve for. Then build your processes and scale at an appropriate pace." He also notes that the most valuable resources for a business owner aren't the ones you have to pay for – they can be found much closer at hand. Mitchell comes from an entrepreneurial family, and married an entrepreneur as well (his wife, Tympest Hora, owns High Temperate Dance Academy in Fairfield, IA). He says, "The number one reason to be an entrepreneur is to be happy and do what we want to do. We've found our passions and are able to build businesses within the things that we love. As a family of entrepreneurs, we're able to lean on each other."
The NIACC John Pappajohn Entrepreneurial Center is the expert in rural business innovation and success. In partnership with North Iowa's Small Business Development Center, together we provide tools, support, and resources to Iowa's entrepreneurs. We counsel both new and existing local businesses, from Main Street to industry leaders. We're growing Iowa's entrepreneurial culture through grade school initiatives, college and community programs, and business training and development. Contact the NIACC Pappajohn Center at 641-422-4111 or pappajohn@niacc.edu.
# # #
Ref # 6927
The mission of North Iowa Area Community College (NIACC) is to enrich lives through comprehensive educational opportunities, a commitment to learner success, community engagement, and leadership. Founded in 1918, NIACC is a nationally-recognized, two-year college located in central North Iowa. With approximately 3,000 career and transfer students, the College has been recognized by the Aspen Institute as a leading community college in the nation. Become a NIACC Trojan today at https://www.niacc.edu/apply-mkt/.