The NIACC John Pappajohn Entrepreneurial Center and North Iowa Area SBDC are proud to announce Shelby Pohlman of Kidtastic Cuts and Glow Up Hair Studios in Mason City, IA as the November 2023 Entrepreneur of the Month.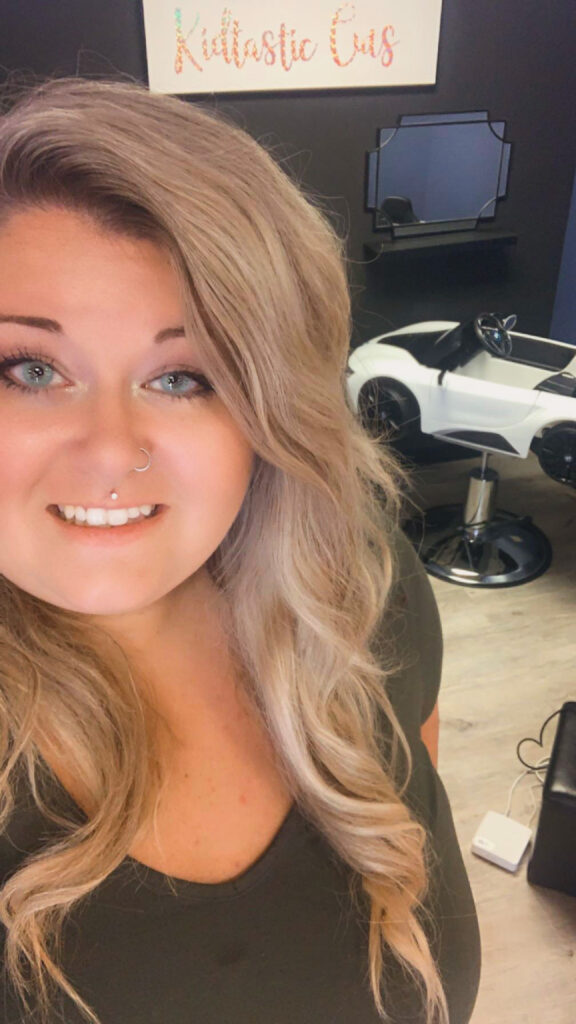 When Shelby Pohlman opened Glow Up Hair Studios in 2021, it was just a part of her overall entrepreneurial vision. Glow Up Hair Studios is a full-service salon in Mason City, IA, providing a wide range of options for clients including cut, color, waxing, nails, and more. But, tucked away behind the main salon is a peaceful space filled with galaxy-themed decorations and chairs shaped like cartoon cars, where the focus is on kids cuts and styles. Kidtastic Cuts is a "playhouse" salon designed to help kids, especially those with sensory sensitivity, who may struggle with the stimuli of a hair salon. The quiet room stands apart from the main salon and creates a kid-friendly zone that is less chaotic and less stressful.
Shelby has been a stylist for over ten years and had noticed that a lot of children struggled with the sounds and sensations of a salon visit. "If you're a parent, you've noticed that a haircut can be a stressful day for the child, for the parent, for the stylist, and also for the other clients in the salon," Shelby said. "I kept thinking there has to be a better way to do this, something that's easier for everyone." Not only does Kidtastic Cuts focus on the sensory experience, it also takes scheduling into account. "Kids mostly get their haircuts after the school hours," Shelby said. The full-service Glow Up Hair Studios salon operates during the day; after school lets out in the afternoon, the focus shifts towards the kids.
"The idea was bouncing around in my head for years," Shelby said. She approached her bank to gauge their interest in a loan to build out this idea. "They thought it was a great idea," she said. "They said we think you should talk to Venture School and make it a reality." In Spring 2020, Shelby took her idea and enrolled in the North Iowa Venture School cohort. Venture School is an 8-week entrepreneurial training program created by the University of Iowa; the NIACC Pappajohn Center facilitates two cohorts of Venture School per year in Mason City. "It was a chaotic year," Shelby recalls. "Halfway through we had to switch from in-person to Zoom classes, but it was still an excellent experience. I learned so much about how to open a business and how to get my ideas functioning."
Through Venture School, Shelby refined her business plan for Kidstastic Cuts. She also conducted extensive market research across North Iowa, talking to parents, other stylists, and educators. The comprehensive market research was a key part of Shelby's business plan before she opened her doors. "You have to make sure there's a need for what you're trying to do," she said. "Sometimes you think you know exactly what you want to do, but you need to do your research first. You can't open a business if there's no actual need for it."
Shelby has a few simple words of advice for fellow entrepreneurs. "Always ask for help," she said. "Don't think you ever have to do it alone." Glow Up Hair Studios and Kidtastic Cuts now share a building in downtown Mason City, centrally located to serve Shelby's dedicated clientele. "The hardest part was trying to find a location," Shelby said. "But the easiest part and the best part is working with the kids."
The NIACC John Pappajohn Entrepreneurial Center is the expert in rural business innovation and success. In partnership with North Iowa's Small Business Development Center, together we provide tools, support, and resources to Iowa's entrepreneurs. We counsel both new and existing local businesses, from Main Street to industry leaders. We're growing Iowa's entrepreneurial culture through grade school initiatives, college and community programs, and business training and development. Contact the NIACC Pappajohn Center at 641-422-4111 or pappajohn@niacc.edu.
# # #
Ref # 6937
The mission of North Iowa Area Community College (NIACC) is to enrich lives through comprehensive educational opportunities, a commitment to learner success, community engagement, and leadership. Founded in 1918, NIACC is a nationally-recognized, two-year college located in central North Iowa. With approximately 3,000 career and transfer students, the College has been recognized by the Aspen Institute as a leading community college in the nation. Become a NIACC Trojan today at https://www.niacc.edu/apply-mkt/.